La tribu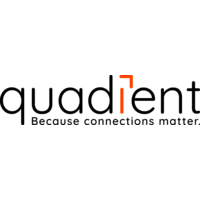 Quadient
Le poste
BPA Service Manager – Benelux
Cette offre a été pourvue !
About
Quadient is the driving force behind the world's most meaningful customer experiences. By focusing on four key solution areas including Customer Experience Management, Business Process Automation, Mail-related Solutions, and Parcel Locker Solutions, Quadient helps simplify the connection between people and what matters. Quadient supports hundreds of thousands of customers worldwide in their quest to create relevant, personalized connections and achieve customer experience excellence.
Each of the employees has a part in making their strategy and brand successful. At Quadient, they live their values to deliver the brand promise to the market. Epic. Together. When the first letters of their four values—Empowerment, Passion, Inspiration and Community—come together, they spell Epic in English. When they live their values through the way they work, they become Epic. Together.
Job description
Features :
Departments concerned: BPA Services Department
Technologies : BPA technologies (Impress, Neosend…)
Teams in charge: Pre-Sales / PSO
Location: Benelux
Purpose of the Mission :
ensure the team management of the BPA support team and pilots the activity with the aim of achieving the objectives of the Company
Main Missions :
Team management
You develop the performance culture and promote Quadient's values (Passion, Empowerment, Inspiration, Community)
You determines the team's priorities for action within the framework of the defined strategy
You set and evaluate the objectives of each team member; implements corrective measures when necessary
You discuss training needs, and development of your teams
You conduct assessment interviews and individual interviews
You lead the recruitment and integration of new team members
You coach your team members in their job
You plan absences (vacations…), manages and anticipates human and material needs according to the activity and budgetary rules.
You ensures with the HR department that social legislation and company rules are respected.
You monitor the social climate within the team and, if necessary, escalates problems
Operations management
You manages the team (activity, meeting, coaching ) and organizes the activity (planning, missions) daily.
You implements tools for monitoring and steering (KPI) of the activity to ensure the achievement of set objectives.
You Implements the action plans of the customer satisfaction policy (action plan, respect for processes, quality approach, etc.).
You ensure a qualitative reporting of your team's activity to your management.
You dupports other departments with BPA insight reports
You support Marketing/Sales with updates on new functionality (training, demonstration)
Projects and Innovation
You implement structuring projects (launch, processes, tools…) aimed at optimizing the functioning of the team & the company
You initiate proposals on improvements and innovations
You stimulates initiative on BPA solutions in and outside the team
Synergy and Communication
You are s the privileged intermediator for other departments in interaction with your activity
You develop synergy with other Departments.
You are in charge of the communication of the results , news of your team
Skills and Qualities required :
Leadership
Analytical capacity
Knowing how to anticipate
Know how to organize, manage, and negotiate
Interpersonal skills
Questions and answers about the offer
Ajouter aux favoris

Partager sur Twitter

Partager sur Facebook

Partager sur Linkedin
Notre sélection d'articles pour vous
Inspirez-vous avec une sélection d'articles