🏡 Remote Hybrid
Only 4 days per month are required to be worked on-site
💸 BSPCE
We give stock-options to everyone. We believe in collective achievements and make everyone is involved in the success of Beamy.
👀 Full transparency
Every information is shared transparently in the company (financial figures, salaries, OKRs, upsides & downsides of each team are disclosed regularly)
💊 Health & Lunch
We cover 70% of Alan Blue subscription & we support 60% of Swile.
🚲 Transport
We take care of 75% of public transport pass & offer sustainable mobility package of 30€/month (cumulative)
💻 Equipment
We give you the latest Apple laptop

Our career policy is very much in line with our values, such as full trust & ambitious ownership. We follow meritocracy principles, and put competence above all. 
The career path is worked on daily basis, supported by a weekly 1:1 with the Team Lead for all Beamers. This meeting is an opportunity to share feedback, to co-build our objectives, but also to trigger an action plan for learning, progression and improvement when necessary. We allow career reviews twice a year.
We believe that people empowerment is a key to success. Thus, we make it a priority to value and celebrate successes, to favour ambitious behaviours : internal mobility, managerial development, expertise development, etc.
Testimonial from Louis Cousin, Solution Expert Team Lead
I joined Beamy a year ago as a Customer Success Director. After 6 months, I had the opportunity to be promoted to a team lead role within the customer success team by managing the professional services team. This progression reflects the Beamy values: "full trust, full honesty", "ambitious ownership" and "rising with no ego". At Beamy, everyone can find their place to flourish in a constantly evolving environment!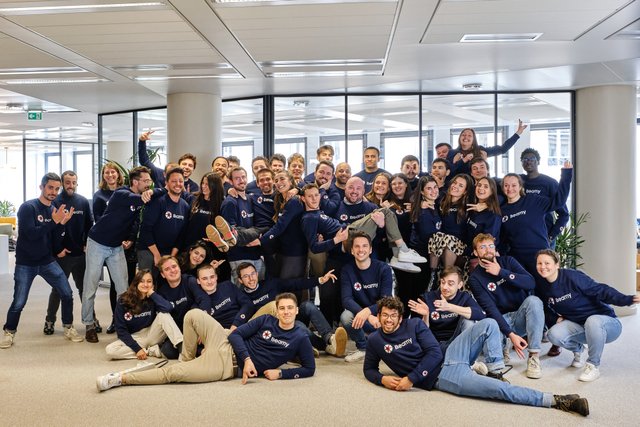 Team rituals and events
Life at Beamy is made of different rituals!
All Hands : This is the monthly meeting not to be missed in our offices based in Opéra (9e). It's an opportunity to share current progresses: latest product developments, cross-functional projects, ongoing objectives & results. We conclude with a thematic special afterwork 🙂
Annual Seminar : To celebrate the successes of the previous timeframe, and to create bonds between people
There is something for everyone. You can always find a friend to go running, talk about the latest TV Show, or participate in a sport session through our morning co-working space.
Everyone knows each other (great friendships have been made outside the office) and the founders are always part of our afterwork thanks to the flat hierarchy tray !