Leeway
Product Designer
CDI

 

Début :

 

Paris

Télétravail ponctuel autorisé

> 2 ans
L'entreprise
Leeway
Logiciels, FinTech / InsurTech, SaaS / Cloud Services

Entre 15 et 50 salariés
Le poste
Product Designer
CDI

 

Début :

 

Paris

Télétravail ponctuel autorisé

> 2 ans
Who are they?
Contracts have remained unchanged for 30 years.
Their content has simply been moved from a sheet of paper to a computer screen and companies have had to adapt, using everyday tools due to a lack of suitable equipment.
Because they are at the heart of business and business relationships, Leeway reinvents contract negotiation with a collaborative and intuitive experience.
Leeway enables companies to manage the complete contract lifecycle, from generation through negotiation, signing and up to monitoring, in a simple and automated way.
Visit the profile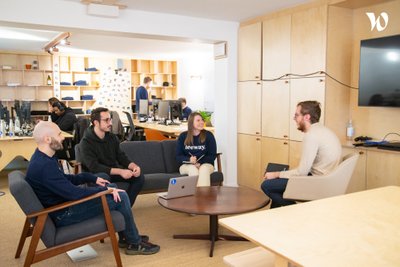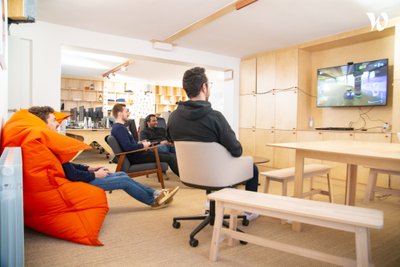 Rencontrez Stéphanie, Inbound Marketer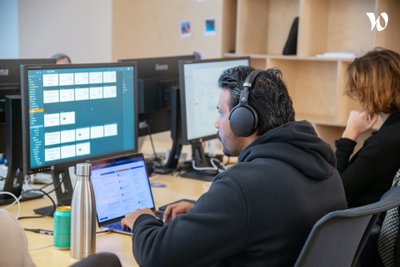 Job description
👀 TL:DR
Full-time position based in Paris with flexibility
2+ years of experience designing digital products
42 000€ - 75 000€ compensation
0.23%* 0.2% - 0.4% stock options in the company
A talented team building the future of contracts
🔧 The position
You'll be in charge of the whole user experience and have the mission to create a delightful and high quality experience to our customers.
You'll face many exciting challenges working on topics like collaboration, automation and document edition.
Our customers love Leeway because it is flexible. We don't build custom features but features that can be used by companies of all sizes. This is something we will deeply challenge.
We love great design. This is a position that doesn't have to fight for "a seat on table".
You'll be the first product designer and work together with Antoine. Over time you'll take over more and more parts. You'll bounce off ideas each other and with the entire team too.
If building a team is something you want to learn and do, over the next years we'll build up a product design team around you. If you don't want to, we will never push you.
Bonus:
You know how code works and have basic skills (JS, SCSS…).
You've worked on collaboration and document edition topics on a previous experience.
Preferred experience
👟 About you
We know that perfect candidates don't exist. Even if not all of this applies to you, we'd love to learn more about you.
You've built designed B2B SaaS products. We love to build custom UI and UX. Our idea of great design is questioning as many assumptions as possible. You have the ability to take the perspective of users and think critically about what will bring them value.
You love a good design system. You understand that it enables creativity and efficiency much rather than limit it.
You love simplicity. You know how to distill simplicity from complex user requirements. - You make choices based on research, testing and user data and not on assumptions.
You enjoy engaging the team. This means high involvement of all team members in the design process.
You care about more than design quality. Whatever you do, needs to have business impact. You can make trade-offs between speed and quality.
You understand the business. You have the ability to analyze how a new product ties in with market needs and consumer preferences. You are capable of aligning your work with the overarching business goals.
💭 How we work
Trust & Ownership: Take, own and implement decisions to build Leeway from scratch. We are not rushing to market but focus on a quality product and the little big details.
Less meetings, more actions: We don't run meetings before 2pm. We use meetings when needed and not per default.
Think big: We believe that the status quo is meant to be broken and we will always encourage you to dare.
🛠 Our Stack
Frontend: React, TypeScript, Tailwind
Backend: NodeJS, TypeScript, GraphQL
Design: Sketch at the moment but I'd love to hear your suggestions
Recruitment process
🌈 Our stance
We stand against racism and fully support all genders. We are actively seeking to create a diverse work environment because teams are stronger with different perspectives and experiences.
We don't look for shiny CVs and we don't really care about your degrees. We like atypical profiles and self-taught people. We like people who take risks, even if they fail, more than those who don't.
🌱 Our offer
Full time contract
42 000€ - 75 000€ compensation
0.23% - 0.4% stock options of Leeway: We want everybody to be a true owner in Leeway.
Visa sponsorship available and your relocation will be covered
🎁 Benefits & perks
25 paid vacation days per year (PTO)
Easy remote work policy: We are an international team and believe in co-located teams. So if you want to work from home or from another place in Europe for some time, no need to take vacation.
Get your perfect setup: You'll receive all new equipment including a laptop, monitor, headset and any other accessories you need to do your best work.
Lunch on us: As french founders, lunch is one of our favorite moment of the day. We eat lunch together as a team from our favorite restaurants around (trust me, french cuisine is worth it 😉)! Otherwise there's plenty of fruits and other healthy food to go around!
Central and lofty office: Our modern office is located in Sentier, in the center of Paris with plenty of great things around. You'll find a lot of design references and we encourage you to add your personal touch to feel like home.
Company health insurance policy: Leeway offers top of the line benefits, including health, dental, and vision insurance.
Parental leave: Leeway believes in #ParentalAct and offers new parents 4 weeks of paid time away to spend quality time with family. Biological, adoptive and foster parents are all eligible for parental leave.
🤔 Our process
The starting date is as soon as possible. However, we are willing to wait for the right candidate. And will do everything to accommodate your needs. We are mindful of your time and going through all stages can be done within one week. Once you've passed them all we will extend a formal offer.
You'll walk through five stages:
Get to know each other: A 30mn call to pitch Leeway and get you excited to join. We'll also use this chance to see whether both our expectations align.
Interview on your achievements, skills and how you could contribute to Leeway's culture: Antoine and you are going to chat more about the position, your experiences, what you value and expect, and whatever is on your mind.
Technical assessment: We know that your time is valuable we don't want it to be painful for you. We've actually designed an assessment that requires a minimum of time to be completed. Once done, we'll have a quick call to understand how and why you did things this way and give you feedback.
References call: We'll ask you to make an intro to one or two people you worked with in a previous experience. We see this as a truly two-sided decision and we'll make you an intro to one of our investors to give you as many insights into us as possible if you want.
🍕 Pizza lunch with the team: Because it's also great to have a relaxing chat and talk about everything like good old friends.
We are lucky to hear from you! 🥳
Leeway
Cette offre vous tente ?
Questions and answers about the offer
Ajouter aux favoris

Partager sur Linkedin

Partager sur Facebook

Partager sur Twitter
D'autres offres de UX design
Ces offres peuvent vous intéresser !
Click&Boat Group

CDI

Télétravail partiel possible

Kanbios

CDI

Télétravail partiel possible

Trustpair

CDI

Télétravail partiel possible
Voir toutes les offres