Alice & Bob
Software engineering Intern
CDD / Temporaire

 

Paris

Bac +3

> 6 mois
L'entreprise
Alice & Bob
Logiciels, Electronique / Télécommunications, Robotique

Entre 15 et 50 salariés
Le poste
Software engineering Intern
CDD / Temporaire

 

Paris

Bac +3

> 6 mois
Who are they?
They are passionate team with a unique technology. Their ambition is reflected in our vision: bringing mankind into the quantum world! Providing exponential quantum computing power across industries requires an outstanding technology carried by outstanding people.
To achieve their roadmap we are building teams of talented and passionate people driven by ambition and willing to face unprecedented challenges. There is room onboard for sharp minds !
Visit the profile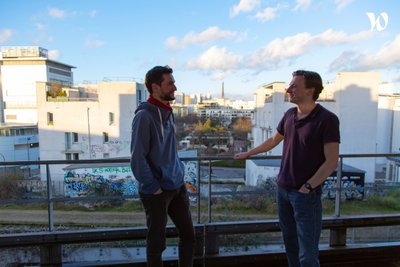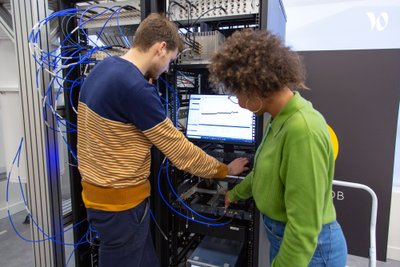 Rencontrez Pierre, Software Engineer
Job description
Alice&Bob is taking up the challenge of building a Universal Quantum Computer, from the first building block to the whole machine. We are an ambitious team pursuing the dream of harnessing the computational power of quantum mechanics. Come and join us on this extraordinary quest!
We are looking for an intern interested in joining our software engineering team. This team supports the other teams at Alice & Bob (physicists and engineers) by designing and developing internal software to ease their everyday job.
The company is located in Paris, France. You will work under the supervision of one software engineer, within the software engineering team.
Mission
The goal of this internship is to contribute to the development of a Python library to design superconducting circuits. This library is used on a daily basis by our engineering teams to draw and simulate quantum circuits, making it one of our most important internal tools.
This project will eventually be open sourced and we aim at sharing it with the entire community of French researchers working on superconducting circuits. So this is a unique opportunity to work on an impactful project, from one end to the other!
You will be expected to:
Understand and clarify the needs of our engineers and scientists.
Contribute to design and API choices.
Write Python code and automated tests to implement the required features.
Communicate about your work and provide support to the library users when needed.
Requirements
Proficient with Python and able to advertise a previous experience writing Python code for a company or an academic project.
At ease with Git.
Experience with unit testing is a plus.
Previous experience in an open source project is a plus.
Problem solving mindset, attentive to details and always happy to learn new things.
Professional fluency in English.
Benefits
This is a meaningful position: you'll support our team in their engagement to build the first universal quantum computer!
You will be part of one of the most innovative startups in France
Our team is passionate and involved in its daily missions. We love to share, learn from one another on each others area of expertise.
You will have the opportunity to innovate and develop new ideas!
Join our company at an early stage, an opportunity for future growth!
You will have the opportunity to work in an open-minded and friendly environment!
Alice & Bob
Cette offre vous tente ?
Postuler
Questions and answers about the offer
Ajouter aux favoris

Partager sur Linkedin

Partager sur Facebook

Partager sur Twitter
D'autres offres de Dev Fullstack
Ces offres peuvent vous intéresser !
Baracoda

CDD / Temporaire

Télétravail total possible

Lodgis

CDD / Temporaire

Télétravail partiel possible

Quinten

CDD / Temporaire

Télétravail partiel possible

Ministère de l'Économie, des Finances et de la Souveraineté industrielle et numérique

CDD / Temporaire

Télétravail partiel possible

Ministère de l'Économie, des Finances et de la Souveraineté industrielle et numérique

CDD / Temporaire

Télétravail partiel possible