Alice & Bob
Quantum Theoretical Physicist
CDI

 

Paris

> Bac +5 / Doctorat
L'entreprise
Alice & Bob
Logiciels, Electronique / Télécommunications, Robotique

Entre 15 et 50 salariés
Le poste
Quantum Theoretical Physicist
CDI

 

Paris

> Bac +5 / Doctorat
Who are they?
They are passionate team with a unique technology. Their ambition is reflected in our vision: bringing mankind into the quantum world! Providing exponential quantum computing power across industries requires an outstanding technology carried by outstanding people.
To achieve their roadmap we are building teams of talented and passionate people driven by ambition and willing to face unprecedented challenges. There is room onboard for sharp minds !
Visit the profile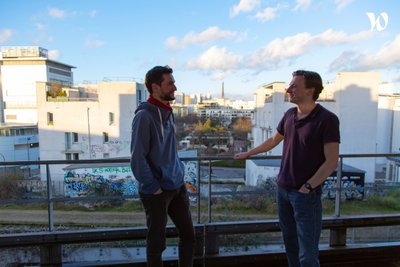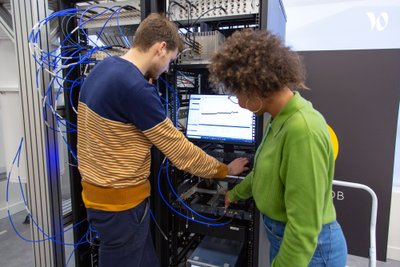 Rencontrez Pierre, Software Engineer
Job description
The quantum computer we envision building is based on a new kind of superconducting qubit invented and developed by Alice&Bob and its academic partners: the Schrödinger cat qubit. The crux of this qubit is its astonishing ability to implement quantum error correction autonomously.
As a quantum physicist working in the theory team, your mission will be to improve the design of superconducting circuits for the stabilization of cat qubits and the realization of high-fidelity quantum gates. This will require the development and implementation of analytical and numerical methods to efficiently analyze the physics of complex multi-bosonic qubits chips in order to scale up the size of Alice&Bob quantum process. Then, you will work in close collaboration with the experimental team to apply these methods to the actual hardware to optimize the functional regime of operations.
As a scientific expert of our technology, your role will also include the management of scientific collaborations with our academic and industry partners on various developments.
If you are a tech explorer, craving to challenge yourself and make quantum computing come true, come and join us!
Responsibilities
Improve the design of Alice&Bob superconducting circuits;
Develop and maintain the analytical and numerical methods for the accurate analysis of complex multi-bosonic qubits chips;
Supervise scientific collaborations with academic and private partners and manage PhD and intern students.
Requirements
PhD and strong postdoc experience in the field of quantum optics or quantum information theory;
Expert knowledge of circuit quantum electrodynamics (cQED);
Deep knowledge of quantum error correction and bosonic systems;
Very strong experience with software design and best practices.
Ability to work autonomously, lead projects and deliver;
Eager to be pedagogical and share your knowledge and expertise within the company;
Willing to take initiatives and push new ideas.
Benefits
This is a meaningful position: you'll support our team in their engagement to build the first universal quantum computer!
You will be part of one of the most innovative startups in France
Multiple benefits (competitive health benefits, meal vouchers etc...), parental benetifs, internal events, etc..
Our team is passionate and involved in its daily missions. We love to share, learn from one another on each others area of expertise.
You will have the opportunity to innovate and develop new ideas!
Join our company at an early stage, an opportunity for future growth!
You will have the opportunity to work in an open-minded and friendly environment!
Alice & Bob
Cette offre vous tente ?
Postuler
Questions and answers about the offer
Ajouter aux favoris

Partager sur Linkedin

Partager sur Facebook

Partager sur Twitter