Locations 🌟
We are based in Brussels, Copenhagen, Lyon and Rotterdam
Remote-working 🌟
Flexible teleworking policy (60% - 40%)
Make it happen 🌟
Amplify your impact in a dynamic, expanding company. We always are open to new ideas
Team Spirit 🌟
Harness the power of knowledge sharing and teamwork
Talent Development 🌟
Unlock your full potential through training
Work life balance 🌟
Achieve work-life harmony in a healthy environment

Unleash your potential at Novutech!
Our dynamic company offers diverse growth opportunities for both functional and technical roles. Climb the ladder of success with our structured career path, whether you aspire to lead teams or become a subject-matter expert.
We invest in your development through targeted training, mentorship, and recognition of your achievements
Testimonial from Jérémy, Senior Tech Consultant & Team Lead
Jeremy joined Novutech shortly after its inception in 2019. As a rookie developer, he found himself surrounded by seasoned colleagues who fostered a high-speed, diverse learning environment. Within a tight-knit team that thrives on collaboration, Jeremy's rapid progression aligned with the company's exponential growth. Today, he stands tall as a Senior Tech Consultant and Team Lead, driving innovation and spearheading projects while ensuring seamless integration for new technical hires.
"

Novutech fuels career growth through diverse resources. With training and collaborative support, I swiftly mastered the NetSuite tool. The opportunities at Novutech have been truly transformative

"

Jérémy, Senior Tech Consultant & Team Lead
Training
Experience seamless onboarding and hands-on mentoring as we empower your growth. Fuel your curiosity and thirst for knowledge through our lunch & learn sessions and mentorship program. Engage with the Novutech Academy, our dedicated platform for continuous learning. Benefit from external trainers who specialize in developing essential soft skills. Embrace feedback as a catalyst for personal and professional excellence in our dynamic and supportive environment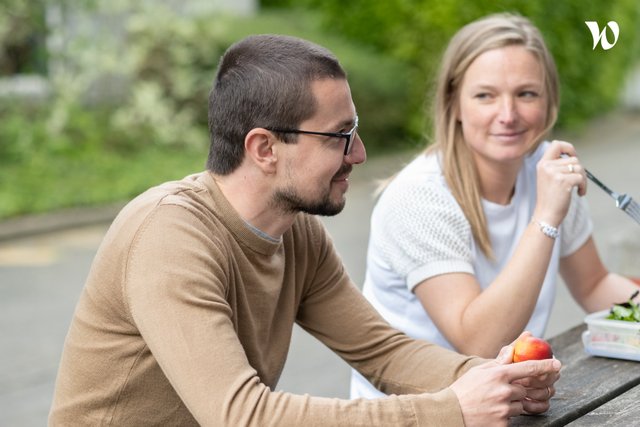 key numbers
2

days of homeworking per week

Team rituals and events
Join us on an exhilarating annual ski expedition, where adventure and camaraderie converge. Discover vibrant European cities as we unveil our roadmap for future triumphs. Unwind and forge bonds at our lively afterwork gatherings, infusing energy into our dynamic team. Together, we create lasting memories and propel collective success to new heights.
Experience the Novutech spirit – where teamwork, celebration, and growth intertwine