FERCHAU France
Aeronautics / Space, IT / Digital, Specialised Engineering
Toulouse, Marseille, Paris
Working hours 🌟
Everyone has 10 annual days off and flexible working hours to organise themselves as they wish.
Atmosphere 🌟
Yes, it's good to be at FERCHAU. Easy to say, but so true!
Share of knowledge 🌟
Our young arrivals have the chance to be trained by our technical experts.
Human scale 🌟
At FERCHAU, being close to and listening to our employees is at the heart of our concerns.
Co-option bonuses 🌟
You can help us choose your future colleagues. Our co-option bonuses come to €1000 net per co-optation.

People are at the heart of our concerns. We want our consultants to feel good and be happy to go to work. At FERCHAU, it is possible to evolve in several ways: to increase your skills towards an expert position, or to move towards management. When you wish to progress, we will listen to you and study your request carefully, with a real desire to support you. With teams in Germany, Spain and the UK among others, it is also possible to apply for international experience.
If there was only one thing to remember: those who give themselves the means will find their way with us!
Testimonial from Bastien Roziere, Manager on the MAP activity for Flight Test Systems Installation.
"I have been with FERCHAU since 2021 as a Mechanical Designer, with 10 years of experience in the field of flight testing, and I have quickly found my place within this new team and this company.
Thanks to a strong stability of the activity with long term customer contracts, FERCHAU offered me the opportunity to take the responsibility of the MAP activity for the Installation of Flight Test Systems. I am now in charge of the control of the deliverables, the follow-up of production and the management of the team. FERCHAU favours internal development before relying on external resources.
I would like to thank FERCHAU for this trust and this opportunity, that had never been given to me in my previous companies!"
"

I quickly found my place within this new team and this company. [...] I thank FERCHAU for this trust and this opportunity.

"

Bastien Roziere, Responsable Mise Au Point pour l'Installation des Systèmes de Test en Vol.
Training
The skills development and training plan is drawn up each year on the basis of the company's development needs, and the needs and wishes expressed by our employees. The annual and professional interviews are essential material for this. Of course, it is not necessary to wait for these interviews to talk about these wishes, we have the necessary proximity for constant communication.
After the planning comes the execution: whether it is external or internal training, tutoring, experience sharing or lessons learned, we have no shortage of tools to support you throughout your development!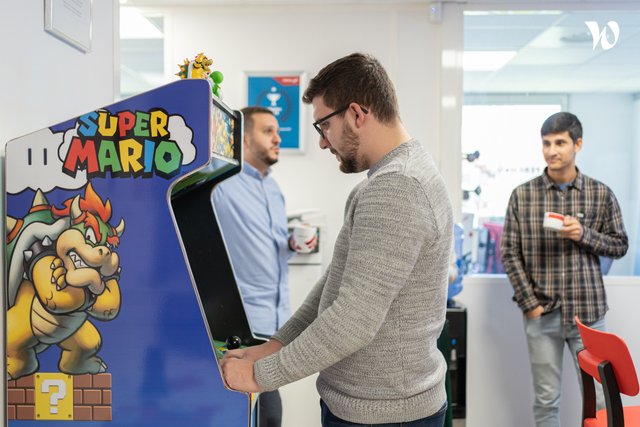 En chiffres
1

agency event per quarter

Team rituals and events
It's always a pleasure to get the technical and administrative teams together. Our agency events allow us all to gather. Toulouse, Marseille and Paris meet up!
Whether it's a dinner aboard a barge, a treasure hunt in Toulouse, or an evening at the Mama Shelter, there's always a good reason to get together. And we don't wait for agency events to happen: afterworks are also regularly organised!
For the 20th anniversary of FERCHAU France in 2025, we already have some ideas, but shhh, it's a surprise!