At bioMérieux, we are the keepers of a strong, innovative, humanistic culture driven by a long-term vision. We offer a unique and meaningful team member experience in an international and multicultural work environment where everyone can be themselves, respecting and accepting differences. Our commitment to public health is the guiding principle behind everything we do, both with regard to our team members and our social commitments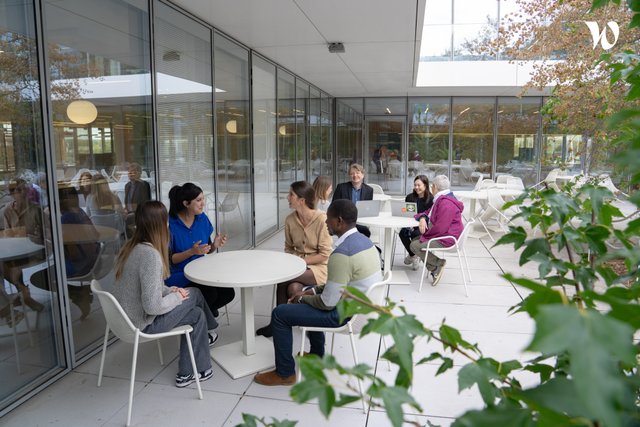 At bioMérieux we are blessed to operate in an innovative technological environment and keep on top of trends to enable our teams to work on the most effective tools. We develop our own software to improve public health. The projects we work on respond to today's challenges and aim to anticipate those of tomorrow, such as system interoperability, computing power and cybersecurity.

Within the team, we hold various positions:
Front-End Developer
Back-End Developer
SAP Business Analyst
IS Service Manager
Hardware / Firmware Engineer
Software Support Engineer
Data Scientist
"

"I joined bioMérieux 10 years ago as a support engineer, and considering my various projects and missions, bioMérieux really trusted me and today I manage approximately 20 people."

"

Grégory, IT Solutions Middleware Manager
Our Marketing teams define bioMérieux's market strategy and address emerging trends to build the right solution portfolio. They provide strategic and commercial guidance, in line with the company's vision and our cross-selling ambition. As a partner of choice, our Customer Service teams provide quality support and services to offer the best possible customer experience when using our solutions.
Among our team members we have:
Business Development Managers
Product Managers
Service quality coordinators
Technical microbiology specialists
Field Systems Engineers
"

If you are committed, if you want to work with others, if you have human-centered values, do not hesitate. Apply for this great company that is bioMérieux.

"

Stéphanie, VP Global Marketing Immunoassays
Within our 14 research sites, our R&D teams combine their knowledge of science with the integration of new technologies to fight infectious diseases around the world. Our multidisciplinary teams develop breakthrough diagnostic solutions to meet the medical needs of today and tomorrow, through innovation in immunoassays, microbiology and molecular biology (clinical applications). Our multidisciplinary teams, in collaboration with our customers and partners, develop microbiological testing systems including data processing and analysis software for detection, prediction and prevention (industrial applications).

The R&D team at bioMérieux is notably made up of:
Cell culture laboratory technicians
R&D project managers
R&D Algorithm Engineers
R&D Data Science Managers
"

To sum up, most of the time I enjoy working for bioMérieux, it's a great company that takes care of its team members.

"

Marléna, Spécialiste Biomathématiques
Our Supply Chain employees around the world ensure the availability and traceability of our products, on-time delivery and a range of logistics services. We serve customers in more than 160 countries and process 1 million orders per year. As for our experts, they prepare and dispatch our customers' orders in full compliance with the strictest regulatory and quality standards.

Join us as a:
Export Manager
Inventory Manager
Logistics Operator
Purchaser
Brand Demand Manager
"

At bioMérieux, we trust our employees and allow them to make cross-functional internal transfers.

"

Alexis, Vice President International Distribution
In line with the company's long-term strategy and objectives, our support functions work hand-in-hand with operational teams to support performance and reinforce bioMérieux's positive impact.

At the heart of the company's operations, they support the primary activities of the business to ensure reliable processes and support growth.
Talent Acquisition Specialist
Buyer
Administrative Assistant
Management Controller
Communication Officer
"

Joining bioMérieux means working in an innovative company with a long-term vision. But above all, I would say that it means joining nice teams, being supported throughout your career and evolving in a superb working atmosphere.

"

Eszter, EMEA Regional Controller
A family-owned company, bioMérieux has grown to become a world leader in the field of in vitro diagnostics. For 60 years and across the world, we have imagined and developed innovative diagnostics solutions to improve public health. Today, our teams are spread across 45 countries and serve 160 countries with the support of a large distribution network.
Joining bioMérieux is choosing to be a part of an innovative company with a long term vision, committed to the service of public health and carried out with a human-centered corporate culture.
Our Group offers numerous opportunities: join the 13,800 bioMérieux employees who already identify with these values!
What they are looking for
Candidates' know-how and agility are very important. The ability to adapt to change, be a team player and embrace our corporate culture is fundamental. We are interested in candidates who can adapt to various types of situations and who are focused on performance and finding solutions.
Behind the design, development, manufacturing and marketing of our products are nearly 200 different jobs. We have earned an international reputation for our team's expertise. In order for us to manufacture the instruments on which our tests run, to develop the integrated software our automated systems require, and to sell our products and services, we recruit individuals coming from extremely diverse backgrounds to work in our major professional divisions:
Research and Development
Manufacturing
Supply Chain
Information Systems
Quality
Business : Sales, Marketing & Customer Service
Support Functions
Support functions
Medical Affairs
HSE
Clinical Affairs and Regulatory Affairs
To join bioMérieux's great adventure, here are some criteria!
Desire to contribute to improving public health worldwide
Give importance to interpersonal skills as well as technical skills
Seek personal growth through contact with diverse backgrounds, horizons and different cultures.
Be curious, open and agile to meet the challenges that await you