Tech jobs for dummies: what exactly do they do?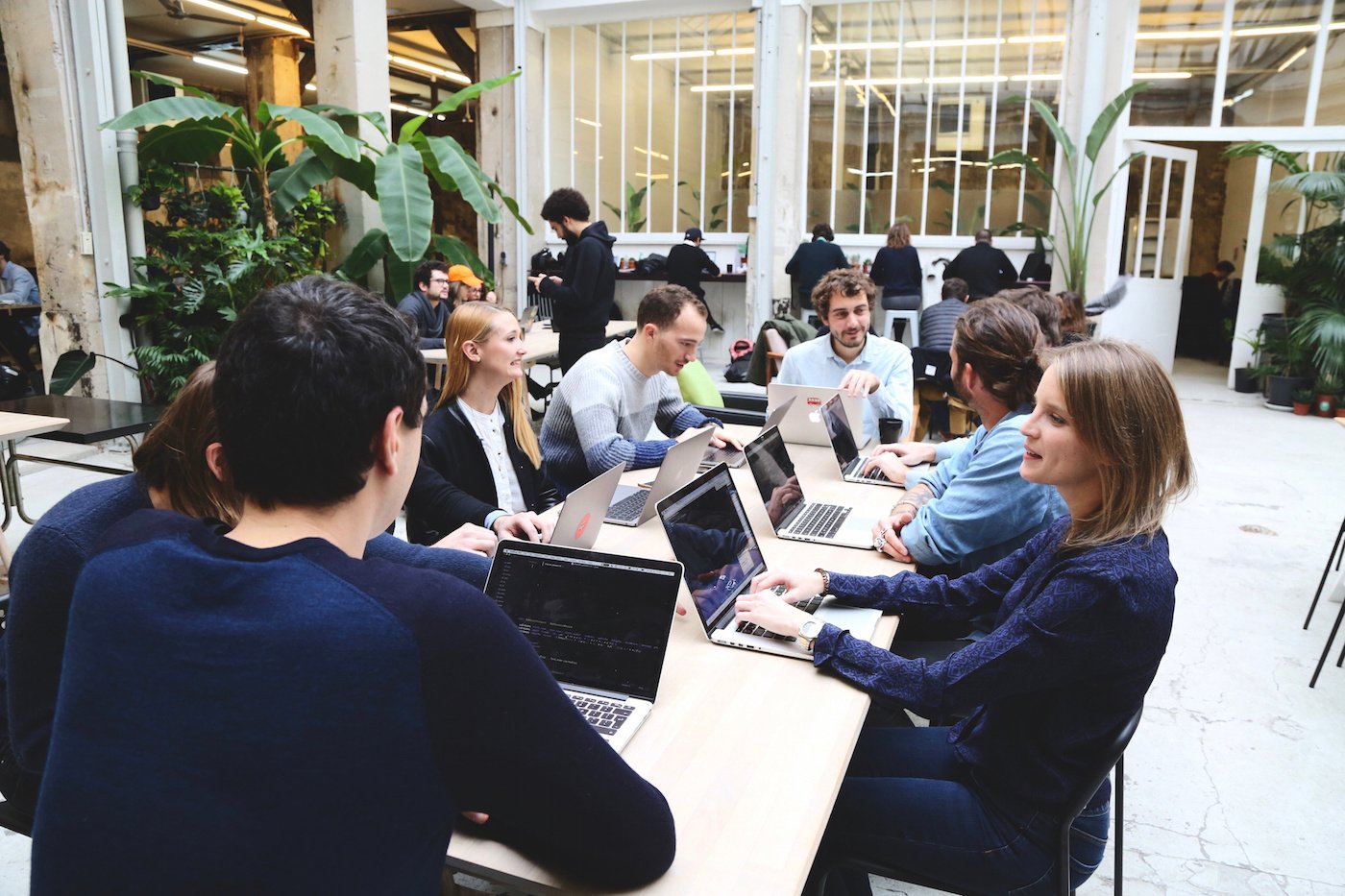 If there's one sector that never stops evolving, it's digital technology—and so do the jobs it creates with each shift. Do you feel lost in the midst of all those technical terms? We can sympathise! That's why we thought it would be useful to make a list of who does what, both behind and on the screen.
---
1. Front-end developer
Put simply, front-end developers are the ones who work on creating the user interface of a website or a web application and deal with all the visible elements on screen. Their goal? To create clear and accessible websites by thinking about ergonomics, portability—the ability of a site to be easily displayed on a computer screen or on a smartphone—and search engine optimisation (SEO). Their job includes a good deal of design as well as development work. However, they only use the data provided by the server. This means that they don't write the server-side features to get the data, they're just a "consumer".
Their weapons: Code, of course—HTML5, CSS3 and Javascript—which they must know like the back of their hand, but also creativity to design interfaces with precise specifications. Naturally, they need a good dose of curiosity to help them constantly adapt to technologies and software.
Explore more in our section: Workers
Sophie Howe on working for future generations
2. Back-end developer
Hiding in the shadows, back-end developers also work on the design of websites and applications, but they mainly work on the features, as well as on all the elements you don't see when browsing a website, known as the technical architecture. They are in charge of server configuration, development and maintenance. Once this work is done, they are there to find solutions in real time, and to make realistic recommendations to ensure the website is always running optimally.
Their weapons: The back-end developer likes to juggle programming languages and databases: PHP, Ruby, Python and SQL are, so to speak, their best friends. On top of their technical skills, which they are constantly updating, they also know how to manage a budget and organise their time in order to propose realistic solutions to their clients or company.
Learn more about: Sectors and jobs
3. Full stack developer
At a time when specialising is king, this developer is a Swiss Army knife (or a UFO). They must be able to work both on the back office of a site or web application—the part that isn't accessible to end users or customers—and on the front office, which comprises all the elements visible on screen. Similarly, they may take care of the website's architecture, user experience, and even html integration.
Their weapons: Thorough knowledge of different technologies and programming languages, of course, but additionally—and above all—the ability to adapt to any challenge as they move from one problem to another. Full stack developers are in high demand!
4. UX/UI designers
Behind these somewhat robotic terms hide two facets of the web designer's job. The first, UX for user experience, focuses on the experience of the end user. The second, UI for user interface, focuses on the design of the product interface. When combined, site interfaces are created. For example, for an e-commerce site, this is done by taking into account the formats (computer, tablet, smartphone), tactile navigation, portrait/landscape rotation on mobile media, interactivity of action zones and so on.
Their weapons: The UI designer deals with creating the link between human and machine. To this end, they use graphic elements, such as buttons, tabs and so on, alongside text for clear, intuitive navigation. The UX designer deals with meaning: they speak to our emotions through storytelling. They foster empathy to meet the user's expectations and needs, which creates trust between user and brand.
Be warned: only one person can deal with both IU and UX at the same time.
5. Data analyst
Wherever there is data, there is often a data analyst. At least, there should be. They are responsible for all database operations. If there's a problem or question, the data analyst selects appropriate data to provide answers for various departments. In short, they are immersed in our personal data and identify customer trends to provide decision-makers with their analyses.
Their weapons: All data analysts have a strong appetite for technology and computer software. However, they must also be experts in data analysis techniques and statistical methodologies, as well as having organisational skills and feeling comfortable writing in order to prepare their invaluable reports.
Their weapons: All data analysts have a strong appetite for technology and computer software. However, they must also be experts in data analysis techniques and statistical methodologies, as well as having organisational skills and feeling comfortable writing in order to prepare their invaluable reports.
6. Data engineer
They also work closely with the data, but are in charge of the maintenance of the analytical infrastructure, before the creation of data models. Their mission? To take care of the infrastructure that collects, cleans, processes and stores the data that will be analysed or used later by a data scientist or data analyst. Ultimately, they do the groundwork and ensure everything runs smoothly. Their role is essential because all data processing and analysis depends on what they do.
Their weapons: Excellent knowledge of data architectures—for example, data storage, management and use—but also a good understanding of business issues and needs.
7. Data scientist
Often considered the Swiss Army knife of data, their role varies from one company to another. They may work on developing data-processing models, work on more or less structured data, and also code in programming languages to handle and analyse this data optimally. This means that some data scientists will be pure statisticians—very mathematical and experts in algorithms—while others will simply use the technologies available and maybe even participate in a more overall discussion on the use and business contribution of data.
Their weapons: Versatility, patience, a passion for numbers and meticulousness are key to being a proficient data scientist.
8. Product manager (or owner)
Product managers also work in web companies. This IT project manager is the link between business and technology. What's their mission? In the broadest sense, it's to come up with and design, alongside management, a vision for a product—goods or a service created to satisfy a need. In order to create value, they imagine and design the product roadmap, the company's next steps and the different projects in conjunction with the marketing and sales departments, and the technical team, of course.
It's worth noting that there is a lot of debate about the difference between a product manager and a product owner. While the definitions of these roles may be blurred, there are nevertheless some nuances. To put it simply, the product manager has a more strategic, "macro" vision—they find the context for a product within the company and the market. Meanwhile, the product owner has a "micro" vision of the product and is closer to the technical team, accompanying and helping them throughout the "sprints", or repeated development phases. Ideally, a combination of general understanding and technical approach works best.
Their weapons: To be a good product manager, you have to be resourceful, responsive and know the development methods that work. The product manager must also know how to clearly explain their vision and what they expect from other departments.
9. Traffic manager
Within an e-commerce company or online business, an advertising agency or communications agency, the traffic manager is the one who handles website traffic. Their mission is much more important than just launching advertising campaigns and products online. They are also responsible for the extent of their reach: they maximise traffic acquisition levers to boost sales and/or reach prospective customers.
Their weapons: All the marketing channels such as paid search engine advertising (SEA), SEO, e-mailing and affiliation. Traffic managers work by studying the different media, the visitors and the traffic on the sites they handle on a daily basis. Plus, they only have eyes for the return on investment (ROI).
10. IT security expert
Also known as a cybersecurity expert, this digital watchdog spends the day tracking any possible hacking or spying by competitors to prevent the theft of a company's private data. Their day-to-day work is divided between information system diagnostics, monitoring weak points and implementing any necessary solutions.
Their weapons: A solid knowledge of all things IT and its flaws such as firewalls, viruses and so on. And, most definitely, reactivity, which is essential when it comes to dealing with sensitive data.
Translated by Kalin Linsberg
*Photo by WTTJ @ Le Wagon
Follow [Welcome to the Jungle on Facebook]( and subscribe to our newsletter to receive our best articles.
Add to favorites

Share on Twitter

Share on Facebook

Share on LinkedIn
Related reads
Latest articles
Receive advice and information on new hiring companies directly in your inbox each week.
And on our social networks: