Social events vs. job fairs: what's best for networking on the job hunt?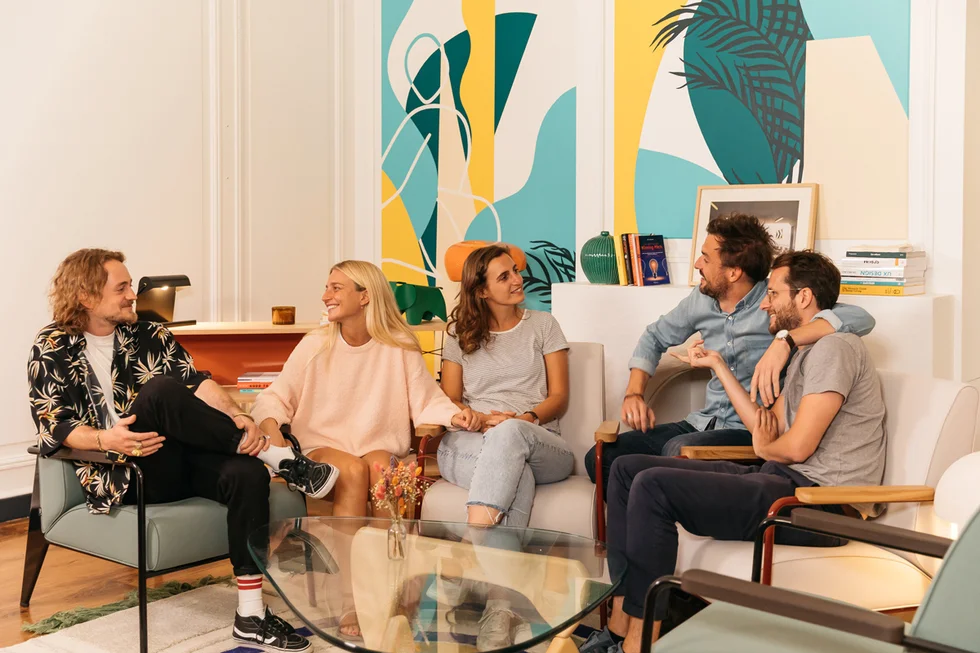 "Pound the pavement," jobseekers are told. "Put yourself out there and the offers will follow." The question is, put yourself where, and on which stretch of pavement? Historically, the answer has been to go where the hiring managers are—aka career fairs. You may know them as "job fairs" or "career expos," but the gist is the same: a group of folks looking for employment assembles to meet representatives from companies that may (or may not) be hiring. These gatherings are often compared to speed-dating, since job hunters get a few minutes at most to chat up hiring managers. Is this the most efficient way to network, or should we be looking elsewhere for job opportunities? Let's find out.
Are you looking for something serious?
The connections made at a career fair tend to be brief and surface level—which, critics say, doesn't lend itself to hiring (you wouldn't marry someone you'd gone on one date with, right?). In fact, Shane Paarman, CEO of the e-commerce site AwesomeStuff365, says that at job fairs "the connections you make are more often to provide information rather than to get actionable opportunities." In other words, you may get to leave a business card with someone, but that doesn't guarantee you'll be doing business together.
However, others contend that what a job fair lacks in depth, it makes up for in breadth. In no other scenario can a candidate meet and connect with as many hiring managers at once. Candice Moses, CMO of the people search engine, Information, says, "These fairs continue to offer many tempting career chances, and more importantly, they do so in large numbers." Sam Underwood, an eCommerce SEO consultant, puts it more bluntly: "You have a fantastic opportunity to network at job fairs because many people are conveniently gathered there to do just that—network with you! I dare you to try getting that in any other way."
Your network already exists
As an alternative solution to traditional networking, many professionals advise an entirely different form, one that yields more fruitful results because it doesn't feel like networking. In fact, you're probably already doing it. What is it, you ask? Meeting up with friends and friends of friends to build a web of personal connections—which just so happen to occasionally turn into professional ones. According to research conducted by LinkedIn, the most frequent means by which people find jobs is through a personal referral—it's how roughly 85 percent of positions are filled. In addition, 56 percent of job seekers tap into their personal networks for job leads, and 50 percent find open positions through word of mouth.
It's not hard to find people who've experienced this. Kirsten McKinley, former wedding planner and founder of online magazine Weddings & Brides, says she's always found jobs via social events. "I've been hired by people at post-wedding parties," she says. "Since people are talking about the wedding, they'll ask me about my work, and that leads to them writing down my contact information and hiring me at a later date." Kimberley Tyler-Smith, Head of Marketing at Resume Worded, has had some success at job fairs, but more at social events: "If you want to get your foot in the door somewhere, it helps if you can connect with someone who works there and show them how valuable you'd be as an employee."
Networking gets a bad rap
After all, "networking" can have an icky, transactional connotation, while simply having a conversation is organic and natural. Or as Jacquelyn Kennedy, CEO of PetDT, puts it: "I network far more successfully when I'm not aiming to network." When we go to a job fair, we're hyperaware of our self-presentation. But when we have a relaxed, low-stakes chat, we tend to be more genuine, engaged, and thus better positioned to show people who we truly are.
How to establish the right social network
Luka Juretic, Director of Marketing at Buzzlogic, says that his has provided him with multiple opportunities. "You can often make meaningful connections just by going to specific bars frequented by people in your field," he says. And don't sleep on those school contacts: "When you go to university for something, you're more likely than not to meet a guy who knows a guy who you can talk to about that job opening you saw."
Beware of jeopardizing DEI
This social circle navigation presents a conundrum: what if you never went to college or don't have the social capital to know which bars are beloved by marketers or journalists or graphic designers? What if having a vast social network of fellow professionals is a form of privilege? Hebatullah Issa, founder of Disability Content Consulting, says this is a problem that plagues the business world. "If you only hire from your network and the people you know, and everyone in your network looks like you," she explains, "then your hiring will continue to lack diversity."
Out with the old, in with the … sort of new
One answer to this problem may in fact be—yes, we've come full circle—job fairs. But there's a catch: we're talking about virtual job fairs. A 2021 study by entry-level job site Handshake revealed that students who are women, people of color, or neurodivergent found virtual job fairs to be more accessible than those held in person. In addition, Black, Latinx, and Asian students reported feeling more seen by potential hirers at virtual job fairs than at their in-person counterparts.
Virtual job fairs also remove some of the barriers to access that exist at in-person fairs, like long waits for meetings with hiring managers which can require extended time away from work, or the cost of driving and parking at a convention center. And at virtual fairs, attendees are often given ten-minute slots rather than a few unstructured moments of chitchat. That can mean the difference between making a connection and barely making an impression.
Key takeaways
There are merits to both career fairs and more socially-focused networking. The latter may provide a more reliable path to a job opportunity, but the former has its uses—just maybe not the ones you expect. It may be best to attend a career fair, not in hopes of landing a job, but to beef up your interviewing skills and learn more about companies that interest you. Says Carter Seuthe, CEO of Credit Summit, "Career fairs can be a good source of inspiration, a way to build confidence, and a means of increasing awareness of the job market." If you should also find a job there, well, consider that icing on the cake!
Photo: Welcome to the Jungle
Follow Welcome to the Jungle on Facebook, LinkedIn, and Instagram, and subscribe to our newsletter to get our latest articles every day!