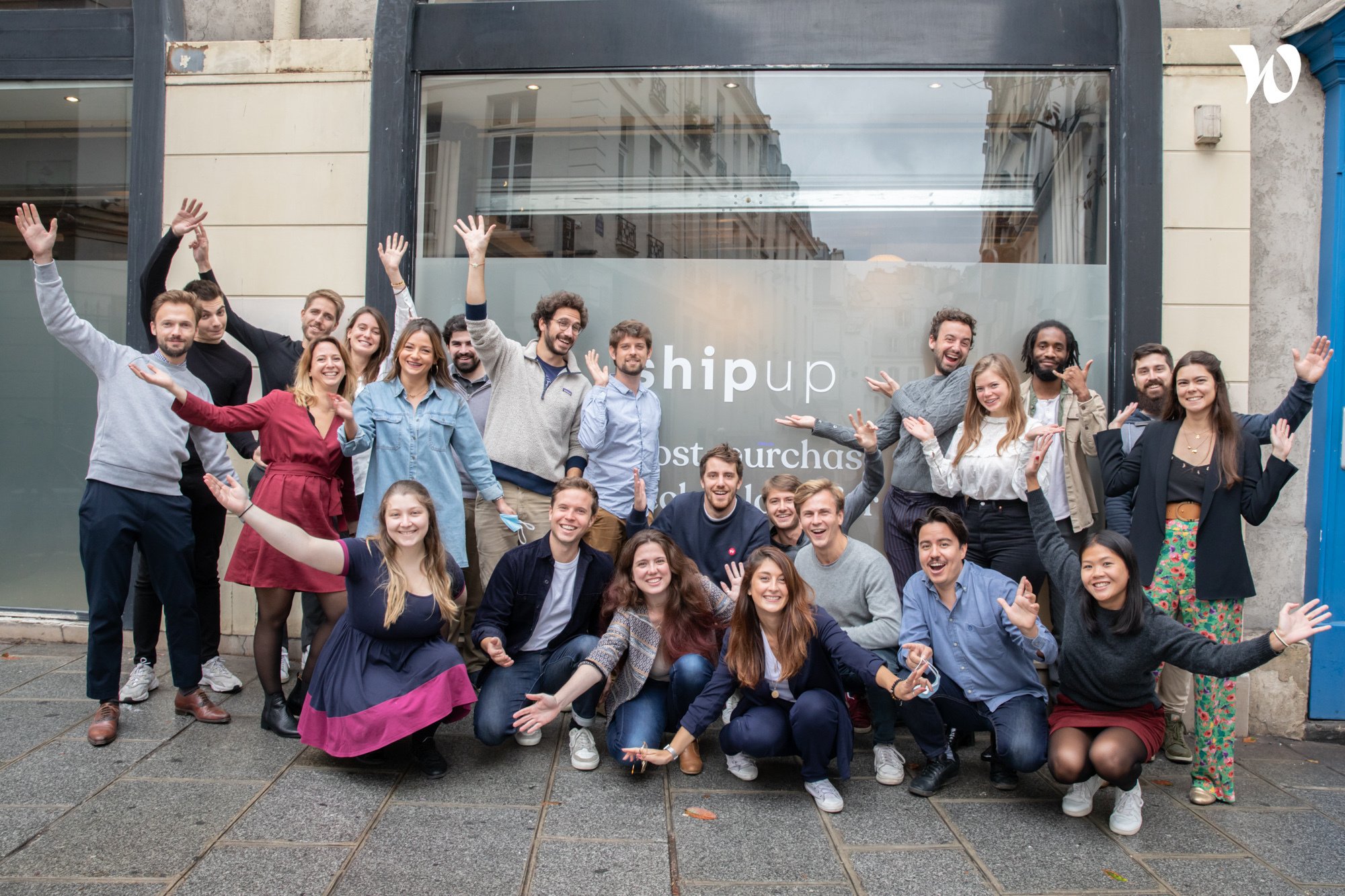 Shipup
Product Manager
CDI

 

Début :

 

Salaire entre €45K et €60K

Paris

Télétravail ponctuel autorisé

Bac +5 / Master

> 2 ans
La tribu
Shipup
AdTech / MarTech, E-commerce, Logistics, SaaS / Cloud Services
Le poste
Product Manager
CDI

 

Début :

 

Salaire entre €45K et €60K

Paris

Télétravail ponctuel autorisé

Bac +5 / Master

> 2 ans
About
Who we are ?
At Shipup, our mission is to create a seamless, proactive and branded post-purchase experience for online retailers. 🛍🛒
If you are used to buying online, you probably already went though the exprience of losing your nerve for an order that encounters multiple incidents. For online retailers, a poor post-purchase experience is a costly nightmare: it drags down customer satisfaction, online reputation and repeat purchase rate while inflating the volume of complaints at customer support.
Shipup is a SaaS company that tracks in real time the orders and deliveries of online retailers in order to create a seamless, branded and reassuring post-purchase exprience (proactive and live notifications, customized tracking pages, customer surveys at delivery…). Thanks to Shipup, ordering online is less stressful. Online shoppers are more satisfied, they complain less and buy again more.
The company has been created at the end of 2016 by Romain, Terence and Quentin : 3 co-founders from HEC Paris and Centrale Paris who used to work for Drivy (acquired by Getaround), Rocket Internet, Casper and Dashlane.
Shipup works with more than 300 brands in Europe and North America, some of which are very successful digitally native brands (Cheerz, Blissim, Withings, Feed., Le Petit Ballon, Respire, Aime, Na-Kd, Ssense, Ysé, A.P.C. …) while others are larger, more traditional accounts (Leclerc, Carrefour, Intermarché, Go Sport, Yves Rocher…).
June 30th 2020: Shipup announces a 6m€ series A in order to open an office in New York and recruit 45 people in the next 12 months.
Our values
✊ Ownership
💡 Initiative
👨‍👦 Empowerment
🧸 Caring
🏋️‍ Ambition
Job description
We're looking for a new Product Manager whose main mission will be to take product stewardship of one of the 2 squads.
🛍 As a Product Manager @Shipup, you will
Articulate and communicate a clear product roadmap.
You'll collect feedback from our customers and internally to make more informed product decisions.
You'll evaluate and prioritise our product roadmap.
You'll help the Marketing team communicate about new features.

Ensure product quality meets our standards of excellence.
You'll look over the engineering team, making sure projects stay on schedule.
You'll build product specifications.
You'll make sure that all new work conforms to our standards.

Ensure better cross team communication.
You'll be the key communication point b/w our engineering team and other teams.
You'll build technical and functional documentation.
🙌 Our team
You'll join a team of twelve (9 technical people, 1 product manager & 1 product designer) led by Quentin, our CTO & CPO.
This team is divided into two squads :
Online-shopper perceived value (where we are hiring)
This squad has the ownership of all features that are directly dedicated to end-customers. Squad members will focus on features for which the benefits are mainly perceived by / or directed towards the latter.
Team members :Aliou (Lead Developer), Juliette, Jean and Arthur (Developers)

Merchant perceived value
This squad has the ownership of all features that benefit directly the Merchants. Squad members will focus on providing our merchant's operations and CS teams with the tools and resources they need to be successful.
👩‍💻 Our Product Stack
Preferred experience
You're a doer
You'll take on day-to-day stewardship of the product. We're looking for a strong generalist that will quickly adapt to our fast moving environment. You have above average planning capabilities.

You have a considered, detailed approach to communication
You're a great communicator and will be able to scale those communications as the company grows, between customers, sales, support and our Engineering team. We're looking for a confident and outgoing individual who's fully proficient in an English speaking work environment.

SaaS / e-commerce sensibility
You have both a B2B and B2C product sensibility. You have at least 2 years of experience building (preferentially SaaS) products.

You're a leader
You fit with Shipup's culture and promote initiatives and ownership. You're a caring individual who will lead by example when it comes to getting stuff done and representing our customers and prospects. You're willing to fight for your team's interests.
Recruitment process
Our recruitment roadmap remains unchanged due to health conditions. On the opposite, we need more than ever resources to reach our ambitious objectives.
That's why we guarantee a fully remote hiring process for all candidates.
Here are the steps of our recruitment process :
(45min) Screening call with Quentin, our Tech Talent Acquisition Manager
To better understand your career plan and answer any of your questions

(01:30) Hiring manager interview with Quentin, our CTO / CPO
To evaluate your hard skills and understand what is your product vision

(01:30) Product case with 4 Shipup members
To evaluate your english skills and understand how you present your ideas and defend them

(01:30) Drinks or lunch with the team
To ensure that you will be in line with our values and culture
🤩 Why should you apply ?
Join us at a magical time: Shipup's been exponentially growing in the past few months
Competitive salary
International team where everyone cares for one another
Stylish office located in the heart of Paris (75002, 🚉Sentier)
Swile card (meal vouchers), free coffee and fruits
Transportation (50%)
Potential for career evolutions due to our strong growth
Meet the Shipup team
This content is blocked
Youtube cookies are required to show you this content
Questions and answers about the offer
Ajouter aux favoris

Partager sur Twitter

Partager sur Facebook

Partager sur Linkedin
Notre sélection d'articles pour vous
Inspirez-vous avec une sélection d'articles