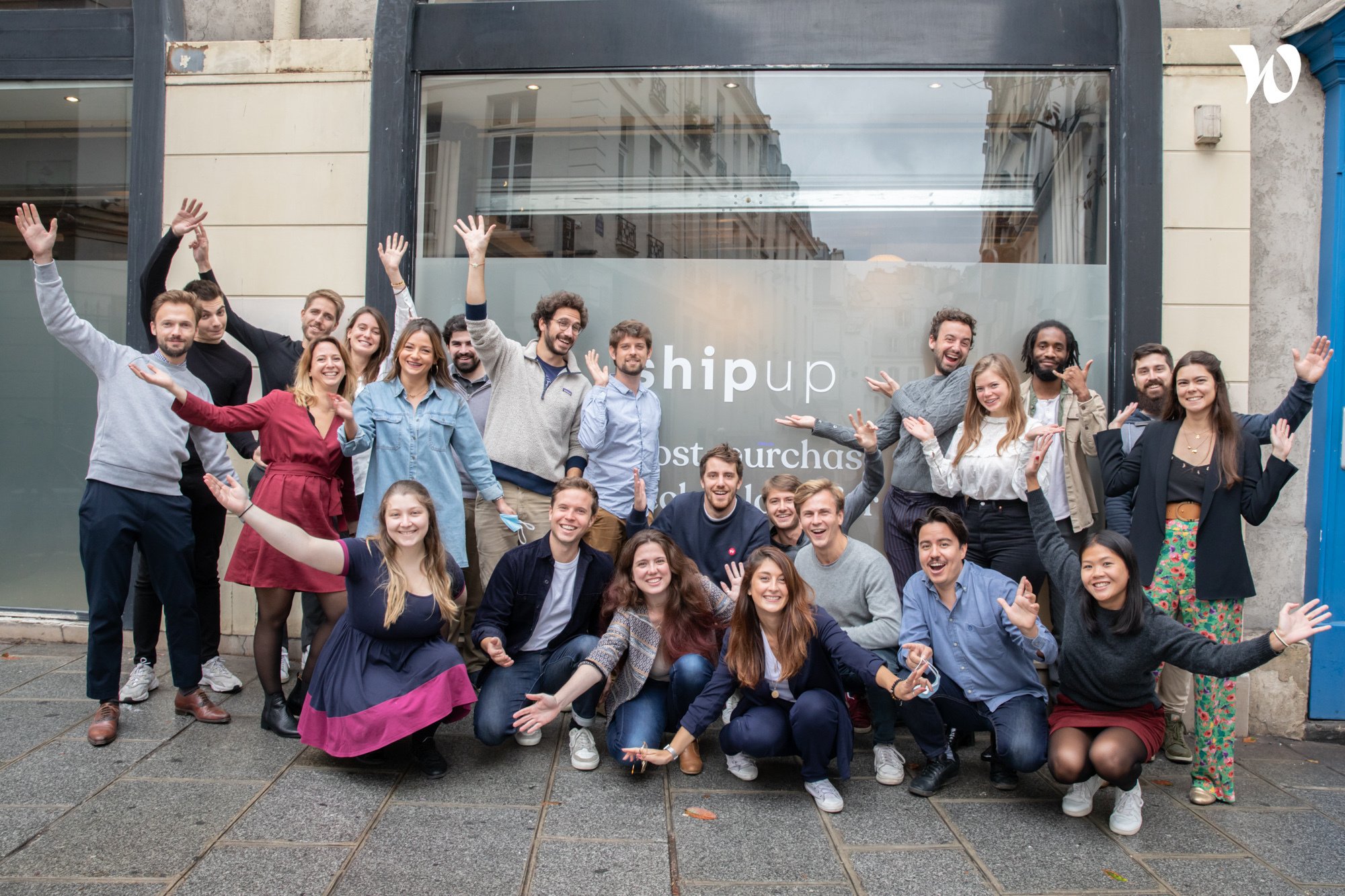 Shipup
Product Designer (Lead)
CDI

 

Début :

 

Salaire entre €55K et €65K

Paris

Télétravail partiel possible

Bac +5 / Master

> 3 ans
La tribu
Shipup
Le poste
Product Designer (Lead)
CDI

 

Début :

 

Salaire entre €55K et €65K

Paris

Télétravail partiel possible

Bac +5 / Master

> 3 ans
Cette offre a été pourvue !
About
Who we are ?
At Shipup, our mission is to create a seamless, proactive and branded post-purchase experience for online retailers. 🛍🛒
If you are used to buying online, you probably already went though the exprience of losing your nerve for an order that encounters multiple incidents. For online retailers, a poor post-purchase experience is a costly nightmare: it drags down customer satisfaction, online reputation and repeat purchase rate while inflating the volume of complaints at customer support.
Shipup is a SaaS company that tracks in real time the orders and deliveries of online retailers in order to create a seamless, branded and reassuring post-purchase experience (proactive and live notifications, customized tracking pages, customer surveys at delivery…). Thanks to Shipup, ordering online is less stressful. Online shoppers are more satisfied, they complain less and buy again more.
The company has been created at the end of 2016 by Romain, Terence and Quentin : 3 co-founders from HEC Paris and Centrale Paris who used to work for Drivy (acquired by Getaround), Rocket Internet, Casper and Dashlane.
Shipup works with more than 400 brands in Europe and North America, some of which are very successful digitally native brands (Cheerz, Blissim, Withings, Feed., Le Petit Ballon, Respire, Aime, Na-Kd, Ssense, Ysé, A.P.C. …) while others are larger, more traditional accounts (Leclerc, Carrefour, Intermarché, Go Sport, Yves Rocher…).
June 30th 2020: Shipup announces a 6m€ series A in order to :
open an office in New York
hire 45 people in the next 12 months
continue to create breakthrough products
Our values
✊ Ownership
We choose to be here and to do what we do. We are responsible for our objectives and for the output of our work.

💡 Initiative
Taking action without direction from above to improve our knowledge and come up with solutions to problems. Initiative is a key reason for success, and places an obligation not to stifle it.

👨‍👦 Empowerment
We encourage those below us to take action and support them if they make mistakes. We explain what we want accomplished and allow flexibility in how it is accomplished.

🧸 Caring
Being concerned about our co workers, our customers and the customers of our customers.

🏋️‍ Ambition
Always seeing bigger and having a strong desire and determination to succeed.
Job description
We're looking for our Lead Product Designer to lead the design team
Our promise : You will have a lot of responsibility, autonomy and many things to build or implement. Also, you will be able to progress quickly to a managerial role.
3 reasons to believe us :
Our product director is looking for the person he can rely on (product strategy, roadmap, practices…)
Our weaknesses are in research, metrics and data analysis where you'll be the bearer of these subjects
Our ambition is strong and our growth just started. We will have to hire new designers to reach our goals.
🛍 As a Lead Product Designer @Shipup, you will
Partner closely with our Product, Sales and Support teams to understand what online retailers love about Shipup and what will make their online shoppers delighted by their post purchase experience. Use this data to plan and scope our product roadmap
Help us improve our existing set of features by finding strategic areas of improvement
Take the lead on our new design system recently deployed and help us to make it grow
Implement the best practices & processes (from user research to implementation)
Grow-up the team
Mentor our junior product designer
Spread the design culture within the teams
🙌 Our team
You'll join our Product & Design team led by our Product Director :
Engineering team : 8 advanced/senior developers
Our technical platform is divided into two multidisciplinary squads.
Online-shopper perceived value
This squad has the ownership of all features that are directly dedicated to end-customers. Squad members will focus on features for which the benefits are mainly perceived by / or directed towards the latter.

Merchant perceived value
This squad has the ownership of all features that benefit directly the Merchants. Squad members will focus on providing our merchant's operations and CS teams with the tools and resources they need to be successful.
👩‍💻 Our Design Stack
Preferred experience
You could be a good fit if:
You've worked for at least 3 years in product design (from user research to implementation) in B2B or B2C SaaS.
You're a good listener who likes to collaborate and to make people grows up
You can draw on sales, marketing, product, technology, customers and industry to define the product strategy
You care about the design impact on business
You like to tell stories using both words and visuals, and strategize the best way to make your point
You're not afraid to get your hands dirty
Nice to have
You can do basic-level coding in HTML + CSS + Javascript. (We use React for the front-end)
Recruitment process
Our recruitment roadmap remains unchanged due to health conditions. On the opposite, we need more than ever resources to reach our ambitious objectives.
That's why we guarantee a fully remote hiring process for all candidates.
Here are the steps of our recruitment process :
(45min) Screening call with Quentin, our Tech Talent Acquisition Manager
To better understand your career plan and answer any of your questions

(01:30) Hiring manager interview & Whiteboard challenge with Quentin, our CTO / CPO
To understand your design vision and evaluate your analytical skills, methodology & communication

(01:00) Peer interview with Charles
To understand your approach to design and your philosophy

(01:30) Drinks or lunch with the team
To ensure that you will be in line with our values and culture
🤩 Why should you apply ?
Strong impact : you will be one of the main players in our product and design roadmap !
Attractive salary : salary, equity, multiple benefits (meal vouchers, coffees, transportation, health insurance…), sponsorship, relocation package, internal events and offsites
International : multicultural teams where everyone cares for one another (If you want to read what our employees are saying about us on Glassdoor ! ✨)
New renovated office : stylish office located in the heart of Paris (🚉 75010)
Growth : our environment is rapidly growing in Europe and in the USA
High-quality equipment : latest Macbook Pro or equivalent
People-centric company : our people matter, work-life balance is important at Shipup
Meet the team
This content is blocked
Youtube cookies are required to show you this content
Questions and answers about the offer
Ajouter aux favoris

Partager sur Twitter

Partager sur Facebook

Partager sur Linkedin
Notre sélection d'articles pour vous
Inspirez-vous avec une sélection d'articles