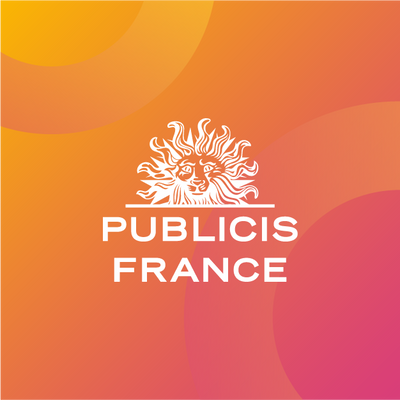 Publicis France
Global Capacity Manager H/F
Who are they?
Leader français du marketing, de la communication et de la transformation digitale des entreprises, le groupe Publicis s'appuie sur un modèle unique qui allie créativité, technologie, médias avec au cœur la data.
Présidé par Agathe Bousquet, Publicis Groupe en France est une Talent company riche de plus de 5 000 collaborateurs, répartis dans 26 agences, qui accompagnent près de 600 clients.
En France, le groupe est organisé autour des activités de création avec les agences Publicis Conseil, Marcel, Leo Burnett Paris, Saatchi & Saatchi, Publicis Consultants, PublicisLive, Carré noir, Publicis Luxe, Prodigious, Razorfish. Le groupe est également un acteur puissant des medias avec ses agences Publicis Media, Starcom, Zenith, Spark Foundry, Blue449, Performics. Enfin il intervient dans la transformation numérique avec Publicis Sapient, et dans la data avec Epsilon. Ainsi grâce à une puissante alchimie, de la créativité et de la technologie, Publicis pilote la transformation des entreprises sur toute la chaine de valeur.
La responsabilité sociétale de l'entreprise (RSE) irrigue tous ces métiers et fait partie intégrante de la stratégie globale de Publicis. Le groupe est par ailleurs le premier réseau en nombre d'agences à avoir obtenu le label RSE Agences Actives délivré par l'AACC avec 12 agences labellisées.
Publicis, c'est aussi « Viva la différence ! ». Persuadé que la diversité est un puissant moteur de créativité et de performance, Publicis s'engage sur de nombreux sujets pour promouvoir l'égalité des chances et renforcer l'égalité des origines. Le groupe est convaincu que la somme de ses différences fait sa richesse.
Job description
The Publicis Global Delivery Capacity/Resource Manager will need to be able to evaluate and understand business and people data. The person will need to utilise the data while collaborating with Delivery, Finance, Talent, Client leadership and other agencies within the Publicis Groupe to create affordable, executable hiring plans. They will lead conversations on the types of skills/capabilities we need within the organisation, and work closely with the Talent Acquisition Leads to develop a talent mapping or acquisition fulfillment plans.
The person will collaborate with PGD Center leads to ensure utilization targets are met, solve complex problems and provide out of the box solutions in an ever-changing environment.  He/She will do this by knowing the resources available, each Center structure and capabilities, and how to best align processes and people to deliver outstanding results. Excellent organizational, relationship, and communication skills are core to this role.
DEMAND VALIDATION & INTERPRETATION
POC to market answering question 'what people do we need and how are we planning to get them? (between different PGD centers)
Own and drive Jira data accuracy used for capacity planning (Global and in the centers)
Pivot between fulfilment channels (TA Team in the centers) and demand requirements (PGD Champions)
SUPPLY VALIDATION & INTERPRETATION
Work with Regional Capacity team and delivery teams to understand people capabilities, utilization, attrition and similar metrics that inform the creation of a hiring plan
GAP ANALYSIS AND FULFILMENT STRATEGY
Define and communicate requirements to meet people demand via creation of hiring plans including

Surcing
Hiring/Contracting
Vendors
Understand cost impacts of hiring plans and affordability constraints
BENCH MANAGEMENT
Define with Regional Capacity manager, Regional COO and Global PGD team Bench strategy, bench composition
Manage the bench in effective way (incl. weekly bench report)
JIRA MANAGEMENT
Responsible of making sure Jira Data are accurate
Responsible of Jira Process
Preferred experience
5+ years of resource management/staffing/workforce planning experience, operations, industry, or complex Project management experience; proven ability to manage complex initiatives to successful completion.
Must have excellent Excel skills (pivot tables, filtering, and sorting, etc.)
Strong motivation to learn and mindset of constant self-improvement
Strong ability to communicate in English (verbal and written)
Reliability and responsibility
Ability to create order from chaos
Not afraid to ask questions and give direction (including to senior leadership)
Able to work independently
Can handle pressure
Be 'hands on' not afraid to get into detail
Comfortable developing remote relationships
NICE TO HAVE
Strong staff planning, recruitment, capacity planning, and relationship management skills
Experience with virtual and off-shore staffing models.
Ability to quickly establish credibility with Business Leaders, Project Managers, and People Managers.
Practical knowledge of current technology, and business and domain areas of assigned locations.
In-depth understanding of positions and roles within Publicis.
Strong capacity planning, recruitment, and project team assessment skills.
Strong knowledge of project staffing and staff related account management best practices.
Strong sense of organisational awareness and ability to navigate complex and highly matrixed environments.
Excellent negotiation and conflict resolution skills.
Confidently interacts with senior level managers with confidence and exhibits strong understanding of business issues.
Questions and answers about the job