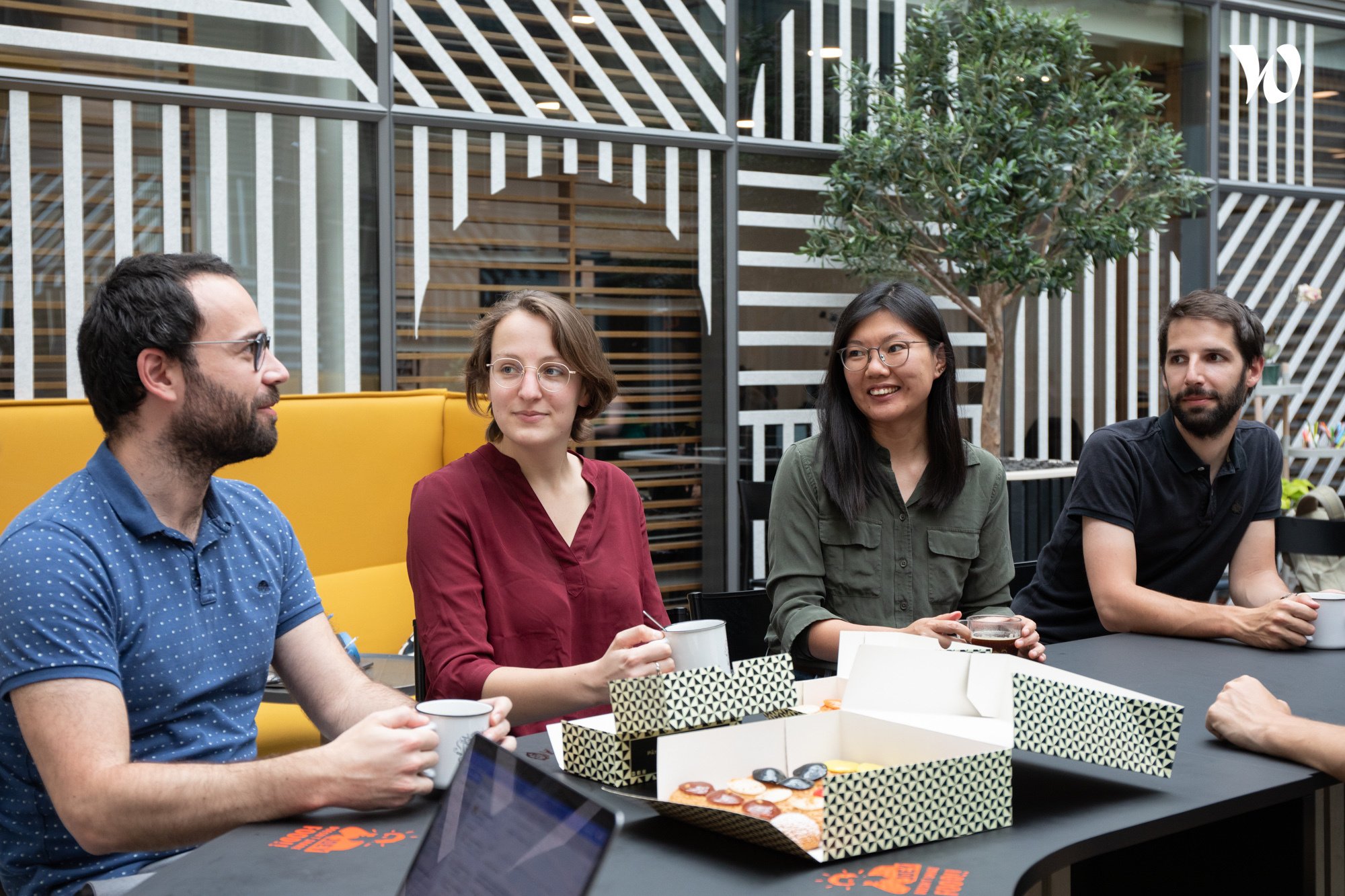 Owkin
Data Science Product Intern
La tribu
Owkin
Le poste
Data Science Product Intern
About
About us
Our pioneering federated learning framework opens a way to train AI models without moving data from hospital and industry partners – solving the critical privacy and security issues that have inhibited AI's potential to transform healthcare until now.
We were co-founded by Thomas Clozel MD, a clinical research doctor and former assistant professor in clinical hematology, and by Gilles Wainrib PhD, an academic pioneer in the field of artificial intelligence in biology, in 2016.
We now collaborate with dozens of leading academic, research and life sciences institutions worldwide. Our platform is being used extensively for R&D, either through internal R&D or through pharma-partnered programs, to discover and develop better treatments in eight cancer types. On the clinical applications side, our collaborative work produces precision medicine diagnostic solutions.
Owkin has raised over $255M from investors and works with the largest cancer centers and pharmaceutical companies in Europe and in the US. Our data scientists are among the best in the world, with several Kaggle Masters, DREAM Challenge top performers, and publications in Nature, ICML, NIPS and other leading scientific journals.
Beyond our cutting-edge technologies, our strongest belief is in the power of collective intelligence. At Owkin, we foster a global community of top cancer physicians and researchers through our decentralized approach. The only way to outsmart cancer is to work together - and the most effective way to do that is through federated learning.
Owkin is looking for a highly motivated Product Management Intern to join our Product Team for a 4-to-6-month internship in Nantes (preferably) or Paris.
Job description
About the role
The main product we are developing at Owkin is a machine learning framework which enables data scientists to work on distributed datasets in a secure and privacy-preserving setting. This framework is based on the open source substra framework, also developed by Owkin. A python library is also provided so that data scientists can launch federated learning computations on the platform and make use of some Privacy Enhancing Technologies (PET): differential privacy, homomorphic encryption and SMPC (Secure Multi-Party Computation).
As a Data Science Product Intern, you will contribute to conceiving, building and delivering this product, with a particular focus on the Privacy Enhancing Technologies side.
You will work closely with the Product and Tech teams and report directly to the Product Manager.
In particular, you will :
Understand users (data-scientists) needs, collect user feedback, write user stories.
Understand the competitors landscape, with a particular focus on Privacy Enhancing Technologies, working closely with the product team as well the commercial team.
Determine how we can leverage synergies between our existing open source stack and Privacy Enhancing Technologies open source solutions.
Contribute to defining development roadmap and priorities working closely with the product managers and the tech team.
Ensure prioritized features are developed, in close collaboration with the software engineers.
Preferred experience
About you
You are enrolled in a Master's degree or equivalent in Engineering.
You know Python and have basic knowledge of some of the main machine learning frameworks (scikit-learn, PyTorch, Tensorflow, etc).
You are a problem solver, you combine analytical and practical sensibilities, with a keen attention to detail.
You are highly adaptable and a fast learner.
You enjoy working in teams and are able to build collaborative relationships with colleagues and clients.
You are able to interact with people of different backgrounds.
What we offer
Competitive salary
Swile "tickets restaurants"
2 days of paid vacation per month
Flexible work organization and access to occasional remote work
Friendly and informal working environment
Opportunity to work with an international team with high technical and scientific backgrounds
Recruitment process
Recruitment Process & Security
Please attach a cover letter and a CV.
Owkin is an Equal Opportunity Employer. All qualified applicants will receive consideration for employment without regard to race, sex, gender, sexual orientation, age, color, religion, national origin, protected veteran status or on the basis of disability.
Owkin is a great place to work. Unfortunately, being a coveted workplace means we are vulnerable to recruitment phishing scams. We urge all job seekers and candidates to be wary of potential scams. Most of these have individuals posing as representatives of prominent companies, including Owkin, with the aim of obtaining personal, sensitive, or financial information from applicants. These scams prey upon an individual's desire to obtain a job and can sometimes "feel" like a genuine recruitment process. Some red flags are identified below. Should you encounter a recruitment process that claims to be for Owkin but is not consistent with the below, please do not provide any personal or financial information:
Legitimate Owkin recruitment processes include communication with candidates through recognized professional networks, such as LinkedIn. However, further communication is always through an official Owkin email address (from the @owkin.com domain), over the phone or though Recruitment platforms (WelcomeKit, talent.io, hidden.market, Fifty Talent or Hiresweet);
Legitimate Owkin recruiters will not solicit personal data from candidates during the application phase including, but not limited to, date of birth, social security numbers, or bank account information;
Legitimate Owkin interviews may be conducted over the phone, in person, or via an approved enterprise videoconferencing service (such as Google Meets or Highfive). They will never occur via Signal, Telegram or Messenger
Legitimate Owkin offers of employment are based on merit and only extended once a candidate has interviewed with members of the hiring team. Offers will be extended both verbally and in written format. Owkin may request some personal information to initiate the hiring process, but this will be through protected means.
If you think that you have been a victim of fraud,
Check the identity of recruiters on LinkedIn and the website https://owkin.com/team/
Check the existence of the position on our website https://owkin.welcomekit.co/
Notify Owkin's recruitment unit at this address hiring@owkin.com
contact the following authorities:
[FR] https://www.internet-signalement.gouv.fr/
[UK] https://www.actionfraud.police.uk/reporting-fraud-and-cyber-crime
[US] https://www.ftccomplaintassistant.gov/#crnt&panel1-1
Meet the team
This content is blocked
Youtube cookies are required to show you this content
Questions and answers about the offer
Ajouter aux favoris

Partager sur Twitter

Partager sur Facebook

Partager sur Linkedin