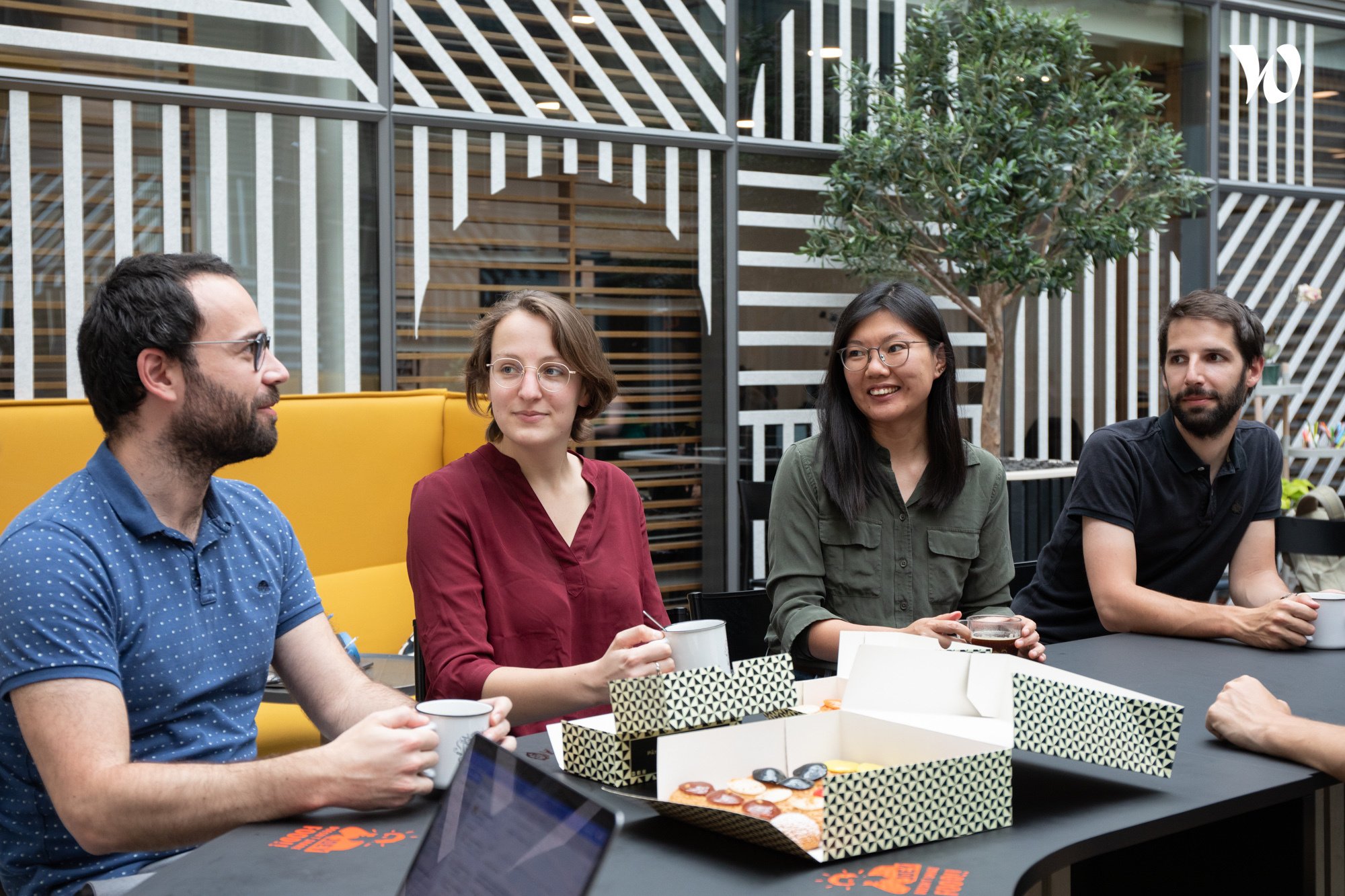 Owkin
Data Science Intern H/F
La tribu
Owkin
Le poste
Data Science Intern H/F
Cette offre a été pourvue !
About
Owkin was co-founded in 2016 by Thomas Clozel, MD, a clinical research doctor and former assistant professor in clinical hematology, and by Gilles Wainrib, PhD, an academic pioneer in the field of Artificial Intelligence in biology. The company was built on the belief that medical research should be collaborative, inclusive, and privacy-preserving. Today, Owkin is building a global research network — using federated learning — connecting data scientists, clinicians, researchers, and pharma on a research platform that keeps the data secure and preserves privacy. Owkin's work has been published in Nature Medicine and other top-tier journals. Owkin has raised over $70M from leading VC funds and is now working with the largest cancer centers and pharmaceutical companies in Europe and in the US.
Our data scientists are among the best in the world, with several Kaggle Masters, DREAM Challenge top performers, and publications in ICML, NIPS and other top scientific journals. Owkin is backed by renowned investors — such as F-Prime Capital & Eight Roads Ventures, GV, BPI, Cathay Innovation, Frst and NJF Capital — as well as a distinguished scientific board. To build this vision, Owkin is growing rapidly, with offices located in the USA, France, UK.
Owkin is looking for a passionate data science intern to join its Biotechnology unit in Paris.
Job description
The Biotechnology unit leverages Owkin technology platform for the applications in early drug discovery and drug repurposing programs. We develop and use advanced machine learning algorithms to generate insights from rich patient datasets, and we work tightly
with our academic and industrial partners to better understand disease mechanisms and to design new more efficient drugs.
During the internship, you will contribute to the analysis of patient datasets, in particular by adjusting existing state of the art methods for disease association studies to federated learning settings and exploring the new ways for identification of disease mechanisms from multimodal datasets.
Your responsibilities will include [but not limited to]:
Participate in the data pre-processing and in writing the code
Participate in building the predictive algorithms and models,
To support the team, as an intern, you will help to prepare presentations and reports,
Also, you will participate in presenting the results to the Owkin team and external collaborators.
Preferred experience
We are looking for someone:
Currently doing a MS in machine learning, computational biology, bioinformatics, or an associated field
Motivated to work at the intersection of healthcare, biology and AI
With knowledge and familiar with machine learning
With knowledge and experience with biological data
With experience in Linux/Unix-like environments
With experience with Python and/or R
Good English skills
Pluses:
Participation in data science projects and competitions
Contribution to publications in machine learning conferences and journals (NeurIPS, ICML, ICLR, JASA, etc.)
Contribution to publications in medical conferences and journals (AACR, ASH, ESMO, Nature, Bioinformatics, etc.)
Experience with NGS data workflows
Experience with medical imaging data (DICOM management, medical image processing)
Experience with git
Experience with deep learning frameworks (Tensorflow, PyTorch, etc).
You enjoy working in a small, passionate team where your contributions will have a direct impact ?
You value rigorous analysis and clear communication ?
You want to help reveal never-before-known insights from data ?
And of course, you are passionate about machine learning ?
If the answer is yes, we are waiting for you !
What we offer
Competitive salary
Swile "tickets restaurants";
2 days of paid vacation per month;
Commuting allowance and/or biking allowance;
Opportunity to work with an international team with high technical and scientific backgrounds;
Friendly and informal working environment;
Flexible work organization and access to occasional remote work;
Beautiful and well-positioned offices in Paris (Petites Ecuries), London (Holborn), Nantes (historic center) and NYC (Union Square) with numerous and various team activities and events.
Recruitment process
Please attach a cover letter and a CV.
Owkin is an Equal Opportunity Employer. All qualified applicants will receive consideration for employment without regard to race, sex, gender, sexual orientation, age, color, religion, national origin, protected veteran status or on the basis of disability.
Owkin is a great place to work. Unfortunately, being a coveted workplace means we are vulnerable to recruitment phishing scams. We urge all job seekers and candidates to be wary of potential scams. Most of these have individuals posing as representatives of prominent companies, including Owkin, with the aim of obtaining personal, sensitive, or financial information from applicants. These scams prey upon an individual's desire to obtain a job and can sometimes "feel" like a genuine recruitment process. Some red flags are identified below. Should you encounter a recruitment process that claims to be for Owkin but is not consistent with the below, please do not provide any personal or financial information:
Legitimate Owkin recruitment processes include communication with candidates through recognized professional networks, such as LinkedIn. However, further communication is always through an official Owkin email address (from the @owkin.com domain), over the phone or though Recruitment platforms (WelcomeKit, talent.io, hidden.market, Fifty Talent or Hiresweet);
Legitimate Owkin recruiters will not solicit personal data from candidates during the application phase including, but not limited to, date of birth, social security numbers, or bank account information;
Legitimate Owkin interviews may be conducted over the phone, in person, or via an approved enterprise videoconferencing service (such as Google Meets or Highfive). They will never occur via Signal, Telegram or Messenger
Legitimate Owkin offers of employment are based on merit and only extended once a candidate has interviewed with members of the hiring team. Offers will be extended both verbally and in written format. - Owkin may request some personal information to initiate the hiring process, but this will be through protected means.
If you think that you have been a victim of fraud, contact the following authorities:
The signal spam platform: https://www.signal-spam.fr/;
The French Ministry of Interior: https://www.internet-signalement.gouv.fr/.
Meet the team
This content is blocked
Youtube cookies are required to show you this content
Questions and answers about the offer
Ajouter aux favoris

Partager sur Twitter

Partager sur Facebook

Partager sur Linkedin