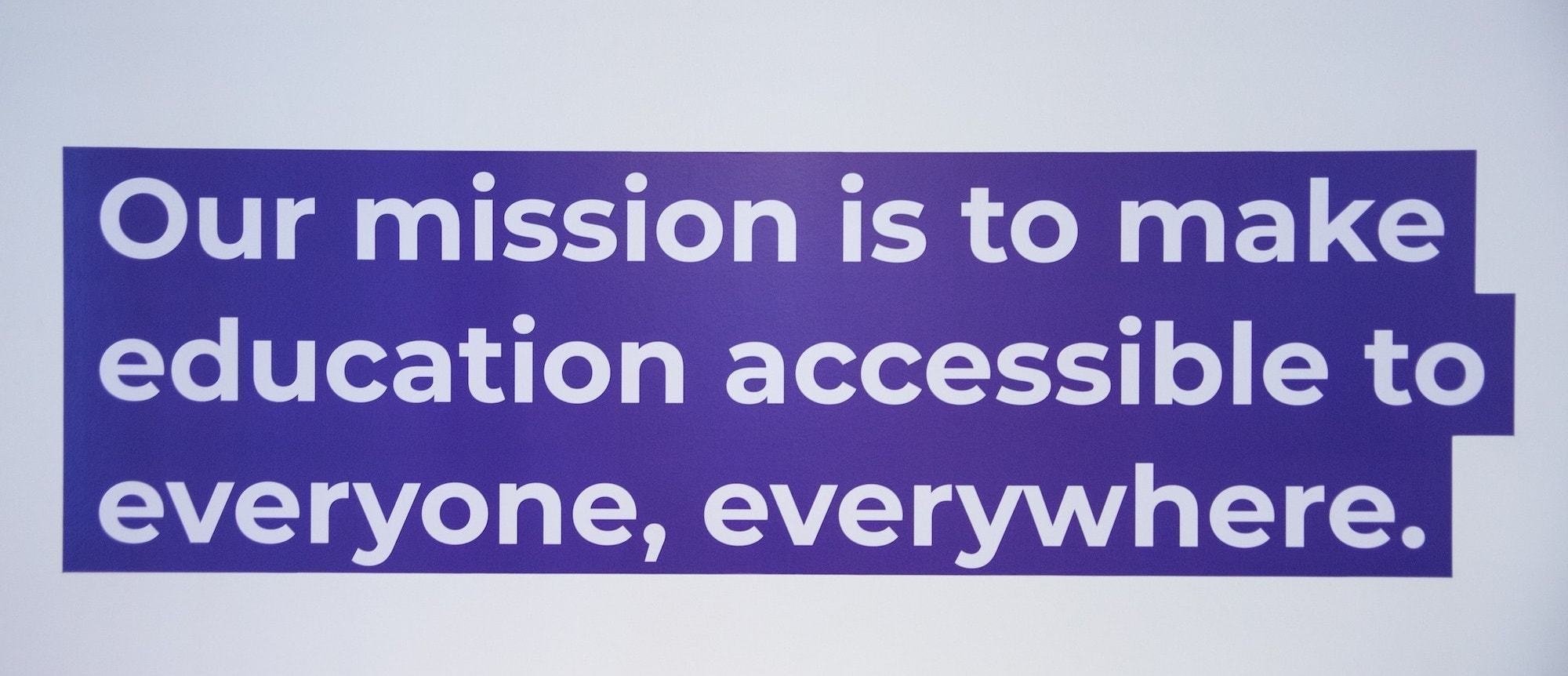 OpenClassrooms
Concepteur pédagogique Multimedia - Instructional Media Developer H/F/X
La tribu
OpenClassrooms
Le poste
Concepteur pédagogique Multimedia - Instructional Media Developer H/F/X
About
OpenClassrooms est l'une des plus importantes plateformes d'éducation en ligne d'Europe ; OpenClassrooms forme les professionnels de demain aux métiers du numérique. Grâce à un modèle pédagogique unique, l'entreprise conduit chaque étudiant vers un diplôme reconnu et un emploi garanti.
Fondée en 2013, OpenClassrooms rassemble aujourd'hui une communauté de plus de trois millions d'utilisateurs chaque mois, autour d'une cinquantaine de parcours diplômants. OpenClassrooms est une entreprise à mission : "Rendre l'éducation accessible", la mission de l'entreprise, est inscrite dans ses statuts.
OpenClassrooms bâtit son développement sur une culture profondément ancrée, autour de quatre principes d'action : we dare, we persist, we care et we tell it as it is.
L'entreprise travaille en étroite collaboration avec tous les acteurs de l'éducation, depuis les partenaires académiques jusqu'aux entreprises en passant par les institutions. OpenClassrooms recrute régulièrement.
L'entreprise est passée de 50 collaborateurs à la mi-2017 à 150 à la fin 2018, après une levée de fonds de soixante millions de dollars opérée au mois de mai de cette dernière année.
Job description
RESPONSABILITIES
Working within the multimedia learning team, you report to the multimedia content manager. You have a pivotal position that seamlessly links the learning design and multimedia learning teams. You will be responsible for translating an identified learning need or objective into a clear multimedia concept executed by the creative team.
You will draw on all available knowledge in cognitive science and design principles for e-learning, making decisions on how to represent a concept to foster meaningful learning.
You are passionate about the emerging issues in educational technology and are willing to design multimedia solutions to address them.
Being at the heart of production and working with all those involved in creating courses, your activity requires a great capacity for collaboration and communication.
ACTIVITIES
Collaborate closely with the learning design team and subject matter expert to understand and refine the instructional needs to translate them in a clear and actionable brief addressed to a creative team
Analyze the instructional goal of a course and the student profile, to advise the coherent and relevant instructional media content
Define the adapted material/modality to use to reach the instructional goal
Write briefs to direct and advise the production of multimedia materials
Review and validate instructional video scripts
Review multimedia assets to ensure coherence with multimedia direction
Define, implement and improve a modalities decision-making framework

Understand the effectiveness of a modality in a specific context
Monitor and analyze the multimedia learning outcomes of a product
Monitor and analyze learners' satisfaction through NPS, surveys, interviews, etc

Collaborate on the definition of new multimedia modalities
JOB REQUIREMENTS
Two years in instructional media design
In-depth knowledge of the cognitive theory of multimedia learning
In-depth knowledge of the multimedia production process
In-depth knowledge of writing scripts for instructional videos
In-depth knowledge of the instructional design process
Ability to manage a small project team and deliver a Multimedia Production
Ability to quickly develop creative ideas to solve instructional issues
Experienced in working on several projects in parallel with multiple stakeholders
A fluent level in French and in English language (C1) is required
WHY JOIN US?
A work environment and strong culture built on agility, openness, respect and high quality.
A competitive salary.
Pass Navigo entirely paid by OpenClassrooms (if living in Paris).
Health insurance ("Mutuelle") monthly fee entirely paid by OpenClassrooms and remote medical consultations for free.
Meal vouchers (Employer contribution at 60%, the max authorized by law).
Access to the gym for free (Gymlib paid by OpenClassrooms).
Unlimited days off, and after 1 year at OpenClassrooms, a 1000€ bonus once a year for 15+ days off taken.
"Remote First" work policy.
A company MacBook.
Possibility to access professional development training sponsored by OpenClassrooms.
HIRING PROCESS
The journey starts with a phone interview with Talent Acquisition Manager (20 min).
Then a face-to-face (virtual) meeting with Nicolas, the Manager of this position (1h).
A written business case, where we'll be assessing the core competencies for this role.
For the final two rounds, you will first meet other members of the Learning Team, then members of other teams at OpenClassrooms (Brand & Comms, Education, Employers & Student Success, Finance…)
You will be asked to provide us with professional references including contact details.
Excited? We'd love to hear from you. Please click "apply" to submit your application.
Learn more about who we are by exploring the following online course:
https://openclassrooms.com/courses/how-do-we-work-at-openclassrooms
👉  OpenClassrooms is a French hyper-growth company eligible for the French Tech Visa program. That means, for foreign candidates, benefiting from the accelerated procedure to apply for a "Talent Passport" residence permit. There is also a simplified "accompanying family" procedure available for spouse and dependent minor children.
More information here:
https://visa.lafrenchtech.com/4/french-tech-visa-for-employees
👉  We value diversity and welcome everyone who wants to join us and make education accessible. We are at an exciting moment and we deeply believe that various backgrounds and experiences will lead to a better product for our students.
👉  Working at OpenClassrooms means joining a dynamic and stimulating team, take up challenges, meet awesome people every week, and change the world, a little bit, every day!
Meet the team
This content is blocked
Youtube cookies are required to show you this content
Questions and answers about the offer
Ajouter aux favoris

Partager sur Twitter

Partager sur Facebook

Partager sur Linkedin
Notre sélection d'articles pour vous
Inspirez-vous avec une sélection d'articles