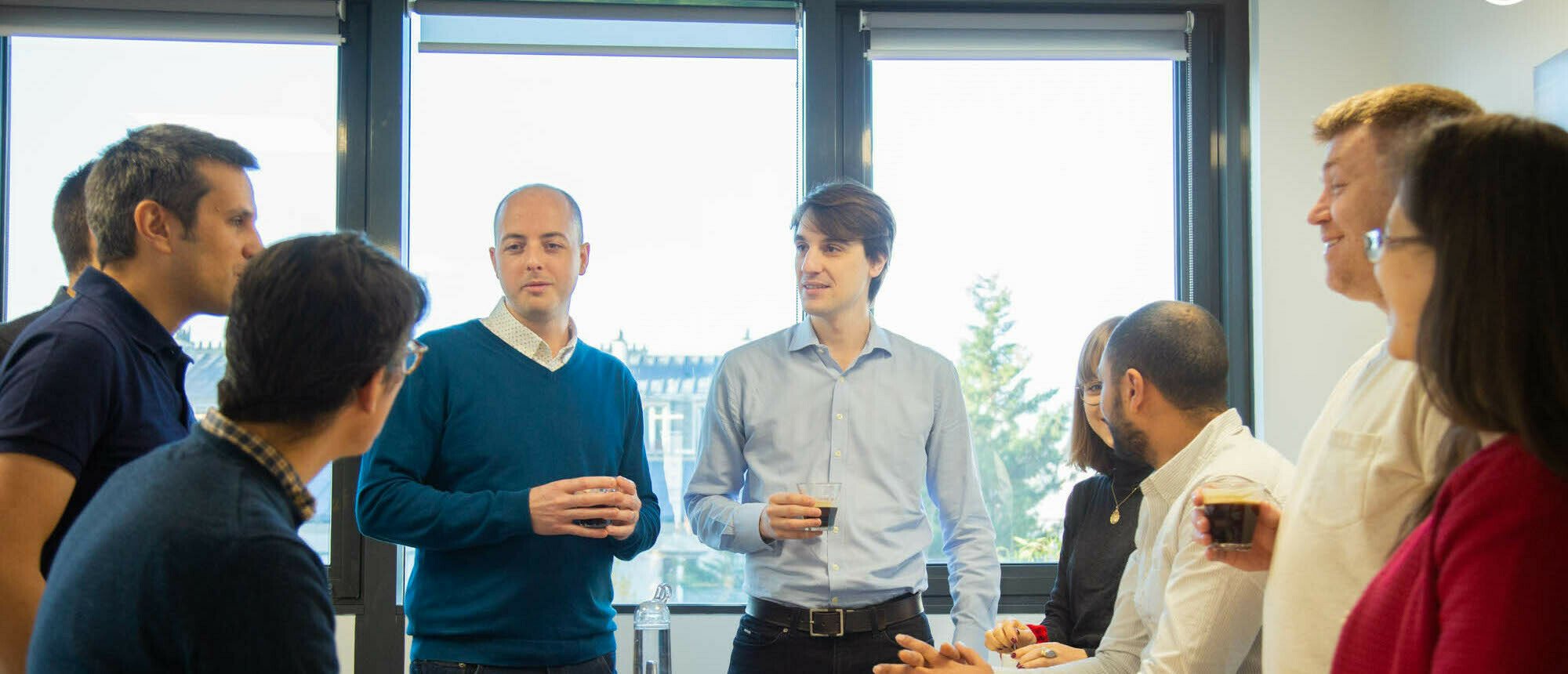 Ontex Digital Factory
E-commerce, Logiciels, Objets connectés

Levallois-Perret
After gaining several professional qualifications and providing IT services to a multi-national logistics company, Andy's career really began after joining Ontex back in 2004 and the local IT professional in the UK.
Following this Andy grew his position and department alongside rapid business growth to become IT Manager for the UK & Ireland business, which included full responsibility for a local custom application utilised in the home delivery market.
Now working as Product Owner of Home Delivery in the Digital Factory, Andy is leading the development of a new global application that will first operate throughout several countries across Europe. Working to create a single solution with the flexibility to suit multiple markets whilst also planning for integration with other solutions being delivered by the Digital Factory is a real challenge, but luckily Andy loves to take on a challenge….
As evidenced when he decided to jump from the Bloukrans Bridge in South Africa to complete the highest bridge bungee jump in the world!
Holding an engineering degree, Matthias studied both in Paris and Rio de Janeiro. He first developped project management and post merger integration skills over the world (Brazil, USA, France, Mexico, Belgium) at Lacoste and Ontex. Those experiences provided him with a strong knowledge of business processes, information technology and multi-cultural team management.Passionate about digital, he practices SEO on his spare time getting and cumulated more than 70 million page views on a simple website.
Matthias Joined Ontex Digital Factory in 2019 to build a great team of talents and deliver exciting projects from subscription to IoT.
Aurélie started her career as a Community Manager for an alumni association of former executives of an FMCG company. She later seized the opportunities to work for 2 start-ups, the last one being in the field of mobile applications.
Looking for new adventures, Aurélie joined Ontex Group, starting as a Digital Corporate Communications Manager. After spending 3 years in this role, she joins the Digital Factory as Product Owner and Community Leader. Her focus is on value creation for customers and end-users thanks to great user-experience, easy-to-use tools and performing websites. Aurélie's motivation lies in her contribution to bring added value to her digital community. She always makes it happen, even when starting from scratch.
When Aurélie isn't working, she releases her creativity through creative leisures (scrapbooking, DIY...) and loves travelling to Scotland with her family to take a break and reload her batteries.
Geek fact: Aurélie used to play Diablo III and Prince of Persia the sands of time.
Ontex est un leader international dans la fabrication de solutions d'hygiène personnelle, spécialisé dans les secteurs baby care, feminine care et adult care, distribuant dans plus de 110 pays. Avec 18 sites de production dans le monde, Ontex emploie plus de 10 000 personnes et a généré un chiffre d'affaires de 2,087 milliards d'euros en 2020. En 2018, Ontex a créé Ontex Digital Factory, une structure en mode start-up pour incuber des projets digitaux innovants.
Depuis, l'équipe a lancé des applications pour la livraison à domicile, des plateformes de souscription pour les consommateurs comme www.little-big-change.com, des sites internet... dans différents pays. Digital Factory accueille des talents venant des 4 coins du monde : Chine, Etats-Unis, Russie, Corée du Sud, Angleterre,…
Chez Ontex Digital Factory, l'utilisateur est au coeur de tout ce qui est conçu.
Ontex Digital Factory est à la recherche de candidats passionnés, orientés utilisateurs avec un super esprit d'équipe.
Au sein d'un environnement de travail moderne, c'est le perfect fit pour tous ceux qui veulent contribuer à l'innovation digitale d'une entreprise FMCG et à la recherche de nouveaux challenges.
Si vous aimez créer des services et produits digitaux qui ont un impact dans la vie quotidienne et si la satisfaction de l'utilisateur est ce qui vous motive chaque jour, rejoignez l'aventure dès maintenant !
Un environnement de travail conçu pour le confort et la productivité. Faire partie de l'équipe Ontex Digital Factory, c'est :
passer du temps tous ensemble autour d'un déjeuner collaboratif ou d'un afterwork,
s'amuser en jouant à une partie de Pac Man sur la nintendo ou la borne d'arcade,
être imbattable au jeu de trouver les noms des films résumés en emojis,
apprendre à se connaitre simplement autour d'un café (ou thé si vous préférez) ou pendant les événements internes.