Welcome to bsport! We are a young and passionate team with the goal of becoming the leading European provider of software solutions for fitness boutiques.
Our leadership team consists of our founders and experienced managers who oversee the work of our commercial, product, marketing, customer success, tech, and ops teams!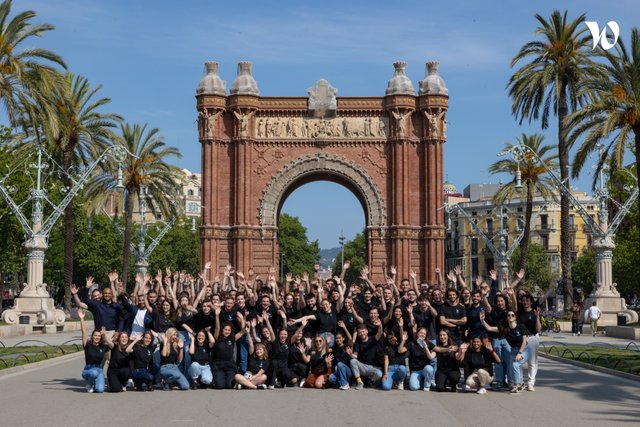 En chiffres
100%

nice and talented people 🤩
Marc, Founder and Chief Data Officer

Marc is our CDO but also bsport's late founder! After 7 years in Silicon Valley first as a machine learning engineer at Criteo then as a compiler engineer at Amazon, he decided to join our amazing adventure next to Zakaria and Sofian.  With the successful closure of our Series A funding at the end of 2022, their goal is : 
🪐 To maintain this trajectory and become the leading force in the European market.
 🤩 Almost double our team from 80 to over 130 people in 2023. 
As we scale, we seek individuals who will embrace and contribute to the bsport culture, making it a diverse and engaging workplace where people genuinely love to be.
"

Our solution empowers our partners to efficiently manage their day to day activities and at the same time provides tools for them to grow their business.

"

Marc, Founder and Chief Data Officer
Taninna, Team Leader Customer Success
Taninna is our Team Leader of the CSM and it's been more than a year what she's working at bsport.   She arrived within a small and young team, and with Kevin, the Head of the department, they rebuilt it, they switched it from Customer Support to Customer Success .
Applying at bsport, she was looking for a dynamic work environment where everything could be possible. And this is exactly what she discovered. Professionally what she found very exciting, is being part of a project, having the possibility to build it and to see it grow.
Today they count 20 Customer Success Managers who take tremendous care of all our partners everyday!
"

The mission of our team is to make the « Customer Success » a reality for all of our all partners. It obviously starts as soon as they become a bsport partner and all along their customer lifetime.

"

Taninna, Team Leader Customer Success
Felix is one of our software engineer at bsport. After completing his Master's at Mines Paris, he was one of the first people to join bsport when they were only a team of 5.  He joined bsport for his first professional experience as an intern, and it has been a fantastic learning opportunity for him: it truly kick-started his professional development. The responsibilities he assumed allowed him to become a true stakeholder in our company, and it confirmed his desire to be a part of bsport. 
Today, his primary focus is on developing new features that contribute to the growth of our product. He also supervises a team of 3 developers, and he assists in structuring and designing the implementation of new features before other developers start working on them.
Morgane, HR & Talent Acquisition Manager
Morgane is our HR & Talent Acquisition Manager. She joined bsport to support the company's fast growth, particularly in recruitment. Previously, I worked as a Talent Acquisition Specialist in an IT services company.
At bsport, she is responsible for managing the recruitment process and ensuring that our internal policies and procedures are known and followed by everyone.
We're building an international team of talented people dedicated to our mission and willing to go the extra mile 🤩
"

We're building an international team of talented people dedicated to our mission and willing to go the extra mile.

"

Morgane, HR & Talent Acquisition Manager
Mateo, Country Manager UKI market

Mateo is our Country Manager for the UKI market. He joined bsport almost 3 years ago as the first international employee when they were a small team of 5. At the time, they had just transitioned from a shared workspace to our first office.
Having just graduated from university in the midst of the COVID, he knew bsport was the right fit for him after his first discussion with our CEO, Zak. 😍
His main responsibility is to oversee both the Sales Development Representatives and Account Executives of the UKI teams, ensuring the growth and development of bsport as the number one software provider in the UK region.
The goal of the sales team is to showcase our solution to the boutique fitness industry, helping studios overcome challenges they face with other software options in the market. Additionally, they aim to assist new studios in launching with the best available software solution.
"

The journey so far has been everything you could expect, and more, in a startup that has grown from 5 to nearly 100 employees today.

"

Mateo, Country Manager UKI market