We are 100 employees divided into the following teams: Growth Marketing and lead Gen, Sales, Product, Data Acquisition, Tech, Sales, Customer Success and HR & Finance. We work in 5 countries (France, UK, Germany, Italy and Spain)
We all share the same ambition: to help the physical retail sector make better decisions by giving it the same weapons as the digital sector.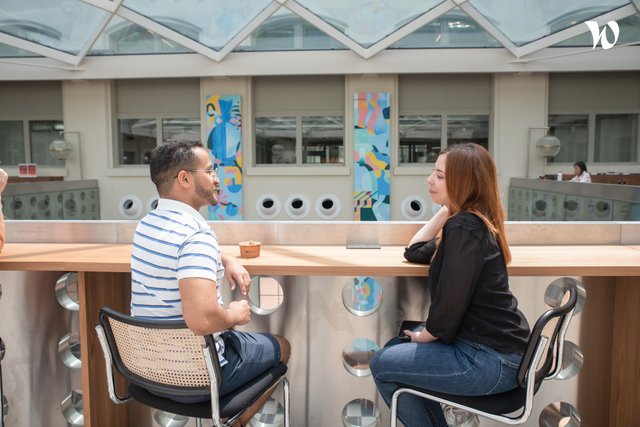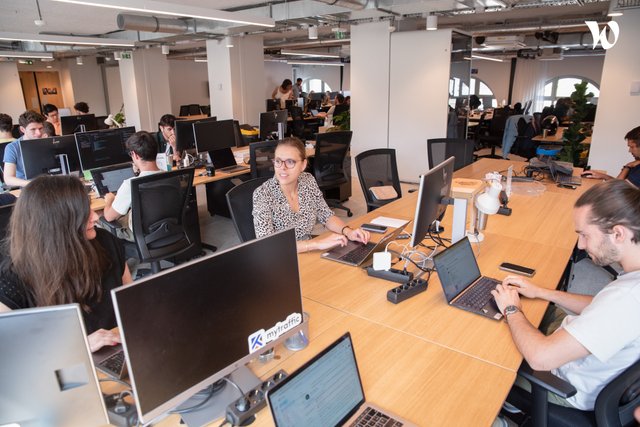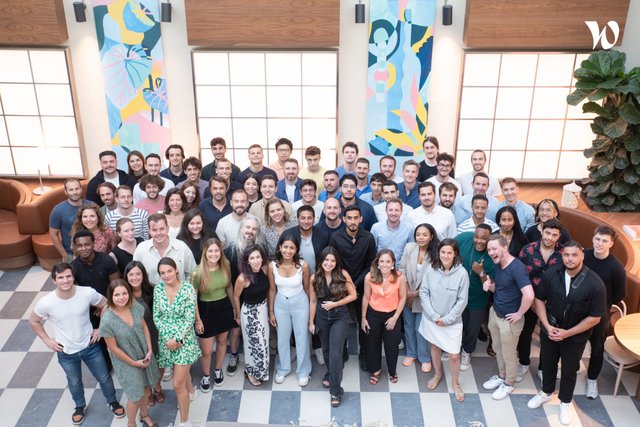 Growth Marketing and Lead Gen

18%

Product and Data Acquisition

9%
Growth Marketing and Lead Gen

The Marketing/Growth team's mission at Mytraffic is to generate a maximum of awareness, interest and conversion from the prospects, with lead-gen and meeting-gen as top priorities. The team consists of several Growth Marketers, responsible for developing a specific, local market ; Growth Engineers, with a more technical skillset who identify the right opportunities at the right time for the team ; as well as an Event team which coordinate the whole organisation for numerous conferences in different countries. Among the main activities and channels managed by the marketing team: mytraffic's website, SEA/display, (Google Ads & LinkedIn), content marketing (market studies, infographics...), Sales support (guides, emailing sequences), multi-market campaigns e.g. to promote specific use cases or new product modules.
Its main challenge ? The team's mission also spans on sales ; with a very business-oriented side, sales enablement on certain initiatives, nurturing and prospect follow-up sequences once the first marketing touch point was made.
"

Our mission is to generate visibility and interest from prospects, with a strong meeting-gen dimension, because we're very business-oriented and we grow fast. We work hand in hand with the bus dev and sales teams on a daily basis.

"

Julien Meinrad, Head of Growth & Marketing

The mission of the Data Acquisition team is to find the fuel to feed the Mytraffic engine. Its aim is to source data for the product, tech and sales teams: geolocation data (mobile apps, connected cars, telco), socio-demographic data, geospatial data (polygons, POIs), social listening data (from social networks) and any other data of interest to MyTraffic and our customers. The team is made up of Data Managers whose mission is to be experts in one or more data typologies. The Data Manager is responsible for managing the entire acquisition strategy for this type of data: market research (with a focus on legal issues), annual budget management, data analysis, supplier selection, contract negotiations and partnership management over time.
Its main challenge? Ensuring the diversification of data sources to guarantee stable sourcing over time, and to meet all of our customers' needs!
"

The mission of the Data team is to find what feeds the Mytraffic engine and therefore to find the data that will enable us to provide insights to our customers so that they can make better decisions.

"
The Product team's mission is to empowers customers to make well-informed decisions based on the data insights they receive The team is passionate about harnessing anonymized and aggregated mobile location data to provide businesses with powerful insights into consumer behavior, foot traffic patterns, and market trends By collaborating with stakeholders in all departments, analyzing customer feedback, and staying attuned to the competitive landscape, the product team ensures that Mytraffic continuously delivers innovative and user-friendly features The team is divided into four divisions : data analysts, PMs who develop new features and PM Data who develop new insights.
Its main challenge? Each vertical requires a different kind of data expertise to develop relevant insights to meet customers' needs.
"

The Product team is developing new features and insights. As PM Data, my missions revolve around 4 categories : discovery, prioritization, delivery and go-to-market strategy.

"

Déborah David, Senior Product Manager

Mytraffic's Sales team promotes a unique proposition in 3 verticals: Retail, Real Estate and Public Sector. Senior Account Executives manage the sales cycle, while Account Managers build up a portfolio of accounts, focusing on upselling. They develop brand awareness and contribute to improving the solution thanks to their proximity to customers and their knowledge of the market. A close-knit team, driven by emulation, constantly seeking new growth opportunities.
Its main challenge? To smash targets ! Salespeople have a direct impact on results, and exceed their targets on a daily basis.
"

My job is to help and bring value to customers in terms of physical location and help them make more reliable decisions based on data.

"

Rencontrez Sergi Espada, Senior Account Executive Spain

Mytraffic's Customer Success team is the direct link between customers and the platform.
The team is involved in all the customer's life cycle: from onboarding to renewal, with a common goal: to ensure that customers achieve their objectives thanks to our platform, and that they are true promoters of our solution. The team is the key to commercial success through customer loyalty and contract renewal. It participates directly in the product roadmap by sharing all customer feedback internally. The team is made up of Customer Success and Customer Care.
Its main challenge? Promote the solution and increase usage, so that customers can derive maximum value from our solution!
"

Being a CSM at Mytraffic means ensuring the link with our customers. My main challenge is to make the data understandable and actionable for my customers.

"

Louis Huttaux, Senior Customer Success Manager