OpenAirlines
Aeronautics / Space, Big Data, Environment / Sustainable Development
Toulouse, Hong Kong, Miami, Montréal
Their story
OpenAirlines was founded in 2006 by Alexandre Feray in Toulouse on a core principle: to help airlines optimize their operations and to reduce their environmental impact.
Starting from the observation that every year nearly 1 billion tons of CO2 are emitted by airplanes, i.e., more than 30 000 kilos of CO2 per second, we have decided to act by developing innovative solutions to help airlines reduce their costs and environmental impact.
Drawing on years of R&D, SkyBreathe® came into the market in 2013 as an innovative eco-flying solution to save fuel and reduce airlines' carbon footprint by up to 5%.
Rewarded by many innovation awards, the software is now used by a very active community of 55+ airlines worldwide, including Air France, Norwegian, Korean Air, flydubai, and DHL...
So, ready to change the future of aviation with us?
4
locations: Toulouse, Montréal, Hong Kong, and Miami
1 000 000
tons of CO2 saved in 2022
60+
airlines in our community
Their vision
We are a team of passionate innovators who want to revolutionize the aviation industry. Together we are shaping the future of sustainable aviation. Our main goal is to build a game-changing product that positively impacts the environment and people. To guide us along our pass we have a north star: saved CO2. This is our purpose and why we wake up and go to work every morning.

Our team is growing, and we are doing our best every day to keep it tight, authentic, and caring to maintain our strong culture. We believe that a ping-pong table is not enough to bring well-being to the workplace, so we promote concrete collective actions in favor of diversity, and ecology, and organize engaging company retreats to bond our team.
We have identified 6 fundamental aspects that represent our culture since the beginning.
🌿Make an impact.
Together we are shaping the future of sustainable aviation. Saving CO2 is our north star and what drives us every day. We tackle this challenge by designing game-changing products that positively impact the environment and people.
🌎Forward-thinking.
We empower our employees to achieve personal excellence, offering knowledge and opportunities and encouraging innovation among our team. We can collectively push the boundaries of our imagination to achieve aviation Net-Zero 2050 ambitions.
🎤Empathy and customer care.
We give our customers a central place, we work hand in hand with them listening, observing and understanding their needs and suggestions with an open and caring mind.
🥳Fun & Serious.
We never miss an opportunity to congratulate and celebrate victories. We love to share our company retreats, team-building activities, afterworks, "Printemps des talents" (you'd be amazed)... Our rituals mark out our year and our corporate life, helping us to lift mountains!
🫶Reliability and trust.
We believe in autonomy, trust, and transparency as the motor of our people and our growth. We are working with a supportive, "no ego" doer, and friendly mindset that encourages our amazing team to do their best every day.
👥Ethics and diversity.
Our green values and our ethical rules are a source of pride and unity at OpenAirlines. We cultivate a strong sense of belonging and teamwork in a safe environment that embraces diversity.
As for our ecological mission, which is at the heart of our product and culture, we do everything possible to reduce our impact as a company. We are committed to reaching net-zero emissions, to do that, we are using various solutions like fully offsetting our flight impact when traveling through reforestation actions or having a robust Green IT approach.
In 2022, SkyBreathe's users saved 325 million kg of fuel, representing more than 1 million tons of CO2.
ACTION
We are proud to be certified B-corp and to actively implement sustainability and corporate social responsibility to drive our business. Our sustainability & corporate responsibility report is freely available on our website.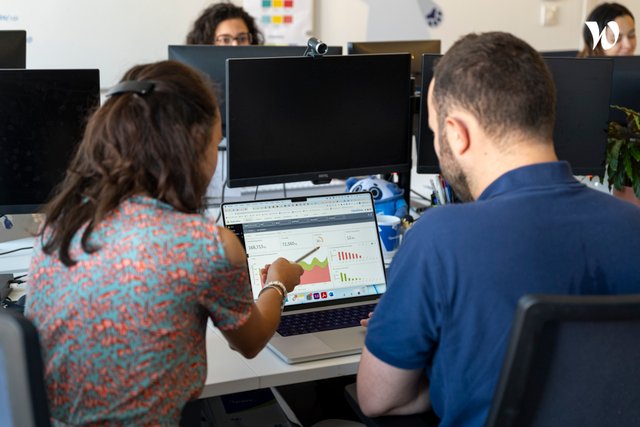 Keys number
1 000 000

tons of CO₂ saved by our customers in 2022