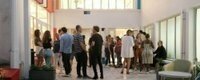 Ogury
AdTech / MarTech, Advertising, Marketing / Communications
Paris, Amsterdam, Belgrade, Chicago, Cologne, London, Los Angeles, Madrid, Milano, New York, Singapore, Sydney
Ogury, the global leader in personified advertising, has created a breakthrough advertising engine that delivers targeting based on personas rather than users' identities, and on the destinations where these personas consume content — instead of the individual users themselves. Advertisers working with Ogury benefit from fully visible impactful ads, future-proof targeting and unwavering protection. Publishers enjoy the rewards of a respectful user experience, incremental revenues and premium demand. Founded in 2014, Ogury is a global organization with 500+ people, including 100 engineers across 17 countries.
What they are looking for
Ogury is looking for team players, who are ready to be part of our unique and winning culture. Joining us is an opportunity to be part of an incredibly diverse community of people, where everyone has a voice and acts with integrity. We work with urgency and act with purpose whilst encouraging creative thinking, innovation and continuous improvement.
It's a business for people ready to go, who think in the future but act in the present.
Employees of Ogury are called Ogurians.

In France, their offices are located in the heart of Paris (9th) and in Strasbourg.

Their remote policy is flexible for everyone.

Internal initiatives are regularly organized, such as competitions with incentives for salespeople and hackathons for Tech teams. Ideas for new initiatives are always encouraged.

Tech teams are also regularly encouraged to participate in specific events and conferences such as Devoxx, BigData etc… as visitors and as speakers, in order to ensure their constant professional development.

Internal events are regularly organized to strengthen cohesion and the spirit of Ogurian culture. These include global campaigns such as International Women's Day, Pride Month, Learning bootcamps but also local campaigns such as snacks, aperitifs, board game competitions, community days etc...

In France, the CSE allows to benefit from prices and promotions in major brands, cinemas, ticket offices, etc.

A Ticket Restaurant card is offered to all employees in Strasbourg and Paris.
Questions and answers on Ogury