D-EDGE Hospitality Solutions
Digital Marketing / Data Marketing, SaaS / Cloud Services, Tourism
Paris, Almada, Barcelona, Bordeaux, Londres, Nantes, Prague, Roanne, Singapour, Venise, Warsaw

D-EDGE has a wide range of roles, grouped into 8 major families: R&D (technology and products), Sales, Customer Service, Digital Marketing, Web Studio, HR, Finance, Marketing & Communication.
We are constantly recruiting new employees in all these fields.
Are you interested in the D-EDGE experience? Below, you can discover some of our departments. (Our Tech teams are presented in the Tech tab.)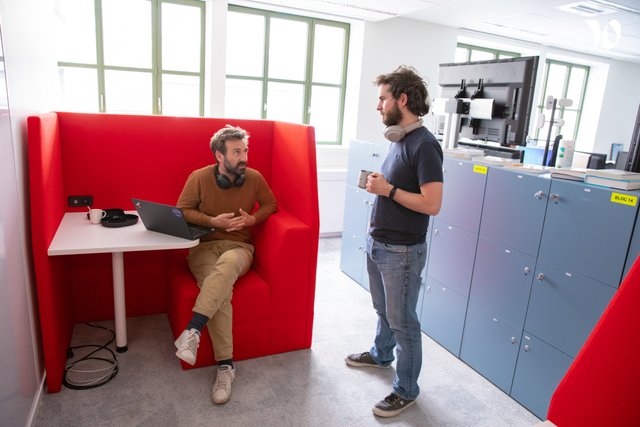 Marketing & Communication

2%
In numbers
51

The nationalities of our D-EDGERS
The Customer Service is at the heart of our value proposition. it is composed of various teams that support our clients throughout their journey.
The Onboarding team ensures the integration and training of new clients or existing clients who are adopting new products.
The Training team develops training content and methods to help clients make the most of our products.
The Technical Support Team provides level 1 technical assistance and incident resolution services. They actively contribute to the ongoing improvement of our solutions by conveying user needs to the Product teams.
"

Customer Service is the best place to work. It's the department that will give you a complete overview of all the solutions offered by D-EDGE, and allow you to develop a wide range of skills.

"

Davidson, Technical Support Specialist

The Account Managers are the primary contacts for our hotel clients. Each of them is responsible for a portfolio of clients and ensures their satisfaction and loyalty.
As true business partners, they support their clients in their online sales strategy and provide guidance for the optimal use of D-EDGE solutions.
They are also responsible for identifying upselling opportunities that lead to improved revenue for both clients and D-EDGE.
"

The close relationship I develop with hoteliers enables me to understand their needs precisely and propose the most appropriate solutions. I take care of the technology, while they concentrate on their customers...

"

Based in Paris, Singapore, and Tokyo, the Digital Media team has the mission of assisting hotel clients in managing their online advertising campaigns to increase revenue generated on their hotel's official websites and ensure optimal conversion rates.
Through their daily interactions with key digital players such as Google, Criteo, and Facebook, the Digital Media team has developed unique expertise in online advertising for independent hotels. The team supports over 3,000 hotels in their digital marketing strategies.
"

Within the Digital Media team, I've found the ideal balance between operations and customer relations, to whom I propose the best strategies for maximizing their revenues.

"

Yulia, Strategic Consultant Digital Media EMEA

The Product Management team is responsible for gathering market information (customer feedback, context, data...), defining the product vision, and translating it into an actionable roadmap, especially for the tech teams. They establish priorities and sprints, train business teams on our products while sharing their knowledge and product vision with them.
Within the Product team, Product Design is a strategic pillar in implementing D-EDGE's vision. The team represents the user's voice and aims to place their experience at the core of everything we do. Product design at D-EDGE encompasses three domains: Full-stack Product Design, Design Ops, and User Research.
"

By joining the D-EDGE Product team, you're guaranteed a variety of assignments and responsibilities, as well as a friendly, positive working environment. There's a real team dynamic and a sense of trust, which is very pleasing.

"
The Web Studio team assists our clients in creating intuitive, responsive websites that are conversion-focused, with the goal of increasing direct bookings and maximizing the most profitable sales.
The team collaborates closely with the Sales, Account Management, Customer Support, and Product teams to optimize the integration of various D-EDGE products on these websites.
"

By joining the Web Studio, you'll be joining a multicultural, passionate and motivated team with a worldwide presence. You'll be able to collaborate with different profiles such as designers, developers, sales and product teams.

"

Soraya, Web Studio Director