Sexism at work: why those who deny there's a problem are a danger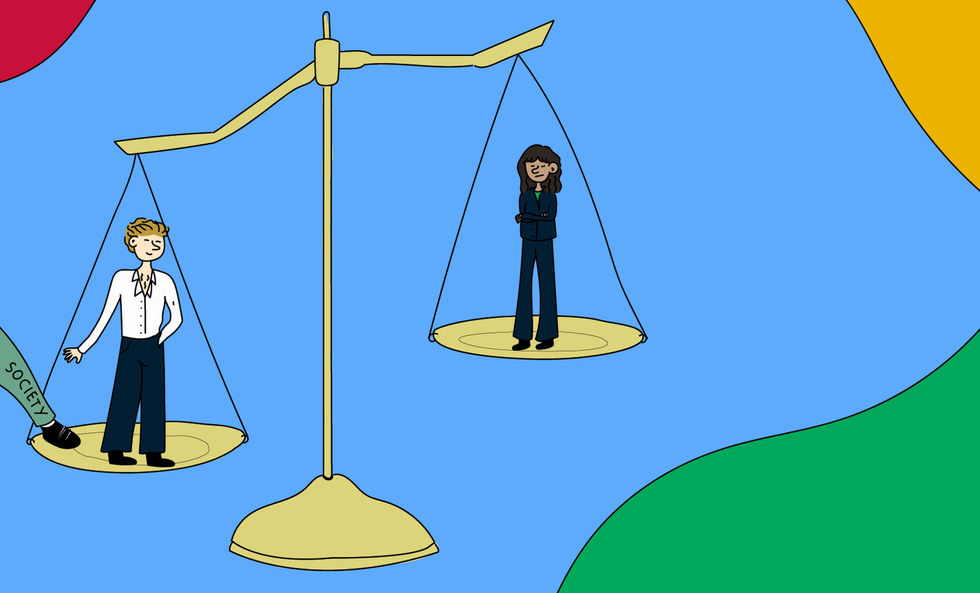 There are multiple ways to perpetuate gender bias. That's why it's so critical to be aware of our cognitive biases (our own list is already quite long) that make us have a preference for men in power. In the US, as of 2021, only eight percent of Fortune 500 companies had a female chief executive at the head of their organization (as for Fortune 1000 companies, only 7 percent of companies are headed by women). There are also far too few women in power in the political world or media. And the gender gap remains stubbornly high (with women earning around 84% of what men do.)
Over the years, demand for equality and transparency has grown within companies with information resources available publicly. But progress is slow. Not every aspect of the gender gap is disclosed. Women still face discrimination, harassment, and bias.
When it comes to bias, it's not uncommon to come across discrimination deniers, i.e. people who deny there is any discrimination (or harassment) in their organization. "Everyone is treated fairly in our organization", "we are a meritocratic company", "there is no sexism here", "I'm no sexist"… Interestingly, according to an edifying study published in June 2020 in Sciences Advances, it is precisely those 'deniers' who perpetuate bias the most!
Why denying the problem is a problem
The study published by researchers from the University of Exeter and Skidmore College shows, with figures and a survey to back it up, that biases are stronger among those who deny them. "Importantly, those who thought bias was not happening in their field were the key drivers of it—a "high risk" group (including men and women), that, as shown, can be readily identified. Thus, as other professions make gains in women's representation, it is vital to recognize that discrimination can persist—perpetuated by those who think it is not happening," the authors write.
In those organizations that might be said to be more egalitarian and where female representation has (somewhat) advanced, it is quite common for leaders to fall into 'negationism' and claim that bias and differential treatment no longer exist. This in turn causes future progress to stall, or even causes regression.
Progress in terms of equality, diversity, and inclusion is by no means linear and inevitable. It is most often the result of historical breaks and binding measures.
What does it mean for human resources?
A few years ago, the British government started demanding that all businesses with more than 250 employees reveal their gender pay gap online. This made it undeniable that there is a consistent pattern of gender inequality across all sectors and that women are extremely under-represented in all top, best-paid jobs. The impact of the legislation, as someone once wrote in The Guardian, is that "companies are stripped naked…and attitudes towards women are revealed with uncomfortable clarity."
In airlines and banks, for example, it became much harder to deny there's a (huge) gender gap (at EasyJet, pilots are 94% male, while flight attendants are 69% female). But company representatives continue to try and "defend" the gender pay gap by putting forward limits on the government's reporting requirements. They say the government's method of calculating the gap is "too simplistic" to reflect the complexity of their situation. But the truth is that the new requirement makes it hard to deny the gap, the way managers have for a long time.
Controversy over how to measure the gender pay gap is not new. In fact, it explains why so many different figures can be found: estimates of the gap in the US range from a bit more than 16 to more than 50 cents! And that gap is even higher when considering women of color.
What every study does agree on is that reducing the gender gap and diversifying human resources is a powerful performance lever for companies. Those with a more diverse workforce tend to perform better from a financial point of view (according to a famous McKinsey study, "Why Diversity Matters", egalitarian companies are 35% more efficient).
"Negationism" doesn't just hinder performance, it also degrades a company's employer brand considerably. And it prevents the victims of discrimination or harassment from telling their HR department, which causes the managers in denial to be all the more convinced that there really is no problem with their team…
How can it be remedied?
Awareness alone is generally not enough, because of moral licensing: "the companies that talk about meritocracy the most are often the least meritocratic."
Bias awareness programs can nevertheless be seen as a starting point, provided, as economist Iris Bohnet points out in her book What Works: Gender Equality by Design (see our "must-read" article), that participants' empathy is developed. "Bias reduction programs work when participants are invited to put themselves in the shoes of the victims of discrimination."
Follow Welcome to the Jungle on Facebook, LinkedIn, and Instagram, and subscribe to our newsletter to get our latest articles every day!