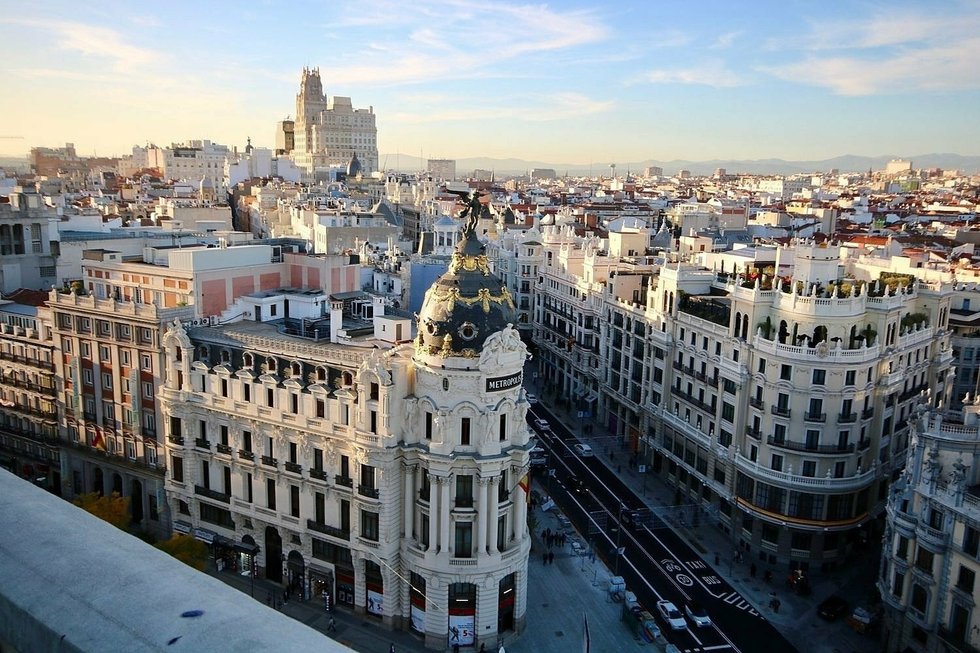 Madrid is a city teeming with opportunities and rich cultural offerings thanks to its countless playhouses, movie theaters and museums. Besides its fascinating architecture, exciting nightlife and unique cuisine, Spain's capital is renowned for its vibrant and outgoing feel. To top it all off, Madrid's economy has been gaining ground over Spain's traditional industrial hubs, such as Catalonia and the Basque Country. This is primarily down to its strong demographics with 3.2 million inhabitants living in the city area and 6.6 million across the whole metropolitan area. So, if you're thinking about moving to Madrid and starting afresh, here's all the information you need so you can set off and be in the know.
Labor landscape
Madrid is home to over 30% of all companies in sectors such as finance, insurance, telecommunications, software development, the arts and goods transportation, according to the Central Business Register at Spain's National Statistics Institute. What's more, since 2013, it is the Spanish region that has attracted the highest number of companies.
As a direct result, Madrid ranks as the Spanish region with the second-highest number of workers at more than 3.3 million. Here are the sectors where workers are most in demand.
Sectors that are hiring
Capital goods
Despite the prominence of less tangible sectors such as communication and technology, capital goods are one of the main exports of Madrid's economy. This is to say goods which are needed in the making of other products.
Job profiles in demand: maintenance personnel and skilled technicians.
Finance
In this sector, data has become the main asset for companies. Experts are needed to analyze data related to markets, customers, business and trading.
Most in-demand job profile: data scientist.
Engineering
Six of Spain's top 10 engineering companies by turnover are in Madrid.
In-demand job profiles: experts in renewables.
Retail
With the economy slowly improving since the financial crisis of the early 2010s, the retail sector has seen major gains and this has been reflected in more people being hired.
The most in-demand job profile in this sector is a flagship manager.
The arts
According to government figures, Madrid is home to a large share of Spain's arts-related businesses – up to 22% of them.
In-demand job profiles: digital content experts, video and sound technicians.
Telecommunications
According to a report from LinkedIn entitled Emerging Jobs 2020, the demand for Salesforce developers has meant that the number of professionals identifying themselves this way rose by 74.65% compared to the previous year. These are job profiles requiring vast technical expertise and an ability to use different programs which allow them to be excellent consumer and customer-relationship managers.
In-demand job profiles: data analysts, Big Data developers and software developers.
Company life
Madrid is much like the rest of Spain in that staff can take lengthy breaks for lunch but then work long after 6PM. However, Madrid's regional government has over the past decade sought to change this by introducing policies to ensure a better work-life balance and initiatives to promote remote working, and by giving subsidies to companies offering flexible working hours.
Something else to bear in mind is that if you end up working in Madrid, you'll undoubtedly see your Spanish colleagues taking their tupper to work: their Tupperware containers usually featuring leftovers from last night's hot meal. Over the past decade, 'ir de afterwork' has also become popular with co-workers going out for drinks on Fridays once they have finished work. Dry Martina and Barbara Ann are among the most popular bars for this.
Living in Madrid
Pros
Madrid has one of the best and most sustainable public transport networks in the world, according to Sustainable Mobility Index of the Cities of Spain (IMSCE)

Its vast cultural offering. Theaters, concerts, exhibitions, all sorts of shows… Madrid has it all.

Its nightlife. If you're one of those people who comes alive once the sun goes down, Madrid will definitely keep you occupied.

Its climate. Despite its cold winters (with averages of 46ºF), in Madrid you can enjoy average temperatures of 59ºF as well as clear skies all year round.

Madrid is one of the world's safest cities. According to The Economist and its 2021 Safe Cities Index, Madrid ranks 21st with a score of 74.7 out of 100.

You can drink water straight from the tap. Madrid, as many of its residents will tell you, has some of the best water in Spain. This is partly due to Canal de Isabel II: the public entity that operates 14 reservoirs.

Casa de Campo. A hilly woodland on the outskirts of the city with 4,255 acres of open space, including a lake. A natural haven for getting away from all the hustle and bustle of the city center.

Madrid Río. A vast park completed in 2011, which was built over Madrid's busy M30 highway and alongside the Manzanares river. The perfect spot to go running and clear your mind.

Last but not least, its cañas. These small measures of beer are the cornerstone of most social gatherings in Madrid's countless bars. A caña almost always comes with a helping of potato chips, olives or at times something more elaborate.
CONS
As of November 2021, there were more than 390,000 people out of work, according to the Ministry of Labor, and Madrid has some of the highest unemployment rates in Spain.

The rent, especially in the city center, has skyrocketed in recent years. In fact, Madrid is the province with the highest rents in Spain.

Pollution is one of the capital's most acute issues. Both ground-level ozone and nitrogen dioxide levels generate what residents call the "boina" (Spanish for beret). This is a cloud of pollution that forms over Madrid.

Madrid can be noisy. If you move to any of its central districts, you'll have to get used to living with the constant background noise of tourists, street vendors and impromptu parties.

The flipside to Madrid's vibrant and bustling lifestyle is that it can mask problems such as stress and anxiety. According to the Spanish Society for the Study of Anxiety and Stress, Madrid scores 8.1 out of 10 for stress.

Madrid's downfall is undoubtedly its lack of a beach during its long hot summers. In fact, you'll have to travel some 250 miles to catch a glimpse of the sea.
Practical information
Rent
Just like most capital cities in Europe, Madrid has also seen rents shoot up in recent years, meaning that living in certain districts (especially in the city center) has become prohibitive. According to the online platform Fotocasa, in the past five years alone, rent has increased by 19.5% for smaller apartments, in other words those under 100 square meters or about 1,070 square feet. It also states that rents in Madrid cost an average of €15 ($17) per square meter.
The cheapest neighborhoods
Lavapiés-Embajadores. In just a few years, this district has gone from being one of the city's cheapest to one of the city's trendiest. That said, it remains one of the central districts where it's still possible to find a 50 square meter apartment for about €1,000, which is about 548 square feet of space for $1,136.

Tetuán. This cosmopolitan area is home to the Mercado de las Maravillas, Real Madrid's Bernabeu stadium and the iconic Kio Towers. Here you can find an 80 square meter apartment for about €1,100.

Vallecas. One of the capital's most affordable neighborhoods. It may be a little out of the center, but it's well connected to transport links. Average rent in this area is about €600.

Carabanchel. Despite Carabanchel being somewhat away from the center, it's popularity has risen over the past few years. However, rent here remains fairly affordable. You can find a 90 square meter apartment here for under €1,000.
The most expensive neighborhoods
Salamanca. This is considered the city's most elegant district with emblematic streets such as Calle Serrano (where rent can exceed €4,000), and other iconic areas such as Paseo de Recoletos, Las Ventas and the renowned Puerta de Alcala on the edge of Madrid's Retiro Park.

Chamberi. Rent in this district has increased so much over recent years that it is now one of the city's most expensive areas. Renting an apartment here can cost about €1,600 a month.

El Viso and Chamartin. Upscale areas where rent can be about €5,000 a month.
Getting a visa
Obtaining a visa to work in Spain can be a complex and lengthy procedure involving various administrative formalities. What's more, rules and regulations are liable to change. So it is best to seek advice from the Spanish embassy or your local Spanish consulate. Also note that your future employer needs to get prior authorization from the state before you can personally proceed with applying for a visa.
Public transport
Metro. Madrid is renowned for having a great subway system that will take you to all four corners of the city with frequent trains. It's the quickest and cheapest way of traveling around the city. The metro network has 13 traditional lines (with 301 stations) and three tram lines, which link up some of the neighborhoods on the city's periphery. To travel on the metro, you need to get a Multi card: a travel card costing €2.50, which you can buy from a ticket machine and which you top up as you go. A single journey costs €1.50. A 10-journey saver ticket costs €12.20.

Bus. Although it's slightly more awkward than the metro, taking the bus is also an option for getting around the city and its outer areas. Timetables vary according to which bus line you're using. However, bus services usually start at about 6AM and finish at about 11.30PM. Certain lines have reduced timetables. Madrid also has 26 night buses – known as 'búhos' or 'owls' in Spanish – which cover most of the city during the early hours. You can use the same travel card as the one you use for the metro. These are not sold on the bus, but you can pay the bus fare using cash or a contactless card.

Cercanías commuter network. The Cercanías trains are linked up to the main metro stations. They offer another great way of getting from A to B, especially if you need to travel to the suburbs. Depending on the area, you can buy a 10-journey Bonotren ticket from €10.

BiciMad. Madrid also has a public bike scheme for anyone who dares to do it. The bikes are electric and will help you up some of the city's steep hills. You can take one from any of the hundreds of bike stations across the city and leave them at any other point that is convenient. The annual fee is €25, or €15 if you have a public transport card. There's also the option to use them on an hourly basis from €2.
And finally…
As you can see, Madrid has an abundance of attractions. You'll be surprised how quickly the city and its blue skies welcome you as you happily visit exhibitions, go to concerts and scoff down cocido: its traditional chickpea stew. Madrid epitomizes both the traditional and the modern. It encapsulates the best, and the worst, of Spain. You might find it a little chaotic at first and you might even get lost down the many side streets of Malasaña or La Latina, but you'll soon fall in love with it. Once you do, you won't want to be anywhere else. Because as a famous saying goes: "From Madrid to Heaven." Once you've visited the city, there's only one place that tops it: heaven.
Translated by Jamie Broadway
Photo: Jorge Fernandez via Unsplash
Follow Welcome to the Jungle on Facebook on LinkedIn and on Instagram and subscribe to our newsletter to get our latest articles every day!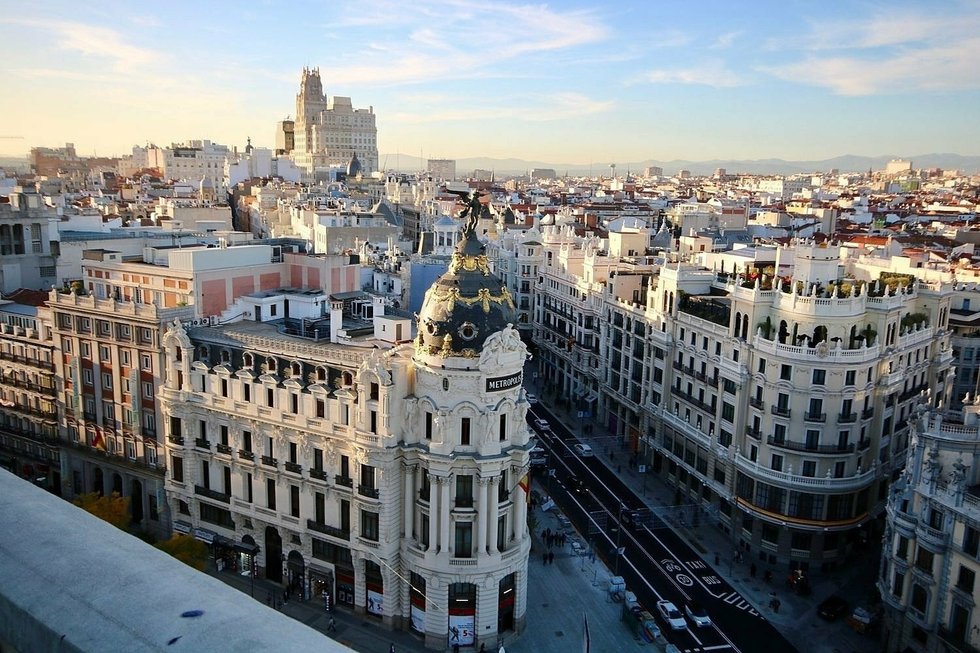 Looking for your next job opportunity ?
More than 200,000 candidates have found a job with Welcome to the Jungle
Explore jobs