Headsets for health: can VR support mental health at work?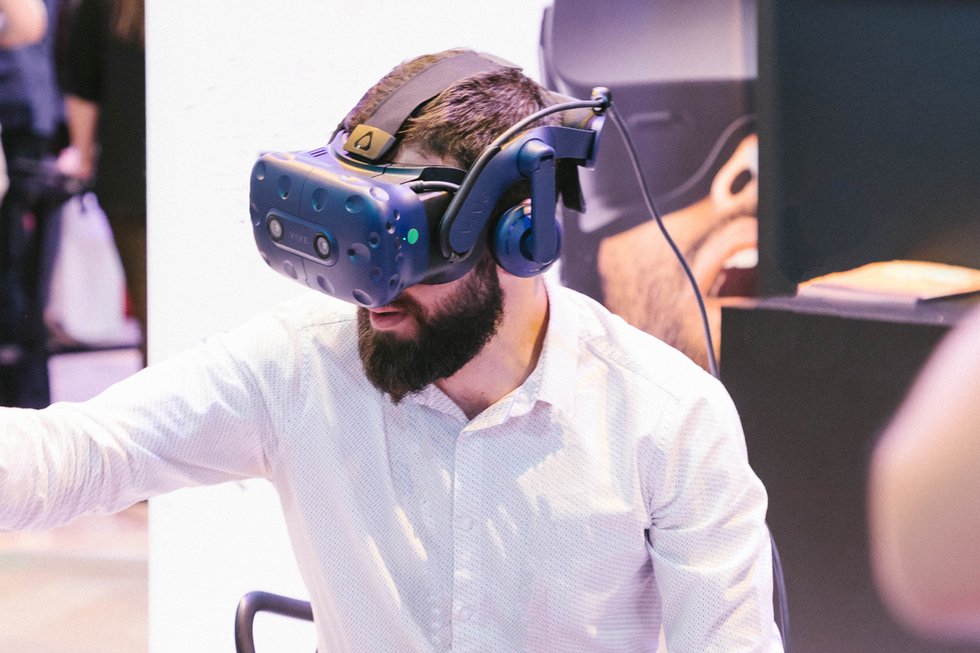 You're on a deserted beach. The turquoise sea meets glistening white sand while palm trees sway to either side of you. All you can hear is the gentle lapping of waves and the occasional bird. You can almost feel the powdery sand between your toes…almost because, sadly, you are not actually on a tropical island. You're on a work break wearing a high-tech Virtual Reality headset as part of your company's wellness program.
This might sound far-fetched, but companies and organizations, from the NHS to Ford, are embracing the power of VR to improve employee well-being. What exactly does this involve, how does it work—and is it really the answer to our mental health crisis?
---
When job stress hits, it's time for a break. Some choose to go for a walk; others grab a coffee or indulge in a bit of office gossip. It's all about switching off. A VR headset is a way to take this one step further and transport yourself to a computer-generated, interactive environment designed to promote relaxation, from a 360-degree safari to cascading waterfalls, all from the comfort of a "mood room" or your desk.
This creative and positive use of technology tackles a pressing issue: almost half of all employees (48%) have experienced a mental health problem in their current job, according to a major study by the charity Mind.
The change in working patterns caused by Covid—and the stress it has brought on many levels, from our health to job security—has given employers a wake-up call regarding staff wellbeing, according to Jill Mead, CEO, and founder of TalkOut. "Conversations are certainly starting to open up and the recent pandemic has fuelled this further," she said. And now, VR is emerging as a high-tech option to add to the list of support that employers can offer staff.
Where does Virtual Reality come in?
"VR has the potential to transform the assessment, understanding, and treatment of mental health problems."
VR technology emerged in the 1960s but it wasn't until the mid-1990s that psychologists began investigating its effectiveness in diagnosing and treating mental health disorders. Since then, the phenomenon has gathered pace. An evaluation of 285 studies on VR and mental health concluded that "VR has the potential to transform the assessment, understanding, and treatment of mental health problems".
For Mike Ward, a senior consultant and psychotherapist at the London Anxiety Clinic, immersive technology helps people face their fears by experiencing them within the safety of a therapy room."It's like a mental rehearsal," he said.
For example, VR can help those who are nervous about public speaking. Ward works with businesses in many sectors, from law and delivery to IT and sales, to help staff rehearse presentations in Virtual Reality. The psychotherapist explains that he can alter the program to change the way the audience responds, including their body language, using real-life audience footage from Limbix VR. "I can make the crowd look very informal, giving a positive vibe to the speaker to start with," he said.. "I can then make the public seem fed up or a bit bored, [with someone] taking a call halfway through."
Ward then helps his clients deal with their reactions in real-time by talking through their emotions. "If they tell me their heart rate is getting worse, I can show them techniques on how to change the breathing patterns," he said. The psychotherapist finds that his clients enjoy the modern feel of the technology. "People forget the world around them with a headset, and their confidence grows in different ways," he said.
From the therapist's couch to the office
In the workplace, VR can be used to manage stress and anxiety or to help increase productivity. London-based Fountain Digital Labs worked with psychologists to create Virry VR, short, five-minute bursts of nature therapy designed to improve employee mood and productivity.
The company conducted a trial using Headhunter Group employees which showed that its African savannah immersive video content had a positive effect on the psycho-emotional state of participants. After a VR session, participants had a lower heart rate and increased heart rate variability, which shows an activation of the calming parasympathetic nervous system.
NHS is embracing VR to tackle its mental health crisis
The NHS lost a staggering 3.5 million days due to staff mental health problems between February 2019 and March 2020—and that was before the Covid-19 crisis escalated. Since then, the pandemic has only worsened the mental health crisis at NHS.
To address this, researchers from Cardiff University joined forces with Rescape Innovation during lockdown to offer VR to NHS staff working in intensive care units in Wales. They wanted to see if the VR-based mindfulness apps could improve staff well-being and reduce stress.
So how did the trial work? Twenty-one frontline ICU staff at the Royal Glamorgan and Prince Charles hospitals took a break during their shift in a quiet room, put on a VR headset, and selected their virtual reality of choice, including a tour of Welsh landscapes and a voyage under the sea. These 360-degree immersive experiences came with guided breathing exercises helping them achieve a calm mindset.
Participants rated their experience on a scale of one to 10 and the results were positive. Average scores of seven or more showed that VR breaks helped the participating staff cope with their working day. The highest average scores recorded showed that participants found VR enjoyable to use and would recommend it to colleagues to aid relaxation and to reduce stress.
Paul Sweet, a nurse at Prince Charles Hospital, said he found VR therapeutic and relaxing. "It took my mind off work completely as I became immersed in my new surroundings," he said. "I found that it reduced my levels of stress quickly." Rescape Innovation is now in discussion with 10 NHS Trusts about conducting a large-scale trial.
The downsides of VR
Not everyone is sold on VR as a well-being tool in the workplace. Critics cite the following among their complaints:
It increases screen dependency
A recent study revealed that the average UK adult spends 13 hours a day staring at a screen between laptops, phones, and TVs. Do we really need to spend more time looking at a screen and fuelling our increasing tech addiction?
It reduces social interaction
Shouldn't breaks be for socializing and bonding with colleagues? Yes, says Ellen McCarthy, operations manager at Time to Log Off, a global digital wellbeing movement that encourages screen breaks and human connections. "The introduction of VR at work could reduce our in-person contact, which is so positive for our mental health," she said.
This in turn can cause mental health issues. A study conducted at Oregon Health & Science University found that limited face-to-face social contact nearly doubles someone's risk of having depression.
It can cause sickness
An estimated 40% to 70% of users will experience VR-induced sickness, which is similar to motion sickness. Although symptoms are usually mild, VR can cause dizziness, nausea, headaches, eye strain, disorientation, fatigue, and reduced postural control.
It's expensive
Costs vary depending on the exact hardware and content, but a business-ready headset costs between £400 and £1,000, so it's a big investment. The devices aren't proving as popular as the tech giants thought. Earlier this year, Google announced it halted sales of its VR headset. "There just hasn't been the broad consumer or developer adoption we had hoped," a spokesman said.
Is VR what we need to improve mental health?
The use of Virtual Reality for workplace well-being is a particularly exciting chapter in mental health tech. What seems to be missing, however, is an honest conversation about the root cause of all this work stress and anxiety. Research shows that job insecurity negatively impacts the mental health of 66% of workers in the UK. Companies that embrace immersive technology for well-being should also engage with the reasons for these negative emotions among staff, as much as their symptoms.
Is more tech really the answer to our mental health? McCarthy at Time to Log Off believes that we shouldn't be looking for technological solutions to problems often created by screens. "This efficiency-focused culture leads to higher rates of burnout and a more unhealthy workforce," she said. "We should be focusing on open spaces, shorter working hours, and less screen time before we turn to VR to solve our problems."
Mead from TalkOut agrees that this issue must be addressed at the source. "More education is needed around mental health and the responsibilities that an employer has to create a psychologically safe culture," she said. "It's a real cultural shift that's required to ensure that change is sustainable."
While we shouldn't underestimate what a five-minute VR break might do to lift or relieve stress, perhaps we should be questioning why we need VR headsets for better mental health in the first place.
Photo: Welcome to the Jungle
Follow Welcome to the Jungle on Facebook, LinkedIn, and Instagram, and subscribe to our newsletter to get our latest articles every day!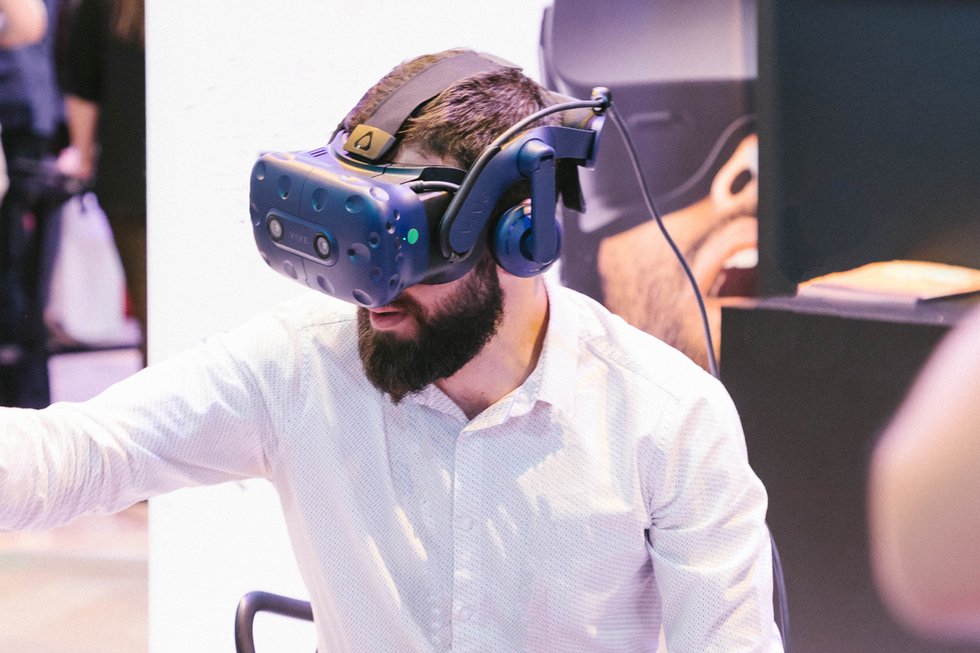 Looking for your next job opportunity?
Over 200,000 people have found a job with Welcome to the Jungle.
Explore jobs