The only way is up: farmers who grow crops without soil or sun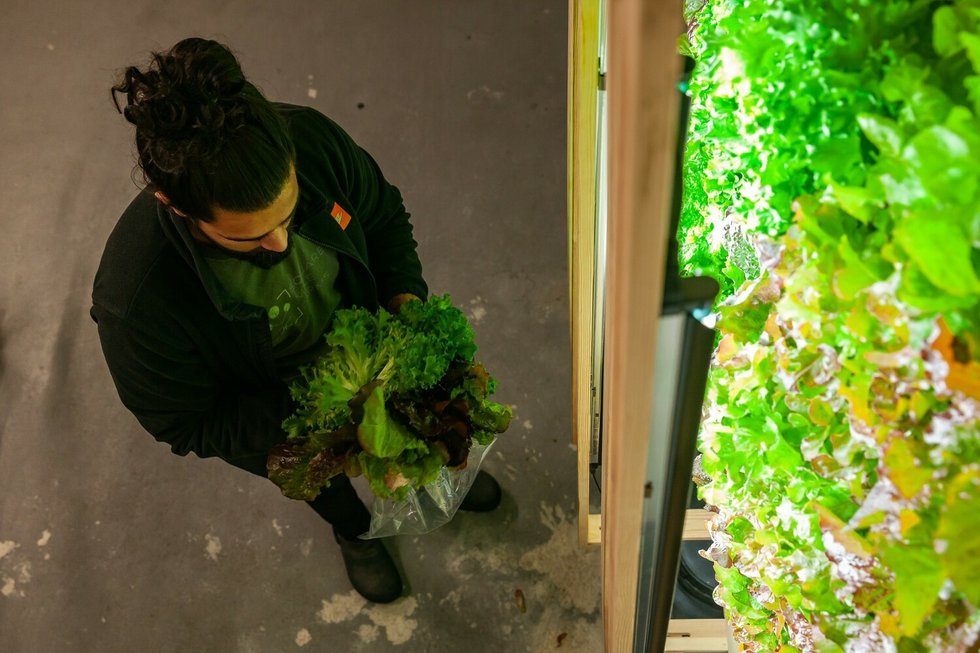 How do you imagine a farmer? Wearing a flat cap, perched on a combine harvester in a field? This stereotype is changing fast, especially since the arrival of vertical farms in urban spaces, which hailed the "future of farming." Growing crops in vertically stacked layers in a carefully controlled environment demands a whole new set of tech skills never before seen in the agriculture industry.
What's behind the hype? We spoke to three workers in the vertical farming industry to find out more.
---
In the past five years, vertical farms have sprung up in unlikely places. In 2015, Growing Underground started cultivating salads and herbs in a former air raid shelter, some 30 meters below the streets of London. Three years later, Rootlabs sprouted strawberries in a revamped doubledecker bus.
What are vertical farms?
These are not just wacky experiments. The concept of vertical farming was introduced in 1999 by Professor Dickson Despommier, an ecologist at Columbia University. He came up with the idea of "farmscrapers"—ecological skyscrapers—as a solution to the lack of arable land in urban areas and the rapidly growing world population. This method involves creating a carefully controlled environment to implement soilless farming techniques, such as hydroponics, aquaponics, and aeroponics. Popular crops include salad, greens, and herbs. Big cities, from San Francisco to Shanghai, have embraced vertical farming. As of 2016, there were2.3 million sq ft of indoor farms worldwide, with one study predicting that they could cover as much as 16.55 million sq ft by 2021.
The city boy with a passion for farming
Andrew Worrall, 25, works as farm manager at LettUs Grow, a vertical farming technology provider in Bristol. The self-proclaimed city boy from London studied animal care at college and landed his first farming job at 18—overseeing 3,000 sheep and 1,500 pigs on a 175-acre farm in Hertfordshire—but he struggled with "looking at animals in terms of money rather than actual creatures". He left after six months. "I was too passionate about the animals to farm them," he said.
Worrall worked a variety of jobs—in the pet industry, in an electrical company—until he saw a vacancy for an aquaponics technician at GrowUp Farms, a vertical farm in London that uses fish tanks instead of soil. Worrall wasn't the ideal candidate on paper, but he landed the job. "I was a complete plant/indoor farm novice," he said. "All I could bring to the table was my practical knowledge." After gaining invaluable experience, he successfully applied for the role of farm operator at LettUs Grow in 2019.
"I'm a sucker for loving things when they become optimized." - Andrew Worrall
A usual day consists of sowing, harvesting, or general maintenance. "We make the environment whatever we want it to be in terms of light, CO2, temperature, or humidity. We control everything to optimize a plant's growth," he said. Worrall spends up to 60% of his time in the office. "I look at how quickly and how efficiently I can grow a crop," he said. "I do a lot of benchmarks in terms of how much we can produce weekly, annually, which means I work a lot with the commercial team."
The start-up uses aeroponics, in which atomizers fog nutrient-rich water and turn it into aerosol going onto the roots. For Worrall, the challenge of finding the perfect growth "recipe" for each plant is the most exciting part of his job. "I'm a sucker for loving things when they become optimized," he said. He uses in-house software Ostara—"the brain of the farm"—to follow a plant's growth cycle: "I wouldn't want to go without it again. It makes the day-to-day work really easy."
Vertical farming "is definitely the future", said Worrall. "That doesn't mean it's the only way of farming." He believes it can work alongside conventional methods. Certain crops, such as cereal, need to grow in fields, but the insight gained with technology can be applied to outdoor agriculture. "When environments match, we can tell [outdoor farmers] exactly what to do," he said.
The eco-warrior embracing modern technology
"I was very ideological about farming." - Dhiresh Tailor
With a background in sustainable development, Dhiresh Tailor, 27, farm operations manager at Square Miles Farm in London, was initially doubtful about vertical farming. "I was very ideological about [farming]," he said. "Coming from that world, you want everything to be natural and traditional." Tailor admitted that he had reservations "because of the electrical power, how modern it is". However, his career journey has shown him how vertical farming is remarkably sustainable. It uses 90% to 95% less water than conventional agricultural methods and there are no pesticides or herbicides needed.
During university, he volunteered at Kingston Permaculture Reserve and worked for The Orchard Project, a charity bringing orchards to urban communities. He is passionate about the environment and wanted a career that reflected his beliefs. "It's taking responsibility for everything around you—your food, your water, your electricity. I've always had an attraction to being self-sufficient, and it took me to sustainability as a way to surround myself with similar people," he said.
However, when Tailor was looking for a job in the environmental sector, he realized they were all "office jobs with no practicality". He began experimenting with hydroponics in his apartment by growing microgreens. His project, Sakura Greens, folded after six months, but it connected him with the Square Miles Farm team, who offered him a job in 2019.
"It was like a lightbulb moment…I'm no longer ruling one out for the other [traditional outdoor and indoor farming]"
Square Miles Farm provides vertical farms to homes and offices and runs a hydroponic farm on the roof of a business center in Paddington [closed due to Covid-19]. As Tailor became more immersed in hydroponics, the full potential of vertical farming hit him. "It was like a lightbulb moment," he said. "This random room, roof, or this small little container in a basement, is producing food that's making people really happy. It sort of clicked in my head. We had customers in Paddington who took our veg boxes every week and hearing them try vegetables that they had never tried before, supporting a company that's so local, on a roof above their head, was special. I'm no longer ruling one out for the other [traditional outdoor and indoor farming]."
He does a lot of manual work at the rooftop farm. Tasks include checking for pests and unblocking drippers, refilling the automated dosing systems with nutrients, and sowing and harvesting. The biggest task is cleaning. "There's a unique challenge with hydroponics, you're trying to keep everything as pristine as possible," said Tailor. "You can automate to a certain degree, but you need human eyes to be able to control it."
Tailor also runs workshops on hydroponic farming via Zoom and uses social media to share his knowledge. "Rather than blowing the megaphone, I'd prefer to teach people how to change little things in their habits. I think that can have a bigger effect."
The tech expert bringing her skills to vertical farming
Vertical farming has created tech-based opportunities in the agriculture industry. Aude Vuilliomenet, 26, is a junior IoT engineer at Vertical Future in London. IoT, or the "Internet of Things", is the network of physical devices connected to the internet. She recalls first seeing vertical farms at Expo 2015 in Milan, where the Belgium pavilion presented an aquaponics system. "I was, like, this is clever," said Vuillioment.
Swiss-born Vuilliomenet moved to London to study smart cities and urban analytics and decided to stay. "I thought, it's pretty urban, but there are so many problems that I can notice here and that I want to tackle," she said. With her background in food science, engineering, and smart cities—plus work experience on an Italian goat farm—the vertical farming industry was an obvious career choice.
"Vertical farming can help where it's not possible to fix your environment…It gives you this possibility to do something." - Aude Vuilliomenet
At Vertical Future, Vuilliomenet works with sensors that collect data about plant growth, which are sent via the Internet to DIANA, VerticalFuture's cloud-based software platform for further analysis. She collaborates with the mechanical engineering team on implementing IoT solutions and with plant scientists to automate and optimize plant growth cycles. "The plant scientist might, for example, tell me, "Tomorrow we want to plant coriander and we want to test how many nutrients or how much irrigation we need," she said. "What I will do from the dashboard, from the computer, I'll basically automate my nutrient system. Coriander Test A, for example, every two hours, a 10-second irrigation. Coriander B might be, every hour, a 30-second irrigation. After one week, they will come back and say, 'Actually, we notice that for coriander it's better to have more irrigation, we can have it every hour.' Then I changed the program."
Vuilliomenet is passionate about well-being. She believes that medicine will only get you to a certain point; the solution lies in improving our surroundings. This is where smaller, uncommercial vertical farms in city apartments, offices, or schools come in. "Vertical farming can help where it's not possible to fix your environment because you don't have a beautiful field, soil that is rich in nutrients, or a place to grow herbs and vegetables," she said. "It gives you this possibility to do something."
Will vertical farming continue to rise?
With the global population predicted to reach 8.5 billion by 2030, it's clear that vertical farms alone won't solve world hunger. However, these expert teams of traditional farmers, engineers, plant scientists, and software developers are already feeding their local communities and rethinking our food supply chain.
This relatively new industry is still finding its way, but vertical farms will continue to become more common as technology progresses. "There's an evolution in traditional, industrial farming, which is going to happen when people realize that we're depleting our resources. If it's not profitable to do traditional farming outdoors, you might find farmers making warehouses for hydroponic systems in the countryside. They will become more and more popular," said Tailor. "Vertical farming will be a piece of the pie that can't be neglected."
Photo: Betty Laura Zapata for WTTJ @Square Mile Farms
Follow Welcome to the Jungle on Facebook, LinkedIn, and Instagram, and subscribe to our newsletter to get our latest articles every day!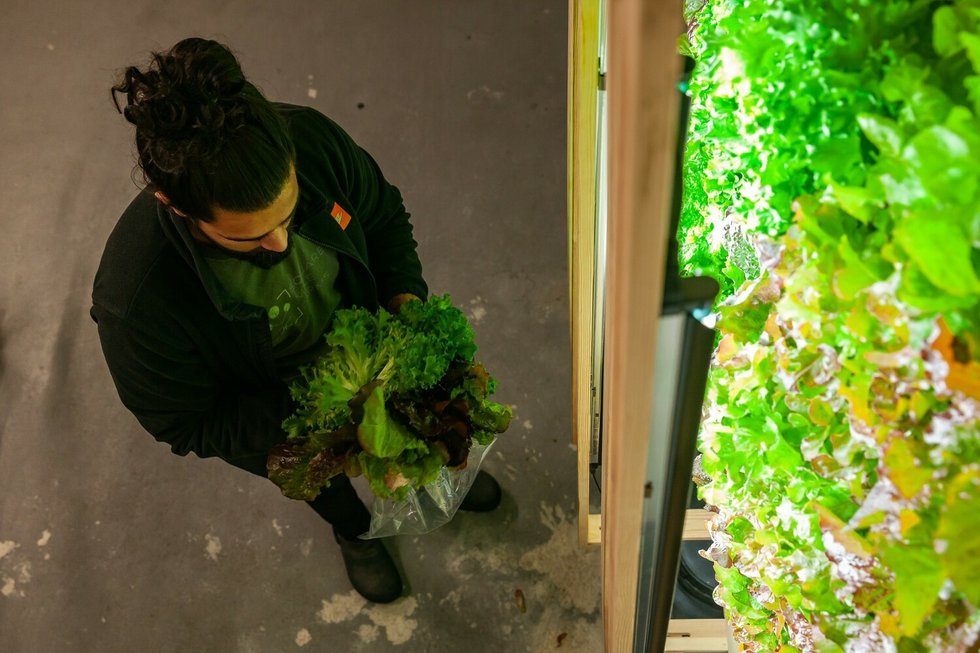 Looking for your next job opportunity?
Over 200,000 people have found a job with Welcome to the Jungle.
Explore jobs