How accessible is remote work? Employees with disabilities weigh in
Dec 02, 2021 • 6 mins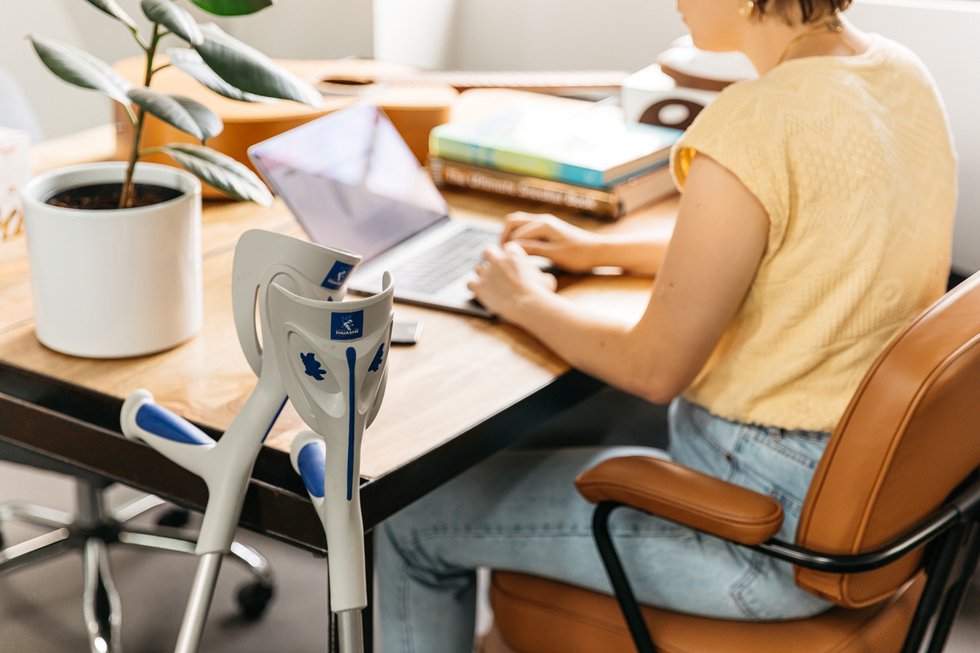 In the US and across the world, Covid-19 forced employers and employees to restructure working habits, with almost half of the US workforce working from home as of June 2020. But what does this mean for the disabled community? We spoke to four people with disparate conditions who have experienced the ups and downs of remote working in unique ways.
---
Covid-19 has shown how quickly workplaces can adapt when they need to. For the 48.9 million people with disabilities in the US, demands for flexible working conditions have been at the heart of the battle for inclusivity for years. Now that many employers have been forced to ask their employees to work from home, for those with disabilities, this has been both a blessing and a bane. There are as many needs as there are individuals. And while the Americans with Disabilities Act obliges employers in the USA to make adjustments and protect disabled people from unfair treatment, implementing accessible working conditions is not always easy.
Alison Hendry: remote working can be lonely for those with hearing loss
Alison Hendry has worked as a British Sign Language (BSL) development officer at the University of Edinburgh since October 2019. She was born profoundly deaf and uses a cochlear implant, a surgically implanted device that provides a sense of sound through electric signals. While she is able to speak well, the 31-year-old prefers using BSL to communicate because she feels as if she misses a lot of information otherwise. "Joining my current organisation was a little difficult as I was stepping back into a mainstream, hearing-dominated workplace. Thankfully, my manager and other colleagues have been amazing," she said.
In Scotland, the BSL Act 2015 states that public bodies must ensure their services are accessible for those who use BSL. Given that Hendry works at a university, her employer provided her with everything she needed to feel comfortable while working remotely. So when the pandemic arrived, Hendry's manager was prepared. Together, they tested video conference platforms and set up regular catch-up meetings online with a BSL-English interpreter. "We also met in person once a month outside at a safe distance during the summer," said Hendry. "This was so helpful because […] a physical meeting kept me grounded."
What Hendry struggled with the most was the feeling of isolation. "It was very difficult," she said. "I live by myself so being in the office gave me that social interaction which is so important." While those with normal hearing can pick up the phone anytime, connecting with others instantly, this isn't the case for Hendry. Being profoundly deaf involves a lot of planning to book a short meeting online. "We need to agree on a date and time, then book a BSL-English interpreter and then make sure that the platform being used is stable enough to support video calls," she said.
A large portion of Hendry's work consists of delivering BSL awareness training, mostly in person. Working from home meant she was forced to adapt, which wasn't made easier with a weak wi-fi connection, on top of all the other communication barriers she faces. "I had to [change] the content to meet the needs for online delivery. The training went very well and participants enjoyed it, but I was anxious before each session because I didn't want to lose participants," she said. To fix the issue, she tried using automatic captions but found them to be unreliable and "produce strange wording".
In September, Hendry returned to the office part-time. "Individuals have their own circumstances. I'm glad to have the opportunity to be able to work from the office as it suits me better." While Hendry is very grateful for her employer's understanding and flexibility, remote working for her re-emphasised the importance of meeting individual needs. "Not all deaf and hard of hearing people have the same needs," she said. "It's so important that each person's voice is heard."
Martin Griffiths: remote work is about learning as you go
Martin Griffiths has been working from home since mid-March this year. He is a senior employment specialist at a hearing loss charity, where he has worked for seven years. Past experiences with mainstream companies led him to his charity role, "where there is slightly less resistance". Being deafblind, he has both profound congenital bilateral hearing loss and is severely sight impaired.
Pre-Covid, Griffiths worked full-time at his office in Cardiff. His commute using public transport would take about two hours a day. "But the office was well laid-out and I had an accessible workplace," he said. When asked to remote work, the 55-year-old ran into some complications. "Due to my deafblindness, I need an accessible workplace and I didn't have this. I'm unable to work from a laptop and my home had no tables or desks. My employers purchased a desk, but I had to pay to have a small bedroom converted into an office," he said.
Like his colleagues, Griffiths had to adapt to MS Teams, Zoom and Skype. "Many of the systems aren't particularly accessible to people with poor sight, so it's fair to say that I struggled for some time. But my [employer] helped me find a way to work with reasonable if not full access," he said.
In order to communicate and follow conversations, Griffiths needs support, such as verbatim live captions. For that reason, short video calls are difficult. "I've tried using auto captions on MS Teams but it's unreliable."
Occasional home assistance would be ideal for Griffiths, but for the most part, his organisation has tried everything to help and everyone is learning as they go along. "Ideally, when Covid is under control, I'd like to continue home working but have some limited office working too," he said.
Natalie Arney: remote work should be flexible
Unlike most of us remote working during the pandemic, Natalie Arney started doing so in February 2020, before the lockdown in England began. Arney is based in Brighton, and landed a remote job as an SEO consultant. "As long as I get my hours for the week in, I can work wherever in the world I want to, and set my [working] time," she said.
Arney has fibromyalgia, a chronic pain condition that can cause her to feel extreme fatigue and muscle stiffness, which makes it difficult to get out of bed in the mornings. For this reason, having full control of her schedule and no commute are ideal for the 38-year-old. In her previous job, she spent an hour a day driving to and from work, and had designated hours. "Without the commute, I'm a lot more energised," she said. "Commuting to the room next to my bedroom is absolutely fine." The flexibility also means she can book medical appointments or reduce her working hours if she is having a "high pain" day.
For Arney, loneliness isn't such an issue. She has colleagues who live nearby and she is certain that she isn't missing out on the social aspect of office life. "There's always an opportunity to see them. I think I'm lucky," she said.
Arney's work doesn't require much in-person interaction and her tasks are mostly based online. "Roles like mine mean it's not essential to be present for specific times," she said. Her employer is very understanding of her disability, but Arney is aware that isn't always the case with what she calls "invisible disabilities" like hers. "Remote, flexible working should be a standard rather than remote working without flexibility," she said.
Joshua Reeves: it's difficult campaigning online for disability rights
Joshua Reeves says his disability hadn't deeply affected his professional life before Covid-19 hit. "I always loved going out, catching trains and talking to people about disability rights awareness and campaigns," he said. Reeves has cerebral palsy, which affects movement and coordination, and is a wheelchair user. This lifelong neurological condition can also affect speech, but Reeves' communication hasn't been impaired. He lives in Cardiff in accommodation with 24-hour care staff, who help him with his work life and with other personal needs. He needs help to get out of bed, get showered and eat. His left hand isn't fully functional, which affects his dexterity.
The 23-year-old works as a campaign support officer for the charity Leonard Cheshire, and travels across Wales to conferences and focus groups. When lockdown hit, he was forced to take all his speaking engagements and campaigning online. "I can do it, but it's all on Zoom and I find it quite hard because you don't really get to see people's reactions," he said. He has also had to adapt his work routine. "I feel there's a lot more pressure on me because I do meetings and then at the end of the evening, I do my emails," he said. "That's not how I used to do it. It means an extra hour of doing emails at the end of all the meetings. There's no break."
Despite getting fresh air during his lunch break, he has felt frustrated with being in his room all day. He enjoyed his commute and previous routine, and says remote working has made him more of a workaholic. "It really hurts my eyes, being on the computer. […] I don't like being stuck in my room because at 5pm, when I finish work, I don't even want to game or watch TV. I don't get excited about it, I'm always thinking about work," he said.
Reeves does think that remote work can benefit a lot of people with disabilities, and is frustrated that it took a pandemic for employers to realise this. Personally, he likes the mix of remote working and "being out and about".
While remote working has allowed people with disabilities to reduce commuting time, and customise their working hours and workloads, it has also brought to light the fact that employees still have a long way to go with regards to full inclusivity and accessibility.
And that's for those who are in employment. In the US, only 55.8% of disabled people of working age are currently employed. Let's hope that this new attitude towards work routines sticks around after the coronavirus has long gone—and helps more people with disabilities land the jobs they deserve.
Photo: WTTJ
Follow Welcome to the Jungle on Facebook on LinkedIn and on Instagram and subscribe to our newsletter to get our latest articles every day!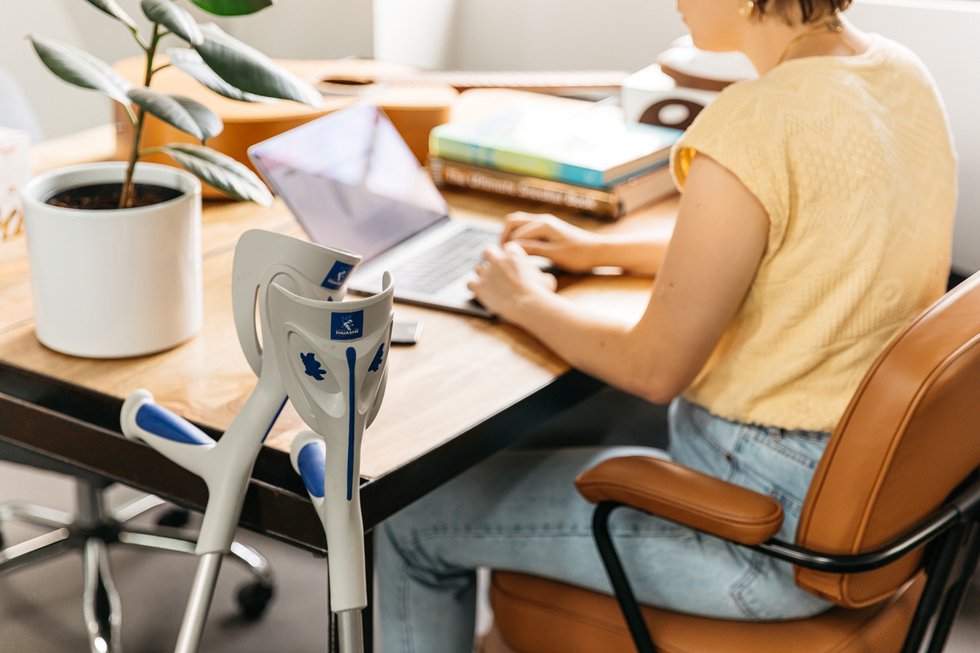 Looking for your next job opportunity ?
More than 200,000 candidates have found a job with Welcome to the Jungle
Explore jobs