Are you too anxious to be a digital nomad?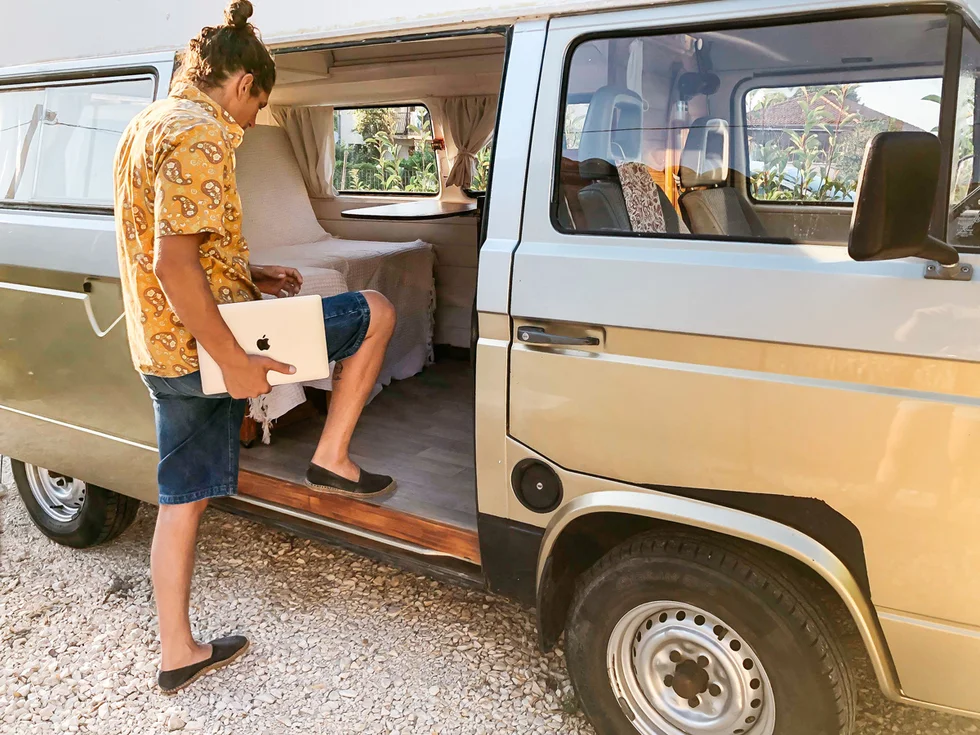 It might seem that flexible working, remote working and work-life balance were the hot topics even before the pandemic began – but that's not the case. For some time now, mental health has taken center stage, particularly among those told that hating their job was normal so they should just put up with it as they could relax and enjoy themselves in their downtime.
In recent years, however, employees started to question whether their jobs were fulfilling – leading to the Great Resignation. Now, many of us are searching for a better way of life – even if that means living in a smaller city on a smaller salary – knowing that if we don't take care of ourselves as well as nurturing our professional dreams, we may be heading for burnout. Self-care matters.
A survey conducted in 2021 entitled Resetting Normal: Redefining the New Era of Work indicates that almost half of people worldwide (49%) are happier following the changes that the pandemic brought to their working lives. Some also say that their work-life balance improved over the course of 2021, with a satisfaction rate of 71% in Australia. These details look encouraging, until you look at the figures relating to burnout.
Regardless of age, nationality or gender, our health – and especially our mental health – has worsened when figures from this study are compared with those from a 2020 study, which was also conducted by Adecco Group. This latest study shows that the worldwide burnout rate was 32% in 2021. The figures vary dramatically from one country to the next ranging from lows of 20% and 27% in Japan and Germany, to highs of 54% in Turkey and topping at 68% in Romania. (The results are based on 14,800 surveys conducted on people between the ages of 18-60 who had contracts and were working at least 20 hours a week.)
How much of that is related to conditions in the workplace is unclear. What we do know is that there has been a tug-of-war between executives and employees over whether staff should return to offices – or not. Tesla chief executive Elon Musk, for example, told his employees they could return to the office or "pretend to work" elsewhere. Apple in Palo Alto has tried to push workers to turn up at their offices too.
At the same time, there has been an increase in hybrid and fully remote working in 2022. According to a study by the Organization for Economic Co-Operation and Development in January 2022, US citizens reported an increase in their productivity with such ways of working – hybrid or fully remote – and said that they hoped these new conditions would be maintained.
The lure of security
It might seem obvious that going fully remote offers the opportunity to become a digital nomad and travel the world visiting exotic places while working from a laptop beside the sea – but that's not a step that many of us are willing to take. David Llopis, a psychologist specializing in personal development and performance at Deporte y Rendimiento, says that's because we care about security.
Llopis says we live in a culture that values having a workplace, fixed working hours and paid holidays. "Many people need these in order to feel secure and socially valued . . . the one that people possibly value the most [is] having a guaranteed and stable income which allows them to plan for their expenses and investments," he says. "On the whole, people prefer to work for others rather than for themselves."
While some enjoyed the freedom they experienced while working remotely during the pandemic, giving up a secure role to become a digital nomad isn't for everyone, he adds. "Working for yourself isn't an appealing option for many, given that professionally, we live in a climate of uncertainty in the mid- to long term," he says. "You can see what the present's like, but not the future. You need to know how to handle all that uncertainty around you and the social pressure to get a normal job."
Helping people learn how to be happy nomads is a passion for Bosco Soler, a qualified architect who works as a community and content creator. In 2018, Soler founded Sinoficina.com, Spain's first online coworking space. He did this after spending time as a digital nomad on the tropical island of Bali in Indonesia where he noticed that many others yearn to live this lifestyle too.
The Spanish-language site, which he runs with the help of his partner Maria Sajim, has more than 500 annual paid subscribers. In recent months, he has streamed his return to remote working and traveling for his community. Since getting married, the couple has traveled across the United States, Canada and Latin America, working four hours a day to detail the advantages and obstacles to this way of life.
Assessing the lifestyle
Seeing Soler and Sajim's success has encouraged others to become digital nomads too. But, as Llopis points out, many factors influence our decisions these days and a lot of them are out of our control. So it's worth doing a risk and opportunity analysis before blowing up your life. Here are some questions to consider:
Are you prepared technically and emotionally for this? Most of us haven't received technical training in how to be effective while working remotely, or how to manage our time in a new place or on the road.
Is it really cheaper abroad? Is it safe? Inflation and a potential recession are realities at the moment, inviting us on one hand to move to cheaper areas but on the other hand to not take great risks.
Can you handle uncertainty? Consider whether you want to find a job that offers remote work or to freelance. Feeling like an actor waiting for their next film role, which may or may not be just around the corner, can cause major anxiety in those who are not used to dealing with uncertainty.
There are about 45 countries around the world offering visas for digital nomads. These often allow people to stay for at least one year in their chosen region without being subject to local tax laws.
Who's doing this?
A study carried out by Passport Photo Online indicates that there has been a huge rise in the number of digital nomads since 2020. The result is that now almost 10.4 million Americans consider themselves to be digital nomads who travel and explore while working. Of these, 36% work as freelancers, 33% own their own businesses and 21% have a permanent position with a company. Most of them are employed as IT technicians, creatives, teachers, consultants, researchers, marketing and PR professionals. Others work in finance and accounting. So there is plenty of scope for employment in a variety of industries. Their main outgoings are on accommodation, transport and food.
Portugal, Spain, Colombia, Thailand and Mexico are some of the most popular countries to move to and about 24 million US citizens say that they plan to become either partial or full nomads over the next four years, according to Passport Photo Online.
This is hardly surprising given that never before in the history of humankind has there been a better time to live like this – thanks to advances in technology and the range of opportunities available.
How to make it work
Fear is always a factor, however. What if you leave everything behind, but cannot get regular work? What if it doesn't work out? The key to success is to decide that you really are going to go for it. Then draw up a plan in which you set out all the steps you need to take, such as applying for visas. Then just do it. What's the worst that can happen? Yes, things might not go the way you had expected, but that's what makes it so exciting. Whatever happens, the journeys, the relationships, and everything you learn will stay with you for a lifetime. Regardless of whether you decide to explore the whole world or return home after a short time, your outlook on life will have changed forever.
Photo: Welcome to the Jungle
Translated by Jamie Broadway
Follow Welcome to the Jungle on Facebook, LinkedIn, and Instagram, and subscribe to our newsletter to get our latest articles every day!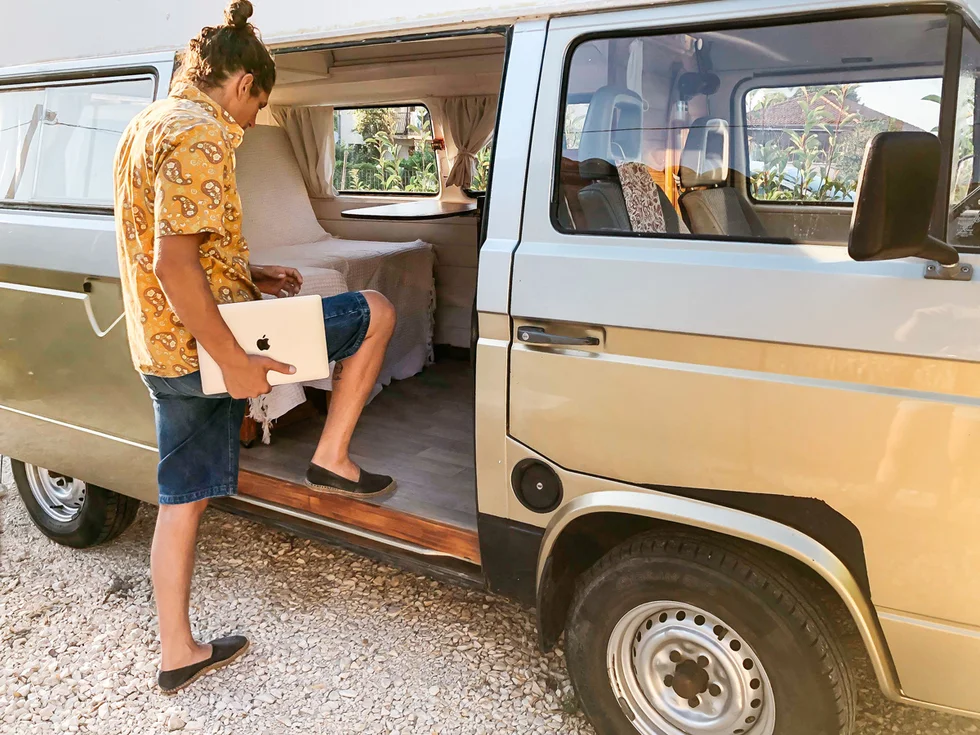 Looking for your next job opportunity?
Over 200,000 people have found a job with Welcome to the Jungle.
Explore jobs