Vestiaire Collective
E-commerce, Luxe, Mode

Paris, Berlin, Ho Chi Minh, Hong Kong, Lisbon, London, New York, Seoul, Singapore, Tourcoing

Working at Vestiaire Collective means nurturing a strong focus on platform scalability, fast data processing, outstanding user experience and high quality deliveries.
Their teams are composed of diverse profiles from a variety of backgrounds and seniority. 
Still, they are all:
keen to learn: stacks and processes are flexible in order to always stay up-to-date by using the best practices and tools, Knowledge-sharing (webinars...) and training sessions are also central.
not afraid to challenge their peers, to be challenged back and to seek the help of the community,
innovative: through workshops, hackathons and R&D weeks to unlock new technical capabilities and use cases.
In figures
300

Backend deployments in production per month

Organization and methodologies
Their 15 tribes are split by customer areas of focus (Supply, Traffic, Platform). Why? So that they have all the resources they need to deliver killer product-driven projects efficiently and independently.
All technical projects have a rapid and clear impact on the business, which even makes the smallest contributions very rewarding!
As partial remote work is the new norm, our teams experience the best of both working organisation. They are spread in 5 offices worldwide in Europe and Asia and communicate on a daily basis. Together, they make a multi-cultural and dynamic Tech community in which each individual can safely be who they are and thrive, both professionally and personally.

Here's what you can expect when you apply for a role with Vestiaire Collective A Talent Acquisition Manager will give you a short screening call to kick off the process. It will be followed by:
A 60-min interview with Talent Acquisition Manager
A business case / technical test and restitution with your future colleagues (peers)
A 60-min interview with Hiring Manager (your future manager)

Optional: a 30-min interview with one our Excom members (depending on your role)

A reference check

An offer
Learn more about Vestiaire Collective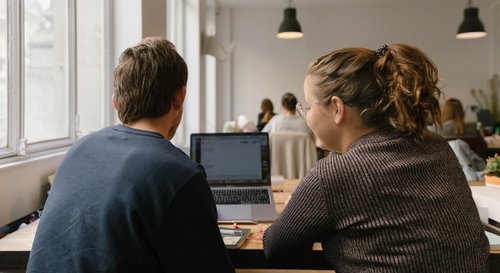 Peut-on faire un stage à tout âge ?
Changer de secteur, approfondir un métier ou une passion… les raisons de changer de voie à un âge "inhabituel" sont nombreuses. 32% des actifs envi...
Started in 2009, Vestiaire Collective is the leading global online marketplace for desirable pre-loved fashion. They're dedicated to transforming the industry for a more sustainable future by promoting the circular fashion movement as an alternative to overproduction, overconsumption, and the wasteful practices/habits of the fashion sector.
They provide their massive community of 23 million members worldwide, with the best customer experience, from product discovery, buyer-seller interactions, platform safety to delivery, thanks to their knowledgeable curation/authentication/quality control and tech teams (Data scientists, DevOps, Android Developers…)
They operate in 78 countries and offer an unparalleled catalogue of 5 million luxury and desirable fashion items, with 6,000 brands available, including 20,000 products added daily.
Vestiaire Collective is 800 diverse employees strong, with 50+ nationalities, spread over 9 locations: Paris (HQ), Tourcoing, London, Berlin, New York, Hong Kong, Singapore, Seoul.
What they are looking for
At Vestiaire Collective, they are looking for talents who fully embrace their values Activism, Dedication, Greatness, Transparency, Community, for change-makers who are willing to join their mission to transform the fashion industry, and have fun in the process.
Vestiaire Collective is a B Corp-certified company in addition to being a unicorn. Diversity, equity and inclusion are central to them. They aspire to build a diverse and inclusive workplace where everyone can be their authentic selves, feel valued and be enabled to drive impact and grow their careers.
A DEI Taskforce has been put in place, with 5 dedicated streams, run by their employees (Women empowerment, LGBTQIA+, Ethnic diversity, Disability, and Parents@Vestiaire)