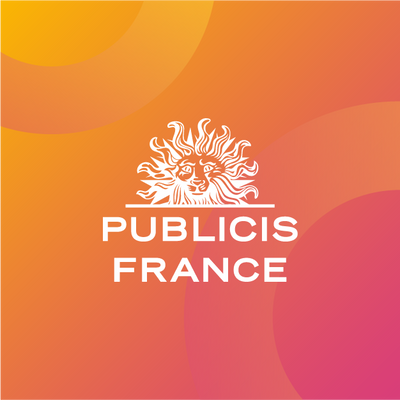 Publicis France
[INTERNSHIP] Event project and speakers coordinator - Women's Forum
Cette offre a été pourvue !
Who are they?
Leader français du marketing, de la communication et de la transformation digitale des entreprises, le groupe Publicis s'appuie sur un modèle unique qui allie créativité, technologie, médias avec au cœur la data.
Présidé par Agathe Bousquet, Publicis Groupe en France est une Talent company riche de plus de 5 000 collaborateurs, répartis dans 26 agences, qui accompagnent près de 600 clients.
En France, le groupe est organisé autour des activités de création avec les agences Publicis Conseil, Marcel, Leo Burnett Paris, Saatchi & Saatchi, Publicis Consultants, PublicisLive, Carré noir, Publicis Luxe, Prodigious, Razorfish. Le groupe est également un acteur puissant des medias avec ses agences Publicis Media, Starcom, Zenith, Spark Foundry, Blue449, Performics. Enfin il intervient dans la transformation numérique avec Publicis Sapient, et dans la data avec Epsilon. Ainsi grâce à une puissante alchimie, de la créativité et de la technologie, Publicis pilote la transformation des entreprises sur toute la chaine de valeur.
La responsabilité sociétale de l'entreprise (RSE) irrigue tous ces métiers et fait partie intégrante de la stratégie globale de Publicis. Le groupe est par ailleurs le premier réseau en nombre d'agences à avoir obtenu le label RSE Agences Actives délivré par l'AACC avec 12 agences labellisées.
Publicis, c'est aussi « Viva la différence ! ». Persuadé que la diversité est un puissant moteur de créativité et de performance, Publicis s'engage sur de nombreux sujets pour promouvoir l'égalité des chances et renforcer l'égalité des origines. Le groupe est convaincu que la somme de ses différences fait sa richesse.
Job description
Reporting to the Editorial and Content Director, the Event project and speakers coordinator is responsible for, among other things, the following tasks:
1. SPEAKERS MANAGEMENT
Coordination of speakers prior to their participation in the various events organised by the Women's Forum:

Participate to identify the good panelists for the events;
Send invitations & follow-up exchanges with the panelists;
Coordination of speakers' travel and accommodations;
Participate in the briefing calls;
Supporting speakers throughout the programme life cycle (online registration, coordination of the speaker registration link, dissemination of practical information; online networking features; coordination of badges for speakers; feedbacks etc.).

Management and logistical coordination of speakers during the events.
Sending the thank you letters to all the speakers after the events.
2. COMMUNICATION
Supporting the content/programming team in the creation and implementation of our event's programmes and sessions before and during the event.
3. COMMUNICATION
Liaise with the Women's Forum communication and partnerships teams to promote programme and speakers.
4. COMPETITIVE INTELLIGENCE
It is important that the Event project and speakers coordinator has an interest in gender and international relations issues and is motivated to raise awareness of these issues.
Preferred experience
SKILLS INITIATED, TO BE DEVELOPED DURING THE INTERNSHIP
Project management;
Logistic related to the organisation of events;
Management of service providers and budgets.
SKILLS AND KNOWLEDGE
Excellent editorial and writing skills in English and in French as our writings will be read and will contribute to the image of the Women's Forum. It is also essential for the preparation of events in an international context.
Strong interest in gender and international relations issues and motivation to raise awareness on these issues among others.
Rigour and reliability;
Ability to adapt;
Initiative and reactivity: we expect you to have ideas and an innovative approach to our projects.
Team spirit.
Questions and answers about the job