playgrnd
Chef de Projet junior (stage / internship)
Stage

 

(5 à 8 mois)

Début :

 

Paris

Télétravail partiel possible

Bac +4

> 1 an
L'entreprise
playgrnd
Design, Stratégie, Transformation

< 15 salariés
Le poste
Chef de Projet junior (stage / internship)
Stage

 

(5 à 8 mois)

Début :

 

Paris

Télétravail partiel possible

Bac +4

> 1 an
Qui sont-ils ?
BUSINESS WITH IMPACT.
NOTRE MISSION
Grâce à une approche systémique, centrée sur l'humain et sur ce qui l'entoure, nous accompagnons nos clients dans un "DESIGN D'EXPERIENCE" singulier, afin d'apporter de la valeur à l'entreprise et générer un impact positif, auprès de l'humain, l'environnement et la société.
GUICHET UNIQUE & "OPEN-ECOSYSTEM"
Le playgrnd revendique son business model original :
Son modèle hybride, à la croisée des chemins entre un cabinet de conseil, un bureau d'innovation et un studio de design, lui permet d'avoir la tête dans les étoiles tout en gardant les pieds sur terre ;
Il opère tel un guichet unique qui accompagne ses clients dans la résolution de ses problématiques, quel que soit le sujet, tant qu'il s'agit "d'expérience" et de création de valeur;
Autour de son équipe interne composée de consultants, designers, et chef de projet, le playgrnd développe et anime un écosystème de talents, d'indépendants, de sociétés, studios, startups, de partenaires experts, ici ou ailleurs, lui permettant de constituer, pour chaque projet, la meilleure dream-team.
NOS TERRAINS DE JEU
CONSULTING : audit, stratégie, gouvernance, accompagnement au changement
DESIGN : services & produits digitaux, expérience retail et IRL, parcours omnicanaux
EMPOWERMENT : formation, veille prospective, méthodologies & Design Ops
UNDERGRND : studio d'innovation durable par l'approche systémique
NOS RÉFÉRENCES
Nike, Cofidis, Sodexo, OCDE, Saint-Gobain, Volkswagen Financial Services, JA Delmas (Caterpillar), Alliance Laundry Systems, Sanofi, Iperia l'institut, Coca-Cola, Carslberg Group, Clarins, LeBonCoin, Pernod Ricard, Point.P…
"WORK HARD. PLAY HARD. AT THE SAME TIME."
Le playgrnd s'oblige à réinventer chaque jour de travail, pour offrir un terrain de jeu propice à l'épanouissement personnel et collectif, l'apprentissage, l'accès à la culture, le bien-être de chacun de ses salariés, membres, partenaires et clients.
playgrnd.fr
undergrnd.fr
Visiter le profil
Rencontrez Erwan, Founder & CEO
Rencontrez Anaïs, Program manager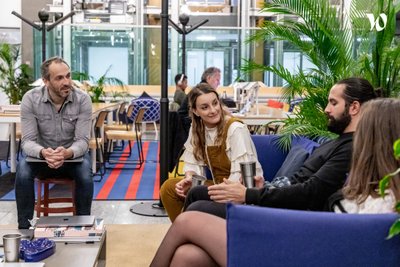 Rencontrez Anastasia, Project manager & consultante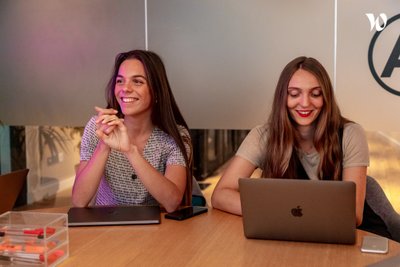 Descriptif du poste
WOULD YOU?
Did you play Legos when you were kid? (or are you still playing Legos?) Have you ever felt happiness organizing songs on your iTunes? Were you involved in your school music group as the conductor, or the coordinator of the end-of-school event? Your romance letters are stored respecting the first letter of name's sender classified in an anti-chronological way by stamp color? Do you love to tell your party stories to your friends? Do you always plan for months your vacations? Do you have up to date very organized playlists on Spotify? Have you ever dream about being a rock star?
If you answered yes to one of these propositions, you might be the right person we are seeking in the playgrnd, as a "junior project manager".
YOUR NEXT INTERNSHIP
As a rookie, you will work closely with (one of) the (best) project/program managers, and you will contribute to your client's happiness located in France or abroad while :
helping in managing projects in the best quality ever, always on time, and being agile
helping in managing budgets "aux petits oignons" and support commercial follow-up,
always thinking to the clients' customers
playing with the best dream-team (consultants, UX/UI designers, geeks, startups, content producers, CRM lovers, and dedicated experts…),
singing the good sing, with the right tone, and the best tempo.
DETAILED MISSION
On a daily basis, you will support the project manager / program manager in the everyday life of his/her projects (digital, service design, retail, CRM, activations…)
— PROJECT MANAGEMENT
You will support the project manager / program manager while contributing to the delivery of projects you will be involved in the best quality ever, while respecting strict deadlines and budgets.
You will participate to:
Project setup,
Team setup and coordination,
Planification,
Customer / User Research supervision
Conception,
Design supervision,
Production documents writing,
Project follow-up,
Project reviews,
Partners relation & follow-up,
Customer relation and follow-up,
Quality check
…
— COMMERCIAL
You will support the project manager / program manager in the commercial follow-up along the projects and be involved in such tasks:
Reporting
Follow-up
Budget optimization
…
— CONSULTING
While supporting the project manager / program manager, you will be involved into the daily life of the projects, in every phases (from the starting point till the delivery), and you will be asked to participate to the consulting we give to our clients, as well as participating to collective intelligence / design thinking workshops.
— INTERNAL MISSIONS
As a member of the Impulse League (project managers & consultants), you will contribute to the expansion & animation of the talents community/ecosystem and to the internal process optimization (canvas, methodologies, template, etc.)
DAILY
You will be involved within ambitious and innovative "Human Centered" & "Impact Oriented" projects.
Everyday, you may hear and say the following words: impact, systemic, human first, CX, UX, service design, digital, innovation, retail, event, content… experience.
You definitely won't serve coffee. (unless you love to do it for your colleagues!)
Since we work with international clients, and part of our team is international, english is mandatory.
This offer is related to an internship position based in Paris.
PERKS
We have flexible remote working rules, and you will have an open access to all Wework coworking spaces in France and abroad.
50% of your Pass Navigo will be paid by playgrnd as well as 50% of a daily 8€ Swile card
Alan insurance (75% paid by playgrnd)
1 Apple Mac computer will be provided
1 week remote team building are organized quarterly.
We do several team building events in Paris over the year (afterworks, drinks, gaming time, sport, culture, etc.)
Profil recherché
To become part of the dream-team in the playgrnd:
You must be open-minded, curious, passionate, proactive, detailed oriented, always willing to learn new things.
A strong interest in digital, technology, innovation, startups, UX.. are deeply welcomed.
A first experience in startup/or digital/UX agency would be wonderful, and project management skills would be, actually, mandatory.
You may have heard about HTML… right? Big welcome to people who has already dug in digital languages & platforms !
Since we work with international customers, english language is mandatory (raison pour laquelle cette annonce est en anglais, BTW :) ). The internship will be 50% in French, 50% in English.
You may be BAC+4 / BAC+5 or autodidact, since you love what you do.
Hybrid profiles are very welcomed.
Déroulement des entretiens
1/ Have a like on our Instagram Page - http://www.instagram.com/playgrnd
2/ Send your wished through Welcome to the Jungle Platform
3/ Smile, Dance "Crassoula", and have a great day!
4/ We'll get back to you by 2 weeks, hopefully
Thanks!
playgrnd
Cette offre vous tente ?
Questions et réponses sur l'offre
Ajouter aux favoris

Partager sur Linkedin

Partager sur Facebook

Partager sur Twitter
D'autres offres de Management / Organisation
Ces offres peuvent vous intéresser !
Health Data Hub

Stage

Télétravail partiel possible

Teamstarter

Stage

Télétravail partiel possible

Groupe Lynkeos

Stage

Télétravail partiel possible
Voir toutes les offres