JUST EAT
Senior Accountant & Reporting H/F
CDI

 

Paris

Bac +5 / Master

> 5 ans
L'entreprise
JUST EAT
Application mobile, FoodTech

Entre 250 et 2000 salariés
Le poste
Senior Accountant & Reporting H/F
CDI

 

Paris

Bac +5 / Master

> 5 ans
Qui sont-ils ?
Just Eat France fait partie depuis 2020 du groupe Just Eat Takeaway.com, dont le siège est basé à Amsterdam. Avec plus de 580 000 restaurants partenaires dans 24 pays, nous sommes l'un des leaders mondiaux de la livraison de repas.
Notre business, c'est d'être à la fois une marketplace de food et d'offrir une solution de livraison aux restaurateurs pour proposer une expérience complète. En 2020, nous avons lancé notre propre service de livraison dans la plupart des grandes villes françaises, opéré par nos livreurs salariés.
En France, Just Eat est une entreprise à taille humaine de près de 300 collaborateurs (sans compter nos livreurs en CDI). La recette du bonheur : une culture start-up historique et le soutien d'un grand groupe, accompagnée d'une forte attention apportée au bien-être de nos collaborateurs tout comme de nos clients et restaurants partenaires.
L'avantage de cet équilibre : une ambiance dynamique, un circuit de décision rapide et court et beaucoup d'actions en faveur de la collaboration et de la prise d'initiative !
Visiter le profil
Rencontrez Méleyne, Managing Director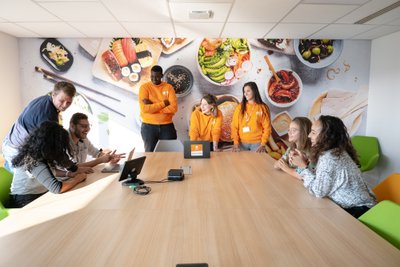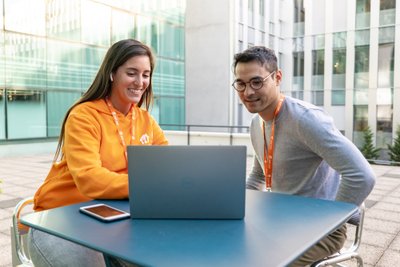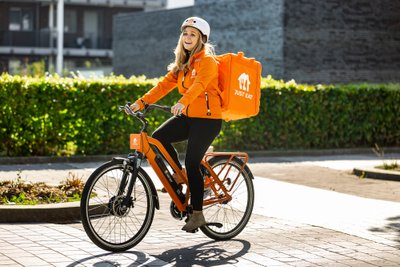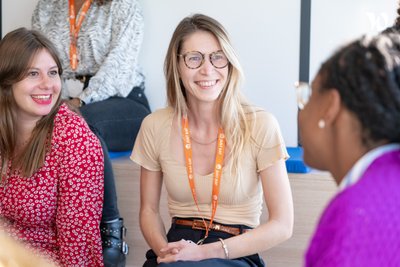 Descriptif du poste
Just Eat Takeaway.com is one of the world's largest online meal delivery platforms outside China. Headquartered in Amsterdam, the Group has 205,000 restaurants in 23 countries around the world! From Canada to Australia, Spain, the UK, Italy, the Netherlands, Germany, Norway, Denmark and Israel… Just Eat Takeaway.com serves 54 million consumers! In France, we are a team of 150 gourmands (and growing!), ready to do anything to please you.
Our mission? "Empowering your every food moment".
Just Eat Takeaway.com is also a big family and we make it a point of honour to make our company a "Great Place to work".
Our secret? JETers who drive the social life of the company by embodying its values on a daily basis: Lead. Deliver. Care. As you will have understood, Just Eat Takeaway.com is above all a company that is human and close to its employees.
The Financial Department of Just Eat France is looking for its future Senior Accountant & Reporting
Your role:
In this context, your main missions will be the following:
Ensure the transversal management of a team of 2 people: training, development, monitoring
To be responsible for the group's IFRS reporting processes, P&L, Cashflow, balance sheet
Analyse accounts, update audit and reporting files (local balance sheet analysis and reporting)
Supervise tasks to ensure data quality: invoicing by central client accounting teams, verification of cash receipts, ensure proper lettering of accounts
Check the conformity of documents, the correct application of processes, the respect of deadlines and the quality of reporting in accordance with local and Group rules
Monitor and consolidate accounting indicators: invoicing schedule, supplier and customer payment times
Review the auxiliary and aged balance, and implement optimisation actions (lettering, circularisation, reminders, etc.) and provision for risks
Organise and produce the monthly closing work: identify, check the consistency and make the provision entries, check the clearance of cut-off entries, etc.
Optimise tools as well as organisational and accounting procedures with joint work with the management control department
Produce the tax part of the 3 entities in conjunction with the firm and the central teams.
Profil recherché
Are you interested in this opportunity? Here are the skills required to carry out these missions:
You have a minimum of 5 years' training in finance and/or accounting and ideally have at least 5 years' experience in a firm or company
You are autonomous, detail-oriented, dynamic, involved and available
You are comfortable using Excel and handling data (knowledge of Workday Finance, Anaplan and One Stream are a plus)
Fluent in French and English (you work in an international environment and have interactions with English native people)
Still not sure? Here are all the advantages of joining us:
You will have the opportunity to participate in the development of an ambitious company in a booming market!
A stimulating job, where you can take the initiative and develop as an individual: you will play a real role in Just Eat Takeaway.com!
An international environment, allowing you to be in regular contact with your counterparts in different countries
Brand new premises in the 15th arrondissement of Paris
Sports classes, co-development workshops, a kitchen full of delicacies (snacks & organic fruit baskets) and many other advantages!
Questions et réponses sur l'offre
Ajouter aux favoris

Partager sur Linkedin

Partager sur Facebook

Partager sur Twitter