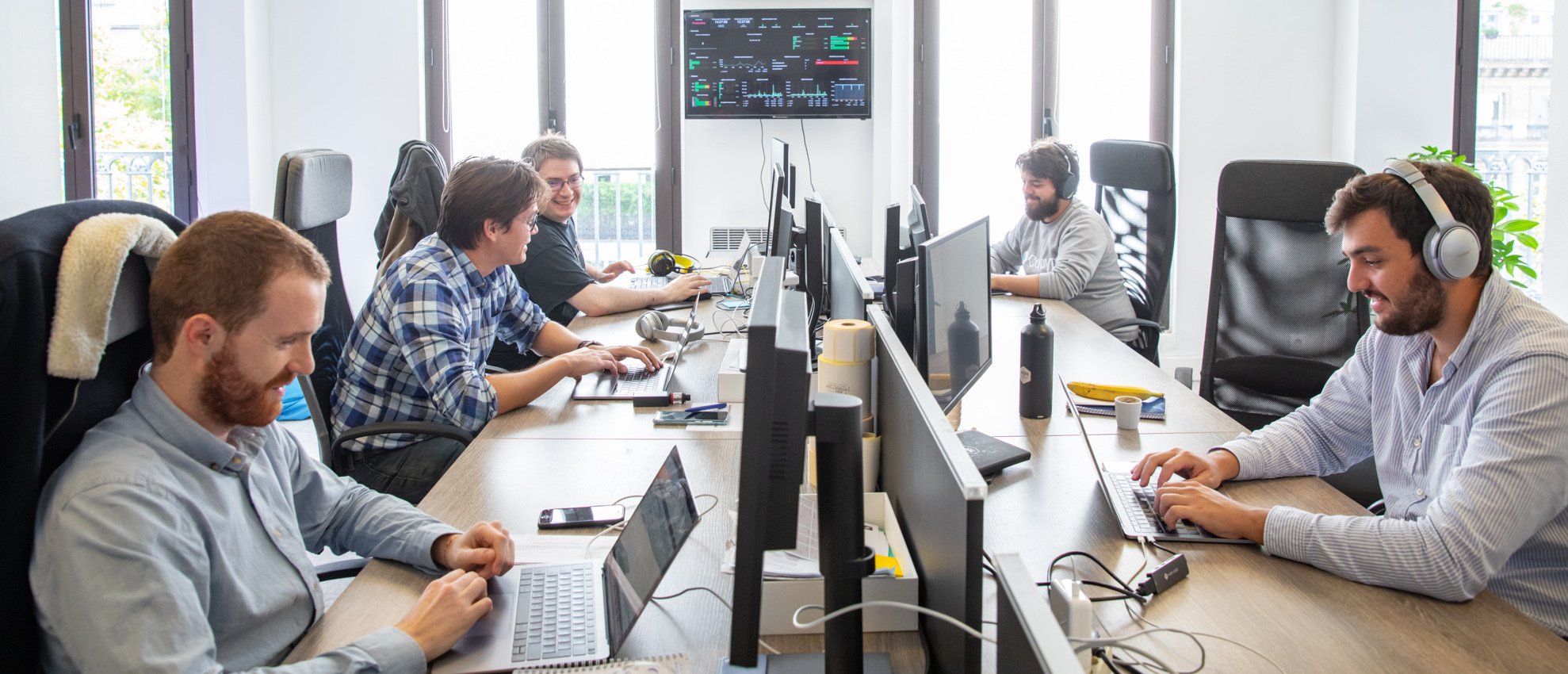 Cubyn
Logistique, Mobilité, SaaS / Cloud Services

Paris, Gennevilliers, Herblay-Sur-Seine, Madrid
A graduate of HEC Paris, Adrien created Cubyn in 2014. His idea was born from several experiences in flow optimization in the logistics industry, coupled with a code training followed in Silicon Valley.
Seeing the logistical issues and frictions of the "first mile" he decided to focus on this stage of the chain by developing both services and technologies to ensure its quality.
Today, Adrien's goal for Cubyn is to revolutionize the old logistics industry by building the European logistics network for e-commerce logistics.
After graduating from Ecole Centrale de Paris in 2014, Marine joined McKinsey as a consultant. A 5-year experience marked by her successes and completed by her promotion to the role of "Engagement Manager".
Convinced by the challenges and opportunities that the logistics environment represents, she joins Cubyn in May 2019 to structure and define the business strategy as Head of Sales Strategy.
Today, Marine is officially part of the Cubyn marathon team... get set for your times!
After obtaining his engineering degree from the Ecole des Arts et Métiers and his management degree from the University of Melbourne, Maxence started his career in finance at BpiFrance for 3 years. He then created his own company: Animate Storiz, a SaaS solution for video production.
He chooses to join Cubyn in October 2018, attracted by the richness and diversity of the Full Stack Developer's operational missions. After 7 months, he finally seized the opportunity to become Squad Leader of an engineering team dedicated to customer experience before moving to Engineering Manager a few months later.
Maxence is used to come to the office in scootering... and not even an electric one, congratulations!
Cubyn is building the #1 e-commerce logistics network in Europe, disrupting the old-fashioned fulfilment industry thanks to its full-stack approach.
Leveraging its proprietary logistics networks (warehouses) and software, Cubyn fulfilment solution is a growth enabler for all e-commerce players, providing them with :
Low prices : on average 30% cheaper than traditional players powered by cutting-edge operations and automation
Best quality : fast and reliable deliveries worldwide thanks to their algorithms
Unique experience : killer product with a one-stop-shop web platform to monitor everything, connected in 1 click
E-commerce leaders, both digital brands and marketplace merchants such as Chef Club, Fittrack, BackMarket and Rakuten, rely on Cubyn to ship millions of parcels.
Key Figures
Last fundraising round of 35M€, for a total of 55M€ raised (Fulfilment startup Cubyn raises €35M to expand across Europe | TechCrunch)
8x revenue growth in 2020 up to 250M€ GMV
85+ employees working from all over the world and 300+ working in their warehouses
What they are looking for
Theyr are looking for talents across all teams (sales, tech, products, data etc...) to further drive our growth, expansion across Europe and always more advanced automation/ robotics.
Join them if you think e-commerce logistics needs a revolution.
Their Culture
Core values : Impact, Ambition, Humility, Ownership and Leadership
Transparency and decentralization, allowing everybody to have impact and make data driven decisions
Remote work allowed, with financial support to get home equipment, and offices in Paris and Barcelona.
Diversity and inclusion with internal think tank #WomenInLogistics, driving concrete actions