Sessùn
Marseille, Aix-En-Provence, Annecy, Avignon, Barcelone, Biarritz, Bordeaux, Boulogne-Billancourt, Dijon, Giverny, Le Chesnay-Rocquencourt, Lille, Lyon, Madrid, Metz, Miramas, Montpellier, Nancy, Nantes, Nice, Paris, Rennes, Roubaix, Rouen, Saint-Laurent-Du-Var, Strasbourg, Toulon, Toulouse, Vélizy-Villacoublay
Our head office is a home 🌟
Particular attention has been paid to ensuring that every employee feels at home in his or her workspace. The quality of life at work was a central concern in its design: meeting rooms or cocoons for seclusion, collective kitchen, bicycle garage, outdoor terraces, yoga room, showers and lunches organized by chefs once a quarter, delivery of organic baskets and local fish. It has also been decorated with works commissioned from the artisans we love and support in their creations. It is located in the center of Marseille, 300m from the Catalans beach.
Our boutiques have a soul 🌟
They are all unique in their architecture, to respect the strengths and characteristics of the cities in which we are based. Intended to be welcoming spaces, they are designed to share what we love most of all at Sessùn: the materials, the colors, the collections.
A happy collective 🌟
We want every employee to be happy, fulfilled, and able to find his or her place at Sessùn. We all share moments of conviviality and high activity. Dialogue is at the heart of our relationships.
Sessùn Alma: a lifestyle 🌟
Sessùn opened Sessùn Alma in 2019, as a space that showcases what inspires us: exhibitions, objects for the home, but also catering, conferences, or cultural workshops.
A company on a human scale, with international expansion 🌟
Come and discover how a company with strong human values is building its international development.

Joining a growing company gives you the chance to evolve, broaden your skills and meet inspiring people! We are committed to promoting the development of our employees in-house. Here are a few examples to share with you: In store: Charlotte, after a 1-year assignment as Assistant Manager at Le Bon Marché, Paris, was promoted to Store Manager, rue Pont aux Choux (Paris). Sarah, Store Manager in Paris for 2 years, seized the opportunity to take on a new challenge in a store in the South of France. Stéphanie has worked for Sessùn in a number of Paris stores. Today, she manages our flagship store on rue de Charonne in Paris. At head office: Justine joined as a digital assistant and is now Senior Digital Project Manager. Charlotte, who managed one of our stands in Marseille for 2 years, seized the opportunity to work in the production department as an assistant.
"

I'm so proud. Sessùn has enabled me to make my way to managing our flagship store on rue de Charonne! It's a great opportunity for me and for Sessùn :) !

"

Stéphanie, Manager du Flagship parisien, rue de Charonne
Training
Each year, a skills development plan is drawn up for all our head office and store teams. The aim is to help everyone and our company grow and develop. We offer a wide range of training courses, from product training to management or IT!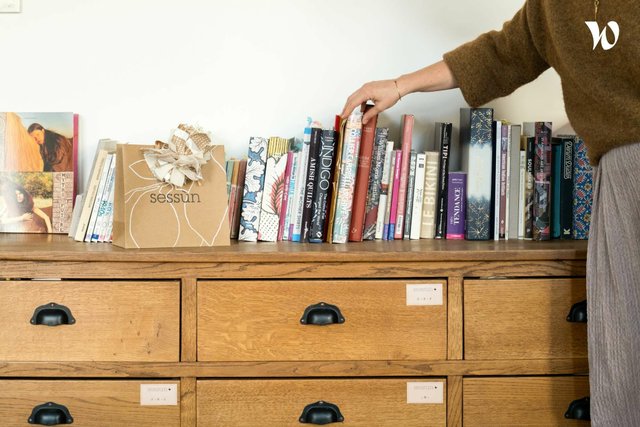 Team rituals and events
We love sharing simple but fun moments together :
like yoga classes in the office. They're scheduled every Tuesday!
exchange sessions on "living together". These meetings are held every first Friday of the month at head office. Listening, sharing, exchanging and laughing are always on the agenda.
for our store teams, we meet twice a year at the Retail Meeting. Reunions, training and project launches are presented!