🙏 Team Spirit
A dynamic, united and caring team, ready to support each other in the many challenges to be faced !
📍 Location
Whether you are a nature lover or a city dweller, you will find what you are looking for between Lyon, Saint-Etienne and its beautiful surroundings.
🌎 International openness
Whether in our team or through our clients, we learn a lot from different cultures around the world.
🚝 Transport
80% of public transport costs covered
🎾 Afterworks & activities with colleagues
Padel, Badminton, Canoeing, Running, Sodas or Beers... All the fun activities to do with colleagues!
👨‍💻 Teleworking
Teleworking agreement of 2 days per week
PrediSurge is a start-up that regularly wins awards for its groundbreaking innovations. In particular, it has been selected as one of the winners of the highly competitive EIC accelerator competition (EU innovation funding grant). This proves the growth perspective of PrediSurge and along with it, perspective for the employees. Whether you plan to move into management or technical positions, the opportunities offered by a growing start-up will meet your expectations. Regular meetings are organized by the managers to discuss your wishes, the possibilities of the company and the way to get there (experience, training, etc.).
Testimonial
Solenne started at Predisurge just after her PhD, as an R&D Computing Engineer. She has been able to work on various projects and acquire many new technical skills. Four years later, she has become Scrum Master of the Aortic squad and took on team management responsibilities.
Training
As soon as you join PrediSurge, you will be involved in a training plan supervised by a mentor according to the position you apply for. Regular meetings are organized with your manager to schedule your training needs. If you wish to learn more about a subject related to your work, PrediSurge pay a subscription service to a well-known online training platform and frees up working hours for you to complete the training. PrediSurge is also part of various regional organizations (SNITEM...) that also organize regular training courses on the evolution of the sector, in which employees can participate.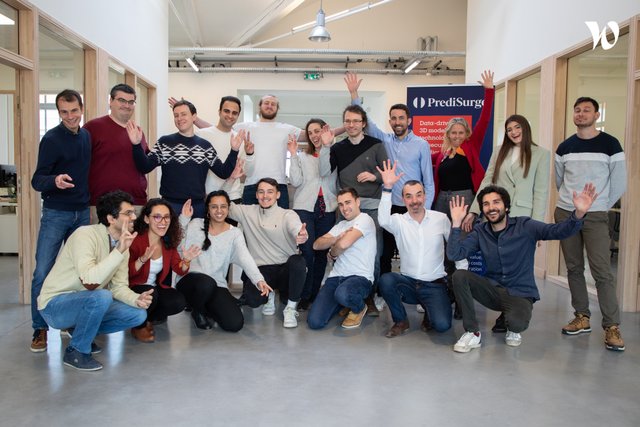 Key figures
10

kilometers that some of the team members cover every Tuesday during their lunch break. It's always a good time to exercise!

Team rituals and events
In the office, we take advantage of our three days onsite to get together:
-Our coffee machine, with its central location, is the meeting point between colleagues;
-The lunch break, all together, is a privileged moment to talk about the latest movies, good plans for your family weekends or ski pass;
-Thursday, every week, someone brings a cake for the coffee. It's a good time to see the whole team and share latest news!
Outside:
-Some employee take advantage of the lunch break to do some sport: running, gym, padel...
-A team building day in the summer and a restaurant at the beginning of the year;
-Regular afterwork sessions for quality time over a meal or a drink.