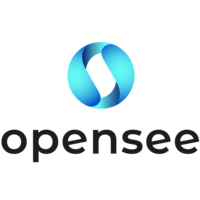 Opensee
Technical Solution Engineer - Big Data & Analytics Fintech
Permanent contract

 

Starting date:

 

Paris

Master's Degree

> 2 years
The company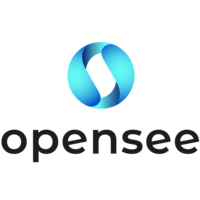 Opensee
FinTech / InsurTech

From 15 to 50 employees
The job
Technical Solution Engineer - Big Data & Analytics Fintech
Permanent contract

 

Starting date:

 

Paris

Master's Degree

> 2 years
Who are they?
ABOUT OPENSEE
Opensee provides instant big data analytics solutions to financial institutions. Our mission is to empower business users to autonomously exploit data at a scale and granularity never seen before in order to optimise risk management, trade execution, regulatory reporting and more.
Founded in 2015 by senior banking executives and big data technology experts, Opensee's commercial traction exploded in 2020 with deployment in several Tier 1 financial institutions on critical use cases. To sustain that growth, we doubled our headcount that same year and are now expanding further in London, NYC and Singapore.
 
WHAT'S IN IT FOR YOU?
Develop expertise in one of the most advanced solution for risk aggregations
Work in a dynamic environment where innovation and creativity are highly valued
Benefit from a wealth of development opportunities as we constantly seek new talents to join us, and support our growth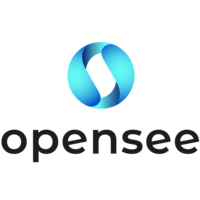 Visit the profile
Rencontrez Hoel, Product Manageur
Rencontrez Shahin, Techlead backend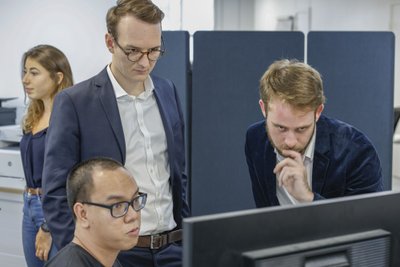 Rencontrez Etienne, Techlead backend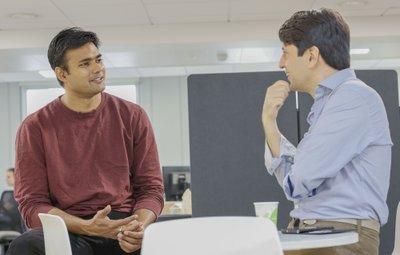 Job description
WHAT ARE YOU GOING TO DO? 
You will join the Solution group and report to the Head of Solution. The Solution group in Opensee has the following key objectives:
Manage the product roadmap for new use cases,  as well as their implementation in term of data model, financial metrics, or user interfaces
Support the pre-sales effort: product presentation and related materials, product demos, Proof-of-Concept, or gap analysis
As a technical solution engineer you will:
Master all technical aspects of the Opensee platform: system deployment, data models, database tuning, data ingestion, python calculators, or general system architecture
Run technical presentations to prospective clients, and be responsible for related presentation materials or necessary documentations
Design and implement the Solutions use cases: data models, data generation, metrics implementation, or user interface configuration
Design and implement the client's POCs: data model, data ingestion, metrics implementation, or performance tuning
Keep up to date with new technical or functional features of the Opensee platform and be able to present these functionalities internally and externally
Provide feedback to the product team in term of requirements or prioritisation of potential new features  coming from prospective clients  or internal experiences
You will in particular develop the following technical skills:
IT: Big Data technologies, SQL, Python, Software management
Finance: Front office tools and Risk Management calculations
Project Management: demo preparation, POC preparation and monitoring, management of development projects with dev teams, and management of implementation projects with client teams
Preferred experience
ABOUT YOU
Interest: You are passionate about new technologies, Finance, Big Data and innovation. You're ambitious and want to grow your experience especially in a fast growing Fintech/startup and international environment.
Technical skills: Programming skills are highly desirable
Interpersonal skills: You have an outgoing personality, you are able to tell a story and actually enjoy that. This is critical as Pre-Sales need to reach all corners of Opensee as well as with clients.
You have a keen interest in business: desire to understand why clients are trusting us and how we create profitable partnerships with them is key.
Qualities: You're a team player, proactive and know how to contribute and make an impact.
Curriculum: You hold a Engineer/Master's degree in Math/IT from an Engineering School
Language skills: You have excellent English communication skills both written and verbal, additional languages will of course be a plus
Prior experience: You will have a couple of years of experience (2-5) in IT at a Financial Institution, or at a Fintech or Data management software vendor .  Ideally the candidate will have experience as a presales or solution engineer with a software vendor.
We would also certainly consider top profiles fresh out of university and provide a supportive training to bring you up to speed quickly.
WORKING CONDITIONS 
Permanent Position
Localisation: Paris (near Saint-Lazare) 
HOW TO APPLY
Send us your resume and a brief description of why you are interested in joining us (no cover letter needed!), and we will come back to you very shortly.
Questions and answers about the offer
Add to favorites

Share on LinkedIn

Share on Facebook

Share on Twitter