FIELDBOX
Artificial Intelligence / Machine Learning, Big Data, IT / Digital
Bordeaux, Paris, Singapore

A l'aide de l'ensemble des salariés, FieldBox.ai a construit une politique de télétravail la plus souple possible et donc, adaptée à chacun.
Tous nos salariés ont la possibilité d'adopter le rythme qui leur convient le mieux en terme de télétravail :  pas de jours imposés, chacun décide du nombre de jours en présentiel et ce chiffre peut fluctuer suivant les semaines. 
Le but : réduire les temps de trajets, s'adapter au contraintes de chacun, gagner en e.fficacité, améliorer l'équilibre vie pro / vie perso
Nos bureaux de Bordeaux et Paris son ouverts à tous mais les personnes vivant loin de ces deux villes peuvent travailler en  100% télétravail.
Bien sur, nous restons persuadé que se retrouver régulièrement est important pour favoriser les échanges spontanés, le contact humain, maintenir le sentiment d'appartenance, c'est pourquoi nous organisons régulièrement des soirée thématiques, des afterwork et des journée séminaire durant lesquelles nous comptons sur la présence du plus grand nombre!
Nous avons mis en place les outils qui permettent cette flexibilité : équipement informatique, Slack, monthly engineering day, réunion d'information mensuelle, formation à la gestion du stress, etc.
Seule condition à tout cela : travailler en France Métropolitaine.
Includes 💻
Double équipement de poste de travail (écran, clavier, petit matériel de bureau) : l'un fixe dans nos locaux, l'autre nomade pour le télétravail
Full flexibilité des lieux de télétravail en France métropolitaine
Budget coworking possible pour ceux ne vivant pas proche Bordeaux ou Paris
Prise en charge des frais de transport, depuis votre résidence principale, et de logement lors des venues sur les sites de Paris et Bordeaux
Vous êtes maître de l'organisation de vos journées, nous fonctionnons sur la base de l'autonomie et de la confiance!
En chiffres
98%

de l'entreprise a recourt au télétravail, soit en temps plein soit en temps partiel.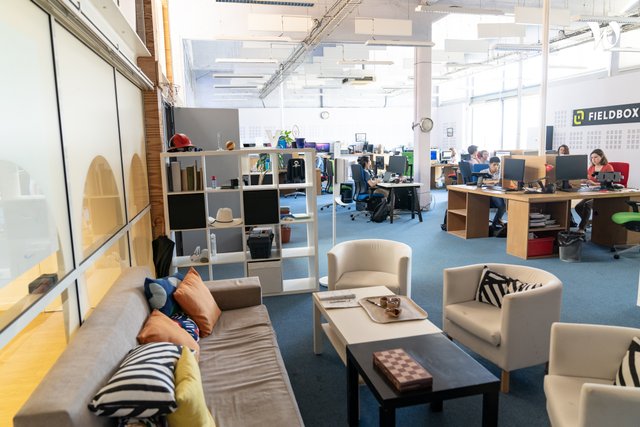 With a unique combination of expertise in data science, software/IT and industrial engineering, Fieldbox helps industrial companies dramatically improve their operational efficiency and competitiveness with artificial intelligence.
As an AI Operator, Fieldbox offers a complete range of services, enhanced by latest technologies, to enable the development, deployment, run and scale of AI in industrial operations.
Our clients include CAC 40 companies such as Total, Suez and Vinci, as well as small and medium-sized companies on five continents and over 150 industrial sites. Fieldbox has known a fast paced and continuous growth, reaching over 80 employees located in three offices worldwide: Bordeaux, Paris and Singapore.
What they are looking for
Fieldbox is looking for people with a strong technical background to fill positions as Data Scientists, Software Engineers, Project Managers, and Sales and Marketing Development Managers. The company is growing rapidly and people who are ready to evolve quickly and contribute beyond their initial scope are particularly appreciated.
There are joggers, marathon runners, kiteboarders, and a few surfers in the team.
The activity within Fieldbox continues! Our applications are still open for several key positions and interviews are conducted remotely. We are continuing the integration of new employees through a revamped onboarding process. We hope to meet you soon "in real life", but in the meantime do not hesitate to apply, the HR team remains mobilized! We are doing our best to respond to everyone as quickly as possible, despite the situation and a sometimes slow process.