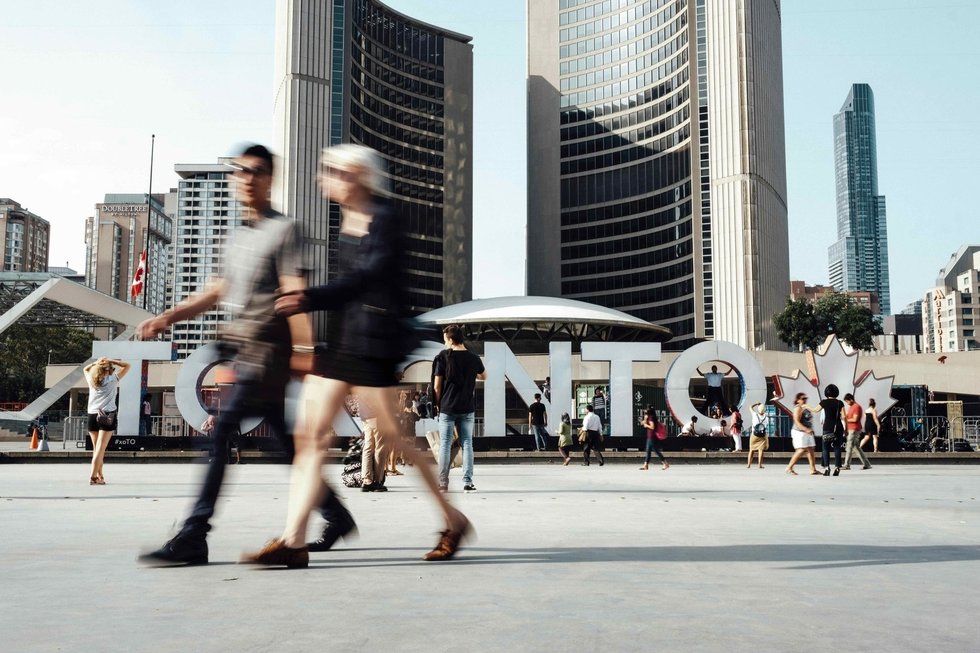 It's the city of the Raptors, Drake and the CN Tower—and Toronto could be your future home too. Popularly known as "the Six," Toronto has grown physically and economically in the past 10 years to become a North American business hub. It has a bustling hospitality and nightlife sector, as well as promising job prospects (particularly in finance). Toronto has all the dynamism of a big American city combined with the peace and the quality of life you find only in Canada. And it's home to people from more than 250 countries, speaking 200 languages. Could you be next?
The job market
Despite tough times throughout the Covid-19 pandemic, Toronto's job market is now bouncing back. Unemployment is down to 7.9 and salaries are going up. The minimum wage has increased to CA$15 per hour and the average salary is more than CA$49,000 a year, with most entry-level positions starting at about CA$38,000. With a bit more experience, you can expect to earn up to CA$93,000 a year.
As Canada's biggest city, Toronto is the centre of more Canadian businesses than any other hub. More than 100,000 companies call Toronto home—so you'll have plenty to choose from. And it's the most popular destination for newcomers to Canada.
Akosua Oppong, who moved to Toronto from Ghana, says: "Toronto is economically busy and so there is something for everyone to do. It's the finance capital of Canada. Take a stroll through downtown Toronto and you'll see all the magnificent buildings of big banks, the Toronto Stock Exchange and other financial institutions. It's so inspiring."
Toronto is the second-biggest finance hub in North America, and the biggest in Canada. All five of Canada's largest banks are headquartered here. Other big industries in Toronto include hospitality, entertainment, real estate and technology.
The working week
The typical working week in Canada is a standard 40 hours, Monday to Friday. That is more or less respected in most companies. And as a result of the Covid-19 pandemic, nearly all businesses offer the opportunity for flexible working, with a mixture of remote and office days.
Julia Ramsey, who works in finance in Toronto, says that the working week can be hectic. "The working culture varies from industry to industry but you definitely will hear a lot of complaints about the rat race. A high cost of living and a competitive job market contribute to a culture focused on work. Most corporate jobs do have benefits and hour-long breaks, though I work in finance and my break is 30 minutes."
But change could be on the cards, as the Ontario Liberal Party has announced a pilot project for a four-day work week if it is elected in 2022—and the idea seems to be gaining ground. A number of Toronto companies have already introduced a shorter week, claiming that it increases productivity.
Oppong says that many companies do put employees first. "I was shocked at how much my organisation values appreciating employees, mental health, diversity, inclusion and career development."
Who does it suit?
Toronto is a city dweller's dream. It boasts a vibrant hospitality sector and world-class art galleries, theatres and live-music venues. Toronto feels like a bustling city with more than enough on offer to keep you busy, but it's a more manageable alternative to mega-metropolises such as London and New York.
"The pace of life is fast and people are always on the go," says Ramsey. "Downtown there are always people coming and going to parties, work and shopping."
Toronto also has a growing reputation as a foodie hub. Although the Covid-19 pandemic has set the hospitality industry back, its core is essentially strong. With such a diverse population here, you can expect to enjoy food from all over the world – Mexican, Italian, Chinese and Korean cuisines are particularly strong. Toronto has a reputation for being hip, too, with the Queen West area coming in at No 2 on Vogue's list of coolest neighbourhoods. High-end, stylish restaurants with unique flavours are the norm.
Pros
Toronto has no shortage of restaurants and nightlife. Hospitality is one of its biggest industries.

Toronto is recognized as the most diverse city in the world by the BBC. More than half the city's residents were born outside Canada, with 250 nationalities represented. Local neighbourhoods boast delicacies from across the world—from Mexico to Korea. Numerous festivals throughout the summer celebrate diversity: check out the Toronto Ukrainian Festival; Taste of the Danforth in the city's Greek Town; and Caribana, North America's largest Caribbean street festival (which brings more than a million visitors each year). Oppong believes Toronto's diversity is one of its biggest strengths. *"It's one of the most peaceful places in the world and the people are so polite, welcoming and diverse. It's like the United Nations: every country is represented. I also love that my children have access to world-class education, health care and are currently bilingual (English and French)."

The LGBTQ+ community in Toronto is one of the most vibrant in the world, with the city consistently topping lists of the most gay-friendly places to live.The Church and Wellesley area is known as the Gay Village, with numerous LGBTQ+ bars and shops. Pride Toronto is also one of the world's largest festivals celebrating the gay community; it takes place every year, in June.

Good news for secondhand shoppers, too—Toronto is jam-packed with affordable vintage shops, particularly in the trendy Kensington Market and Queen West areas.

Ontario's natural world is just a short bus ride from Toronto. The Muskoka, Kawartha and Collingwood areas offer world-class lakes, hiking and camping. The city is located on Lake Ontario. Weather permitting, you can go to the beach for a swim, or take the ferry over to Toronto Island for a leisurely bike ride.

The Toronto International Film Festival is one of the world's largest, and attracts some of the biggest celebrities and filmmakers in the business.
Cons
The city's rapid growth means that one thing is constant—construction. Noise pollution and dusty streets are commonplace as Toronto continues to expand. There are also significant traffic issues.

Prices in Toronto are rising rapidly. The high cost of rent makes enjoying the city's bustling hospitality industry more difficult.

Europeans used to budget airlines will be disappointed by Toronto's pricier alternatives. A city break to nearby (by Canadian standards) Montreal will cost you nearly CA$250 by plane; the five-hour train ride is about CA$80. Flights to New York and Chicago are in the CA$200 range for a round trip.

Canadian winters are not for the faint-hearted. Toronto can get as cold as -20C at the height of winter. Oppong said it took her time to get used to. "As someone from a tropical region, for me Canada was synonymous with snow and freezing temperatures, which was a concern. But I have grown to love it."
Practical information
Rent prices
Rent in Toronto has become increasingly expensive in recent years. The average bachelor pad in the Downtown area will cost you nearly CA$1,145 a month. Ramsey feels it's difficult to get by. "It's not affordable," she says. "The rents here are so high, and it's difficult to find a job that will leave you with money left over." If you're willing to venture out of the city centre, prices are lower. Alternatively, flat sharing is common and will cost you considerably less.
Transport
The Toronto Transit Commission (TTC) has an extensive network of subways, streetcars and buses that is slowly expanding, with new subway tracks and train lines in the process of being built. Construction on these new routes, however, has caused significant disruption in some parts of the city (particularly in the Eglington and Roncesvalles areas).
The cost of a journey is CA$3.25. You can use a Presto card to pay for your trip and add funds at the kiosks located at most bus and subway stops, as well as online. You can also download the Presto app and pay with your phone.
Language
The official language of Toronto is English. However, with more than 200 languages spoken here, Toronto is one of the most linguistically diverse cities in the world. Twenty-seven per cent of residents report a language other than English or French as their mother tongue, and Cantonese, Italian, Spanish, Korean and Farsi are just some of the languages commonly heard.
Visa
There are various types of visa available. Canada offers visas for skilled workers on a points system—successful applicants should be able to obtain permanent residency.
Currency
Canada's currency is the Canadian dollar (CA$). One United States dollar is equivalent to 1.27 Canadian.
Photo: Dan Newman via Unsplash
Follow Welcome to the Jungle on Facebook on LinkedIn and on Instagram and subscribe to our newsletter to get our latest articles every day!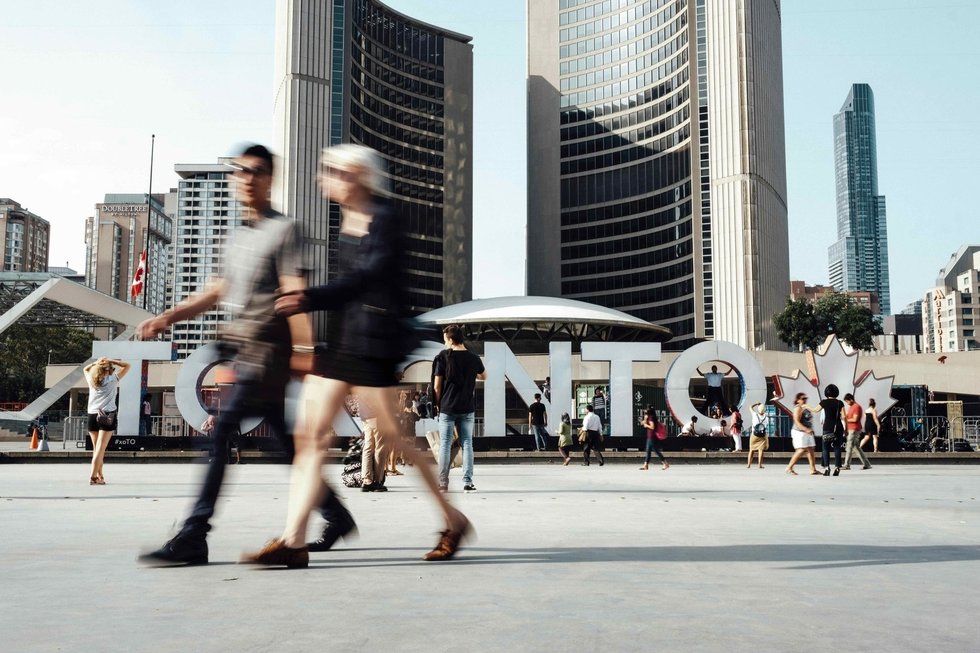 Looking for your next job opportunity?
Over 200,000 people have found a job with Welcome to the Jungle.
Explore jobs