Self-discovery at sea: Isabelle's extraordinary life as a solo yachtswoman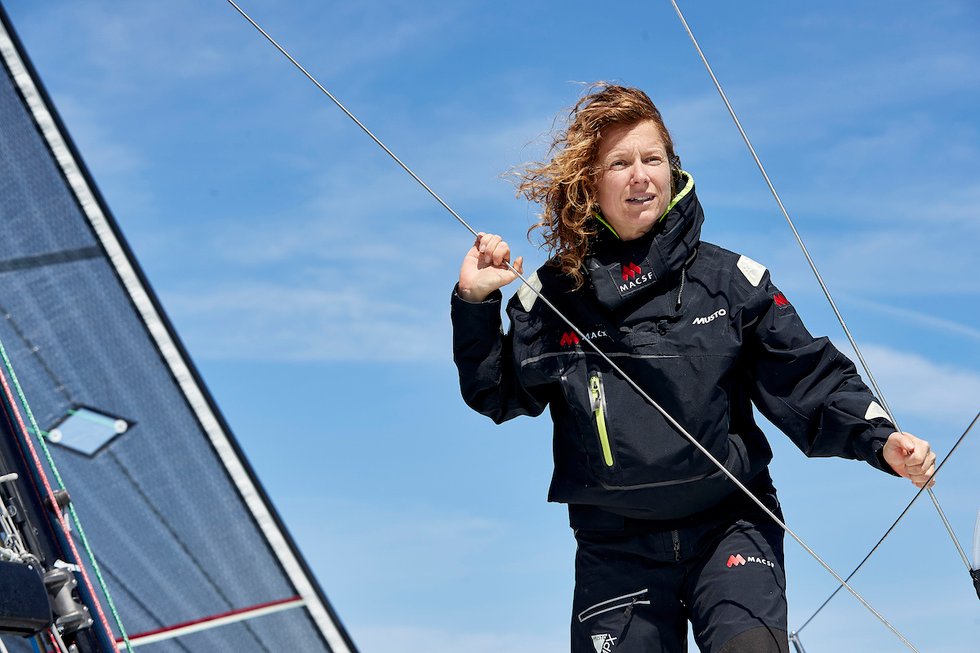 Some professions are truly the stuff of dreams. It's hard to imagine living the life of a rare tea hunter, horse trainer, painter—or even single-handed sailor. Isabelle Joschke has made the latter her reality and spent years sailing solo around the world. On November 8, 2020, Joschke will compete in the Vendée Globe, the only round-the-world sailing race that is solo, non-stop, and without assistance. Unsurprisingly, she's been training for years, with support from her sponsor, MACSF. During this extreme competition, she will pass the Cape of Good Hope, Cape Leeuwin, and Cape Horn, navigate treacherous waves and icebergs, and also test her own limits and face her darkest fears. We speak to Joschke about her inspiring life.
---
Single-handed yachtswoman is a very poetic job title. Actually, I didn't even know such a career existed. How did you get into it?
Each time I ask myself that question, I feel it's pretty amazing that I ended up doing it for a living. I really wasn't predestined for this in any way. I grew up far away from the sea. My father is German, and my mother is French. I spent my formative years on solid ground. At the same time, when I was a child, I was frustrated at not being able to row around the lake where we went on holiday in Austria.
When I was sitting my exams at 18, I found myself wanting to go sailing. When I took my first course at the sailing school Les Glénans my childhood dream came true: me on the sea, gliding over the waves. Nevertheless, I went on to study classics and did a master's degree. But over the years, I was irresistibly drawn to the sense of freedom you have when sailing. It's the first time I've used the word, but that's really it: I had to face the fact that sailing was my calling.
Where did you go from there?
To begin with, I trained to become a professional skipper. When I entered this world I discovered offshore racing. I enjoyed it immensely, even though it was a very male-dominated sport. Apart from Florence Arthaud, the "Little Bride of the Atlantic", there were only a few women, and in any case, the sails were designed for men. I could have given up before I started, but no. It was an urgent call coming from inside me. I was hooked.
Back then, if you wanted to take up sailing, you had to embrace a profession you couldn't make a living from. I was a skipper for cruises and I owned a van. I lived in my van and saved almost every penny I earned.
Then I got into racing. I took all the money I'd saved and borrowed some as well. To finance this project, I would work for three months as a skipper, and then the rest of the year I'd spend my wages training for the races. After two years, I got my first sponsors. That was a milestone for me because I couldn't have lasted much longer. From that moment onwards, I was able to make a living from it. At first, it was a pittance, but I was then able to earn a small salary. Most of it went on the boat, sails, and insurance. But it allowed me to turn my passion into my job, and that's priceless!
What do you love most about your job?
I love being surrounded by nature, being on the water and, more than anything, being alone. Facing myself in this way has taught me a lot. Day after day, every sensation on the boat is exhilarating. I feel it when she glides through the water, the wind, and the sea spray on my skin. When you don't know the sea, you think it's always the same. As a matter of fact, the swell rolls, the colors shift, the wind intensifies, the clouds sail on—everything is so alive!
How do you feel about solitude?
This might be hard to believe, but I've never felt so supported as when I'm at sea. On the water, you need to connect with all the elements, especially when you're competing. But being alone, you also put yourself in danger. With a crew of two, you can sleep. When sailing solo, you never really sleep for longer than 40 minutes. Alone, I'm confronted with my struggles, my deepest fears. It's extremely difficult. If there's a squall and I've only been asleep for five minutes, I must jump out of bed to furl my sails in the dark, sometimes with no moonlight. It then takes all my energy to stay calm and not go overboard because of the swell. Such dangers are offset by the promise of experiencing everything more intensely. When I come across a pod of dolphins or whales, my closeness to them makes the connection stronger.
"I love being surrounded by nature, being on the water and, more than anything, being alone. Facing myself in this way has taught me a lot."
Do you ever get scared on your expeditions?
Yes, for sure. Regularly. That happened to me on the Route du Rhum [a transatlantic single-handed yacht race], in the middle of a storm, in the dead of night. There was no moon, no stars, and the waves were five meters high. My mast broke: I had to hurry and cut all the rigging holding it so that it would sink before putting holes in my hull. The waves were rolling onto the deck; I held on as best I could. Without sails, with very little leeway in terms of fuel, I was lucky that the wind brought me back to Brittany.
Another time, I did the Transat (east-to-west) on a 12-meter yacht. During this race, the hull began to crack and take on water. I had to change course toward Canada. And then I entered a zone of icebergs. The meteorologist with whom I was in contact had officially advised me not to spend the night there. Cargo ships don't do rescues in these dangerous areas, which meant I couldn't count on getting help if I hit an iceberg, but I had no choice. At that moment in time, my fate was no longer in my hands. Getting shipwrecked in this water temperature is rather difficult. But I accepted the risk and got everything ready for landing: water, food, a survival blanket, and distress flares. As crazy as it sounds, I went to get some rest, just so I'd be in good form if the need arose. It was the first time when confronted by such immediate danger, I kept calm and overcame my fear.
For a long time, I've sought to confront complicated situations to feel alive. Each time I overcome my fears, I feel as if I've surpassed myself. It's incredibly liberating. I gain athletic potential and independence.
What do you miss most when you're sailing?
Life on board is very uncomfortable. You must hold on all the time just in case a wave tosses you from one side of the boat to the other, even below deck. Bumps can be violent. Apart from that, what I miss most is being able to sleep for several hours straight. At night, you sleep a total of two to four hours, in small chunks. Every 15 minutes, you have to sheet in (tighten) or ease out (release) the sails to move as quickly as possible.
Next, I miss tasty, fresh meals. On board, I have only a burner, a pot, and a kettle. I eat food with a long shelf life, such as rice, oily fish, and dried fruit. Often, I miss fresh vegetables from the market.
Finally, when you're at sea, you almost forget what it's like to feel hot. It's cold and wet all the time. When I'm getting changed, I'm wet before I've taken off my clothes. So, when I'm on land and my skin is dry, that is a real comfort.
Still, it's clear that your passion runs deep. Can you tell us about an incredible experience you've had at sea?
That notorious day when I dismasted on the Route du Rhum, a few hours after sunrise, when I was in the middle of the storm. The atmosphere was sort of yellow, weird, and apocalyptic. It was a painful time —I blamed dropping out of the race on it. And then I saw some pilot whales speeding along. They're strange mammals, like a cross between a dolphin and a small whale. They would come in with the waves and surf on them next to the boat. Not one, not ten, but 50, maybe 100! It was the first time I'd seen so many at once. Having these peaceful whales next to me during this ordeal really warmed my heart.
Is sailing your job or your passion?
Both. I find it wholly fulfilling, so you could call it a passion. But sometimes it's really hard work. Even thankless. I'm super diligent, I like to do things properly, and I don't cut corners on training. For example, getting ready offshore on January 15 while it's snowing is tough! Even pulling on the frozen ropes hurts. So, I'd say I'm passionate about my profession, I'm fully committed to it and I embrace whatever challenges come my way so I can achieve my goals as an athlete.
"For a long time, I've sought to confront inextricable situations to feel alive. Each time I overcome my fears, I feel as if I've surpassed myself. It's incredibly liberating."
Your next goal is to join the exclusive club of round-the-world solo sailors. What challenges are involved in this project?
Sailing non-stop around the world solo and without assistance is already quite a challenge in itself. You have to navigate three rugged capes—Good Hope, Leeuwin, and Horn—and it's dangerous. You could fall into the water, get hurt where there's no emergency response, or hit a shipping container and be shipwrecked. You're putting your life on the line. It's more intense than anything you've ever experienced, a bit like climbing Everest.
Besides, I've been working towards this race for five years. The risk is you might not even finish. It's a mechanical sport: if I lose my mast or break part of the boat, all is lost in terms of the final performance.
Ultimately, my biggest challenge is confronting myself. To find my limits. To take my commitment to the highest level. To come up against the freezing cold seas of the extreme south, the raging swell, the panic. I want to see how well I adapt to these extreme conditions. I know I'll come out of it a stronger person.
What changes when you are a woman in this sport?
I'm tempted to say "nothing", but that would be inaccurate. I weigh a bit more than 50kg and I'm 5ft 2in. Sailing is a mixed sport, so compared with some of the other competitors, you might say I'm at a disadvantage. I sailed double-handed this year with a young man, and when he's hauling the ropes, he's twice as strong as me. When I began racing, I felt I had to catch up. I went through years of overtraining and extreme fatigue. At a certain point, I finally realized that I was limited because of my size. I had to take a break and use my potential in a different way. Now I do Pilates. For me, being flexible is part of the preparation, to avoid hurting myself. To win, you have to know how to manage your rig [the boat] and your body.
What's more, we women have some great strengths. We're resilient, reckless, and tenacious. Many women place well in relation to participation rates. Seven women have taken part in the Vendée Globe: one finished second and another finished fourth. Those two results are incredible.
We still call ships "she", although there is some debate about changing that. Do you think that gender equality in the profession will also change through language?
Absolutely! In France, for example, when we have the weather briefing at the start of a race, you'll hear the phrases "tough guy" or "lady weather" to say whether it's going to be horrid or lovely out. The semantics shape everyone's subconscious so that suddenly being a captain is for guys. At the same time, I believe that if you get more women into the profession, the language will follow. A successful woman in sailing must be normalized, without saying she has to use the same weapons as men. Boats that are adapted to female morphology should be common practice, just like Ellen MacArthur in 2001, who had her boat custom-built [for the Vendée Globe].
Speaking of which, you are committed to breaking down the gender divide with your charitable organization, Horizon Mixité. Can you tell us a bit about it?
Certainly. The organization seeks to promote diversity in every field. We focus on offshore racing to convey that message, especially to young people.
I find that many cognitive biases are instilled in children from an early age, consciously or sometimes even implicitly and unintentionally. As a result, women have less self-confidence in certain areas, such as competitions or work. I had to foster my competitive spirit alone. I had to pave my own way, by myself. That's why I wanted to convey the message: yes, you can be a woman, feminine and small, and still be in a hard and physically demanding profession such as round-the-world sailing.
Translated by Andrea Schwam
Photos: Christophe Favreau and Ronan Gladu
Follow Welcome to the Jungle on Facebook, LinkedIn, and Instagram, and subscribe to our newsletter to get our latest articles every day!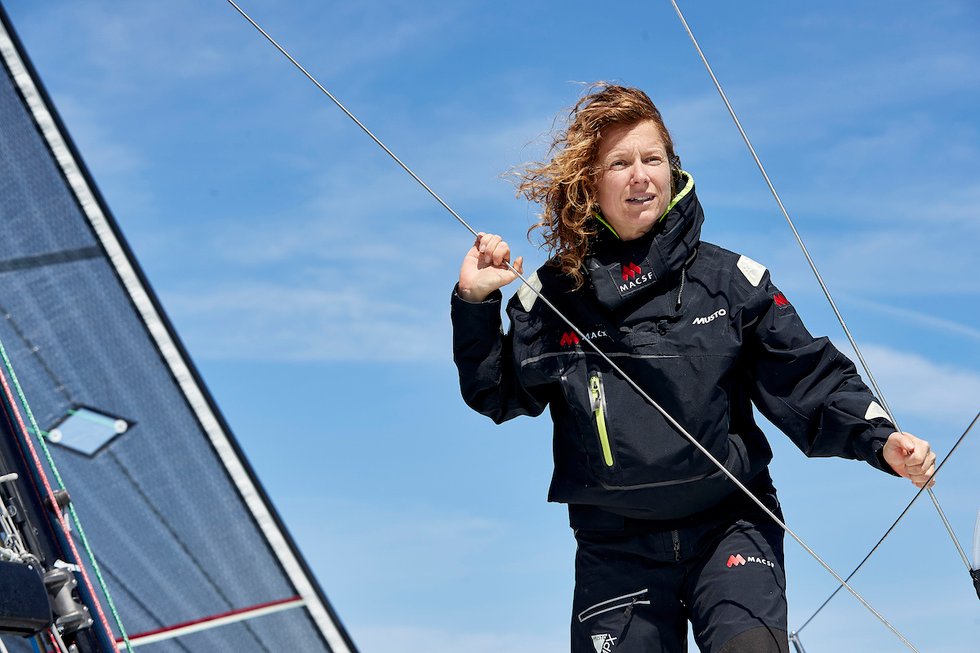 Looking for your next job opportunity ?
More than 200,000 candidates have found a job with Welcome to the Jungle
Explore jobs