Our tech team is composed of various profiles: back-end, front-end, UX-UI... They are responsible for the development of our products, ProPilot and dataFactory, in collaboration with the Product Owners. One of our teams is also dedicated to the ODOO ERP.
Thanks to their mastery of our solutions and the various technologies used within dFakto, our teams primarily aim to satisfy our clients' needs.
At our company, teamwork, mutual support, cohesion, and a positive atmosphere are the guiding principles!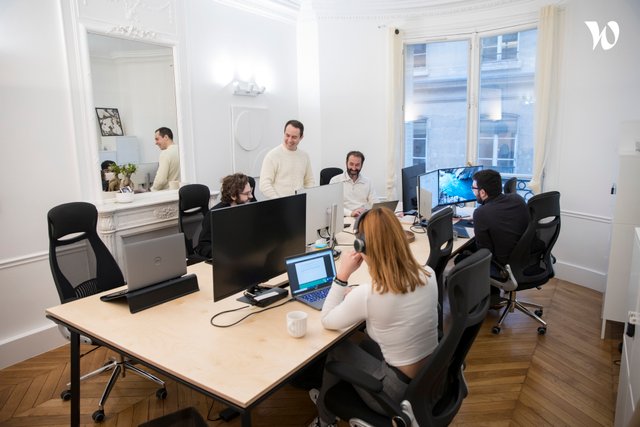 In numbers
22

Employees in the tech team

proPilot ⚙️
The ProPilot is a strategic initiative management solution for organizations that allows reconnecting strategy with execution by sharing objectives with stakeholders and collecting progress.
dataFaktory ⚙️
The dataFactory is a data warehouse generation platform that operates using the Data Vault methodology, enabling companies to collect, analyze, and visualize their data efficiently and automatedly.
ODOO ⚙️
ODOO is an open-source enterprise management software suite that offers integrated functionalities for accounting, sales management, purchase management, inventory management, project management, and much more.
Organization and methodologies

Our teams are organized into Scrum Teams, which allows them to deliver our products/projects in an agile and adaptive manner.
The life of our teams is therefore structured around sprints of one or two weeks and daily stand-up meetings.
At dFakto, the recruitment process is particularly important.
Why? Because it is the first contact, the beginning of our relationship with you. After all, you will never have a second chance to make a good first impression, and neither will we! Because even if it's not a definite "yes" right now, it could be in the future!
Therefore, we value transparent communication.
For technical profiles, the recruitment process usually follows the following steps:
Initial phone call
HR interview
Technical interview + Potential technical test
Validation interview with the CEO or COO
And why not end with a job offer and contract signing!
Latest job listings
No openings for now; please check back in a few days!