At dFakto, we are particularly proud of our team of passionate and skilled professionals. We believe that our diversity of talent and experience is what allows us to deliver innovative solutions to our clients.
We are all united by the same passion for the success of our company and our clients, but also by the good food and laughs we all share together.
Within our company, we have teams dedicated to different areas of expertise: Product, Delivery, Sales, Marketing and Operations.
The Delivery teams are responsible for delivering our projects on time and to high quality standards. These teams work closely with our customers and represent dFakto.
Our product team is responsible for the development and continuous improvement of our technology solutions. Through frequent interaction with our customers and other team members, this team is able to understand the needs of the market and propose innovative solutions.
Our sales and marketing team work together to identify and approach new customers and promote dFakto through various campaigns on social networks, as well as at events such as trade shows, conferences and seminars.
Finally, the Operations team is in charge of managing the daily life of our company, including administrative and financial management, as well as human resources management.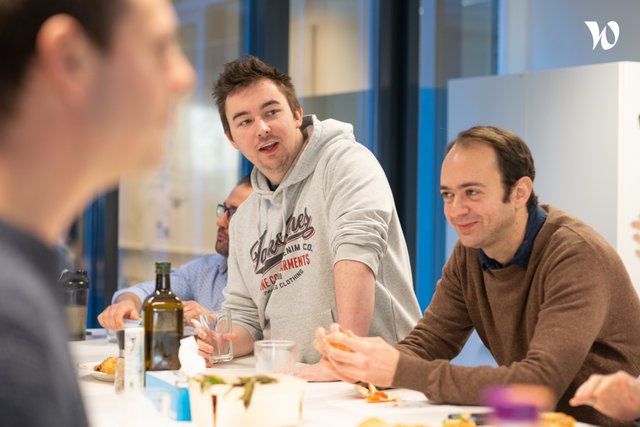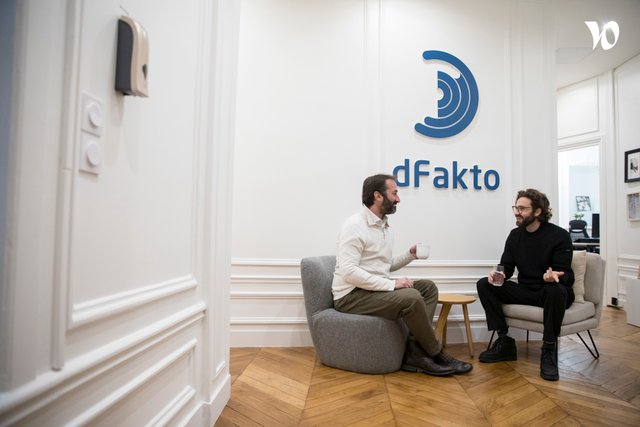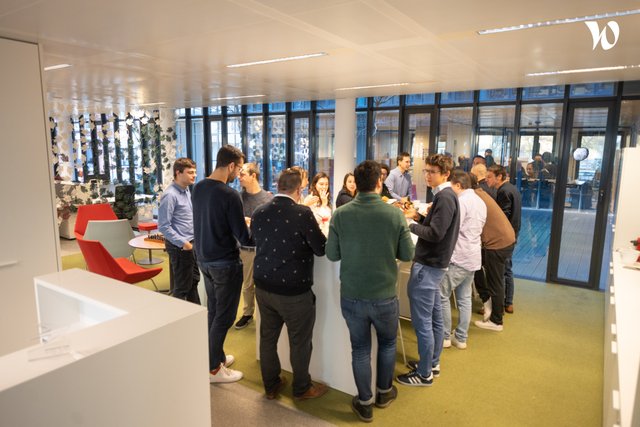 In numbers
5 years

Average seniority of the Belgian office
Within dFakto, the product team members are responsible for the management and continuous improvement of the two products we created: the dataFactory and proPilot.
They are continuously looking for new trends and innovations to make our products evolve and meet the needs of our customers in a more efficient way.
Our teams are perfectionists and take charge of adding the most value through the design & structuring of our products.
"

I am responsible for developing the product vision that is central to the strategy at dFakto. We are in a dynamic of constant innovation to bring the best solutions to our users.

"
The Delivery team is responsible for providing solutions to our customers that perfectly match their needs. They ensure that our tools are optimally configured and implemented at our customers' sites, and that they are fully supported.
We provide quality service and respond 24/7 to all customer requests.
"

With my team, my mission at dFakto is to provide the client with traceable, quality information that can be understood by the entire organization; to put the data at the service of the business. Helping them consolidate this data to recover a single version of the truth is a fun challenge in a tightly knit and organized team where one person's goal is everyone's goal.

"

Brian, Senior Business Consultant
At dFakto, our Sales and Marketing team is one of the most dynamic in the company.
It is composed of experienced professionals who believe in the quality of our products.
Their main objective is to develop dFakto's sales while consolidating business relationships with our existing customers. Their daily missions are participating in events, evangelizing on social networks, and constantly communicating about the benefits of our solutions!
"

I've loved sales since I was a kid, especially when I believe in my product! You have to persevere to get there, to turn leads into opportunities. You have to know how to talk to anyone about data, how to drive Mario Kart at lunchtime... At dFakto it's multidisciplinarity, at Sales it's exemplarity.

"

Mathieu, Business Developer
Within dFakto, our Operations team plays a crucial role in the overall management of the company and its employees. It is responsible for the organization and coordination of all activities related to the smooth running of the company.
From human resources management, financial management and fleet management, the members of the operations team have the mission of transmitting the vision and values of the company by applying the directives that are transmitted to them. It is thanks to this experienced and highly qualified team that the company's organization works so well.
"

Joining dFakto is, above all, a rewarding adventure on a human scale. Regardless of your position, you will play a fundamental role in the company's evolution. It is also an Interns and Trainees friendly environment where there are numerous possibilities for future employment. All this, in a warm atmosphere! So don't hesitate to send me your CVs ;)

"

Jeanne, Recruteuse en alternance
Latest job listings
No openings for now; please check back in a few days!