Remote work 🌟
Flexible and granted from the start
Reimbursement of public transportation 🌟
100% covered by the employer
Coverage 🌟
Comprehensive health coverage
Company culture 🌟
Our dFaktivities team organizes numerous events in France and Belgium (we have a little surprise for fans of Werewolves)
Onboarding 🌟
A personalized onboarding process, communicated PRIOR to the actual start date. This way, from day one and for several weeks, it allows you to familiarize yourself with the company's culture, our solutions, and tools while getting to know your colleagues
Training 🌟
The training and continuous learning of our employees are at the forefront of our priorities. We offer a range of training programs to our employees
We provide everyone with internal growth opportunities. Adapted to individual interests and based on the available opportunities, you can diversify your skills, develop technical expertise, or progress into a managerial role.
Additionally, our employees have the possibility to take on key roles within our company, such as trainers or coaches.
Training
Within dFakto, training can take various forms:
Certification exams
Internal training provided by colleagues
Coaching: A coach is assigned to you upon joining dFakto. The goal of coaching is to support your professional growth throughout your career with us
E-Learning: Through various platforms
Participation in webinars
Various readings: Articles or books. We have an internal library available to our employees, and it is also possible to suggest the acquisition of new books.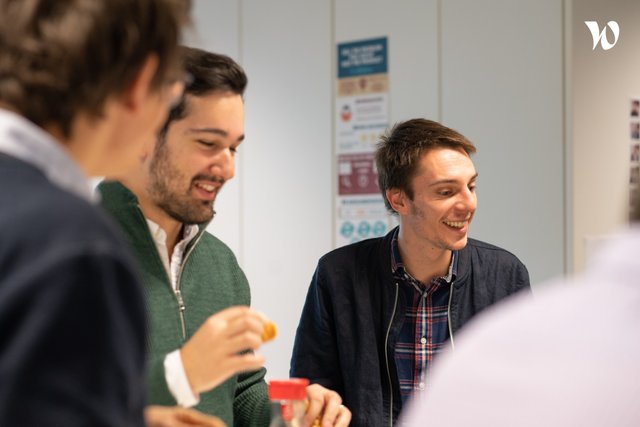 In numbers
2 offices

1 in Brussels and 1in Paris
Team rituals and events
For dFakto, cohesion and sharing are key elements, whether it's among colleagues or with other enthusiasts.
To achieve this, our dFaktivities team and various employees take the initiative to organize different events to strengthen our bonds: team buildings, Cinéclub (movie club), game nights, after-work gatherings, and more. And for the more sporty among us, we enjoy playing football or spending lunch breaks at the gym.
We also take pleasure in participating in forums, seminars, and other events around the world to share our passion for data!