Hygiene tips for returning to office post-lockdown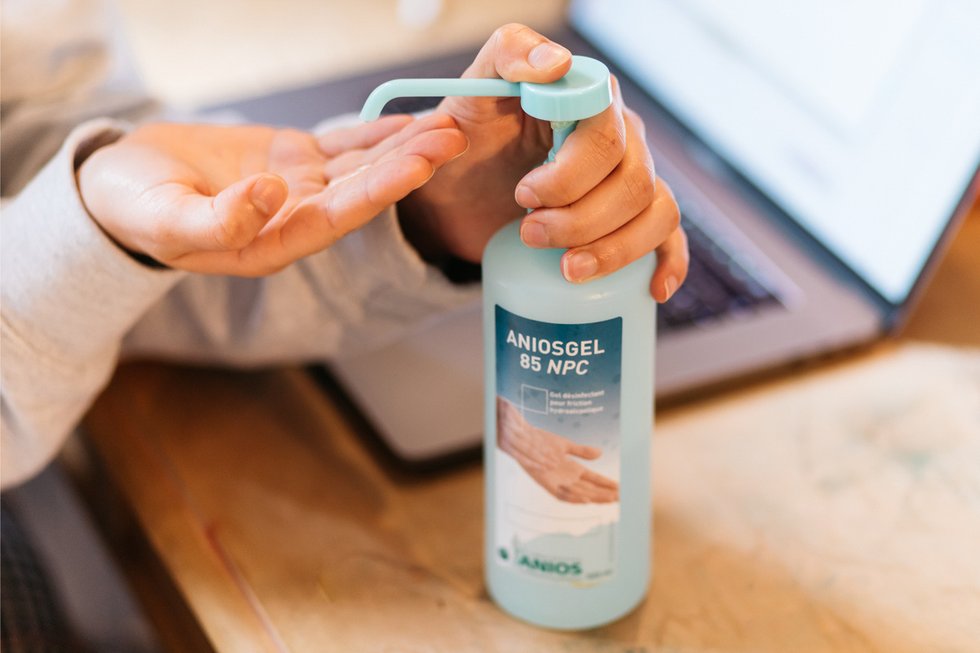 After months working from home or furloughed, a return to office life is looming for many of us as restrictions are eased. The office, however, is going to be a very different place when you do finally make it back to your desk. Not only has your employer had to make big changes regarding hygiene levels and employee safety, but you do too. Here we talk to health and safety expert Neil Cruden about how you can help to make your workplace as safe as possible and avoid the spread of Covid-19.
---
Companies have had to implement serious changes in the workplace to protect staff during the pandemic. This is evident in those places already open, such as supermarkets, factories, garden centers, healthcare facilities, and car showrooms, and will extend to offices when they start to open their doors too. Think staggered schedules, increased cleaning, one-way systems, screens, floor markings, and barriers to help with social distancing.
Neil Cruden, managing director of Limetree Solutions, a health and safety consultancy, says that staying safe in the workplace is a joint effort that needs cooperation between employers and employees.
"All workers have a right to work in places where risks to their health and safety are properly controlled. Health and safety is all about stopping you getting hurt at work or ill through your work. Your employer is responsible [duty of care] for health and safety in the workplace, but employees also have duties," he said. (Employers have a "duty of care" to their staff. This is a legal obligation to put reasonable measures in place to ensure that everyone associated with them is protected from physical or psychological harm.)
In light of Covid-19, there are plenty of ways employees can take responsibility for their own health and that of co-workers who may be affected by their actions.
Let's get personal
First, good personal hygiene habits are essential for a healthy workplace. Here's how to keep yourself and others as safe as possible:
Monitor symptoms
The first rule of the post-Covid office? Don't go to work if you feel ill—and go home if you start to feel unwell with any Covid-19 symptoms.
"It is important to make sure individuals who are advised to stay at home under existing government guidance do not physically come to work," said Cruden. "This includes individuals who have symptoms of Covid-19 as well as those who live in a household with someone who has symptoms and those who are advised to self-isolate as part of the government's test and trace program."
Hand hygiene
Hand-washing must be part of your office routine. Make sure you're cleaning them properly: the NHS advises washing your hands thoroughly for at least 20 seconds using soap and water.
When to wash? According to NHS coronavirus guidance, you need to wash your hands when you:
Get home or into work.
Blow your nose, sneeze, or cough.
Eat or handle food.
That means heading straight to the toilets when you arrive at work after your commute and doing the same as soon as you walk through your front door.
How often? Some companies are setting egg timers to remind employees to wash their hands every 30 minutes. Is this really necessary? "UK researchers have suggested that washing your hands at least six to 10 times a day makes catching infections such as coronavirus much less likely," said Cruden.
However, it appears that washing your hands more than 10 times a day doesn't lower the risk any further. Be sensible: wash your hands regularly depending on your activity and workplace set-up, but don't overdo it.
Soap vs sanitizer
You might notice free sanitizer around the office, but is it as effective as good old-fashioned soap and water? "The short answer is no, soap is the best and most economical option," said Cruden, who believes that good hand hygiene is "the final barrier between us and the disease".
"Any soap will protect you. It's easy to get overwhelmed by choice, but when it
comes down to the chemistry, all soaps work against the novel coronavirus."
But don't ditch the hand sanitizer! Sometimes a sink and soap aren't available, so keep hand sanitizer handy. It's worth having a bottle on your desk and keeping one in your bag. Check it contains at least 60% alcohol, says Cruden.
"If you have no soap, the World Health Organization and the NHS both recommend alcohol-based hand sanitizers be used to remove the novel coronavirus. Hand sanitizer might contain ethanol, isopropanol, n-propanol, or a combination of these three alcohols. All are effective against lipid-wrapped viruses like the novel coronavirus."
Should I wear a face covering?
The great mask debate is likely to continue for some time. The Government recommends a face covering in enclosed public spaces, such as shops or public transport, where you can't social distance and will come into contact with those you don't normally meet. The question is, does your workplace meet these criteria?
Wearing a mask isn't a legal requirement although your employer might suggest that you wear one. As Cruden says, a mask is an added extra to other hygiene practices—not a replacement.
"The bottom line? Experts say that masks might help keep people with Covid-19 from passing along the virus unknowingly," he said.
"Putting a face mask on does not mean that you stop the other practices. It does not mean you get closer to people. It does not mean you don't have to wash your hands as often or you can touch your face. All of that still is in place, wearing a mask is just an add-on."
What type of face covering is best?
The Government has advised the public against wearing surgical masks or N95 respirator-type masks, so leave these for the health and care workers who really need them.
Cloth barrier masks are cheap to buy or easy to make, according to Cruden. "Asking everyone to wear cloth masks can help to reduce the spread of the coronavirus by people who have Covid-19 but do not realize it. Remember that countries that required face masks, testing, isolation, and social distancing early on in the pandemic appear to have had some success in slowing the spread of the virus."
He also warns that they are only effective if you know how to use and dispose of them properly.
Ultimately, wearing a barrier mask is a personal choice that depends on your work environment and general health. If it makes you feel less anxious, go for it; if you would prefer to be mask-free, that's fine too.
What about gloves?
Cruden doesn't recommend pulling on a pair of gloves—wool, plastic, rubber, or otherwise—when you're in a general office environment.
"Medical experts state that wearing gloves won't give you an added layer of protection against the risk of coming into contact with germs, mostly because wearing gloves provides a false sense of security that bare hands do not," he said.
Added extras
It's back to basics here. Keep tissues at your desk and in your bag at all times. Remember, cough into your elbow and sneeze into a tissue. Always wash your hands afterward and dispose of tissues immediately in a bin. And try not to touch your face, even when you're in 'deep thinking' mode!
Your workspace
You can forget about shared workstations and hot desking. If at all possible, your workspace will be yours and yours alone, preferably two meters away from your nearest neighbor.
Keep it clean
Government advice is to increase office cleaning, but should you give your desk an extra dose of disinfectant when you get to work? Why not, says Cruden. Take responsibility for your space by giving it a wipe-down.
"Where there is no clear guidance on the increased frequency of office cleaning required since the onset of Covid-19, it is advised that in addition to regular office cleaning, workers should be encouraged to take a proactive approach and clean at the beginning of their shift/day items that they touch most often— keyboard, mouse, monitor buttons and desk phone—as well as the desk surface," he said. "Normal cleaning methods that use detergent or a disinfectant will kill Covid-19."
Get organized
Keep all your belongings in your desk drawers. These are yours and yours alone. This is a hygienic space to keep your pens, stationery, work notes, reference material, cleaning products, those all-important tissues, and even a glass or mug, napkins, and some cutlery.
Social distancing
The two-meter rule is important to maintain in an office environment, so that probably means no big meetings, canteen lunches, cozy brainstorming sessions . . . and definitely no handshaking.
Follow Welcome to the Jungle on Facebook, LinkedIn, and Instagram, and subscribe to our newsletter to get our latest articles every day!
Las temáticas de este artículo