That time I got drunk at the office Christmas party
23 dic 2019 - actualizado el 12 dic 2022
3 min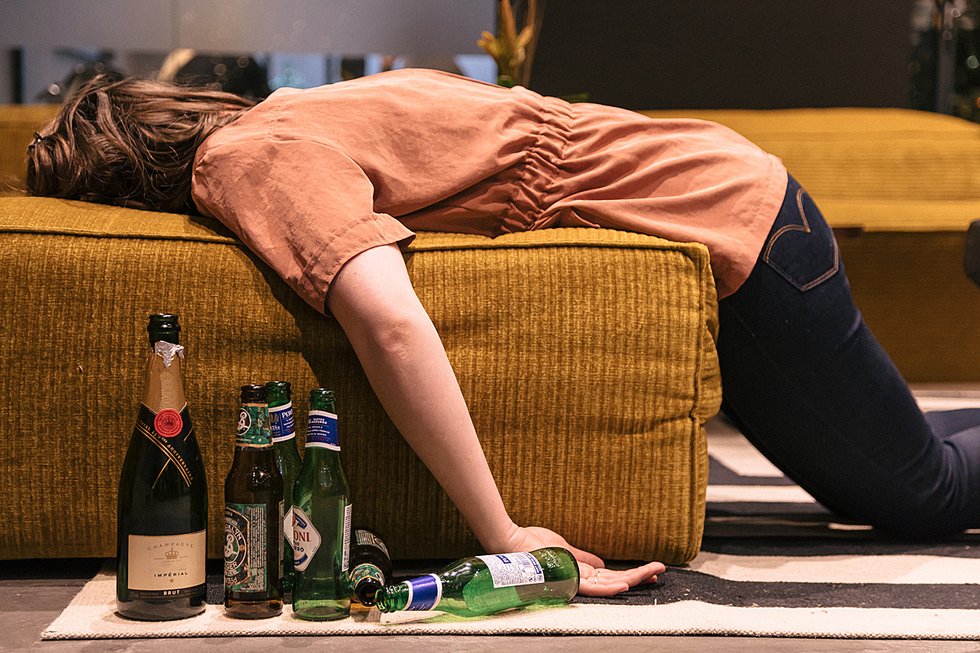 Perhaps it was because my parents banned face painting as a child that I headed towards the make-up artist—a mistake I was to regret.
Even though I worked in the media, even though I had covered plenty of court cases about drunk employees who woke up regretting their life choices after the office party, my feet had decided to head over to the face painter at our annual Christmas party. What could possibly go wrong?
---
I realized the mood was pretty much set when I bumped into one of my editors from another section.
"Hey, how's it going? What would you like to drink?"
"Yes," she replied.
It was going to be one of those parties.
Office holiday parties are the stuff of HR nightmares where booze, often free, meets workers who want to let off steam. And this week is the peak party. According to a 2018 survey of 2,000 workers last year, one in three of us do something at our annual office bash that we later regret, ranging from giving unsolicited "advice" to the boss, to mistletoe moments that we probably shouldn't have attempted. On the plus side, the average worker will leave their Christmas party with seven new pieces of gossip, which is, of course, the golden currency of office life. I was about to add an eighth—complete with pictures.
Our company had deep pockets and had hired a venue replete with an actual band that we had heard of. When I arrived, Mumford & Sons were belting out Galway Girl.
Like most of the editorial staff, we were slaves to the news cycle, so I was already fashionably late. To say the atmosphere was heady was an understatement. The bar top was already awash with spilled drinks—free, of course.
Someone from marketing was wandering around with a pricey camera on a gimbal doing interviews with staff on "the year gone by." It's fair to say that most of the footage was unusable and mainly consisted of middle-aged men going "Waheyyy!" to the camera while spilling their drinks.
Office life can be tribal, and parties are where the boundary walls blur under the weight of free booze. Finance was as demure as ever, for it was they who would pick up the tab, while Sales seemed on a quest to dance in the biggest circle.
It was great to see colleagues relaxing after a tough year and our boss was leading the way. He was surrounded by the usual yes-people that followed him around on a daily basis and when he headed to the face painter—because fun, people!—so did his cohort. Everyone emerged with small corporate logos on their faces; authorized, approved decadence. I thought it was time to grease the career wheels and do the same; show some willingness.
Four drinks down, I'd forgotten the rule about gin. If it's free, stick to water. When I walked up to the face painter, I pointed not to the picture of our corporate logo in muted tones but to a tiger from her kids' party pack.
"I want that one!" I was the five-year-old I never got the chance to be. Thanks, gin!
I looked epic.
And then she packed away her kit. There was no more face painting.
As 160 souls—the entire head office and staff gathered—I was to be the only person with my face painted. Orange, white, complete with whiskers.
It was undeniably a great effort, but now I, a senior editor, was faced with the prospect of meeting board members, key editors from head office, and company guests. If you've ever tried floating that plan for the next fiscal year or tried earnestly discussing feature ideas while colleagues growl at you or suggest you change your name to Roary, you soon realize it's time to switch to soft drinks.
Someone even nipped out for a box of Kellogg's Frosties from the local convenience store and told me to eat them because "they're grrreat for hangovers." Oh, boomer. Too funny.
I tried to make the best of it, but there comes a point when "laughing with" and "laughing at" cross over and it's more than a little uncomfortable.
Selfies were demanded, sometimes forcefully. I was snapped on phones at every turn. Suddenly, the prospect of a cab home seemed better than "the party to end all parties." I deliberately spilled a drink on my jacket, made my excuses, and left to the sounds of a bastardized William Blake poem from the arts editor.
Unlike the office gossip, which ultimately withers and dies, a tiger face lives forever. But when I surfaced for work after the weekend, nobody said a thing.
I'd gotten away with it!
My colleagues had other embarrassing moments on their minds. Our editor-in-chief decided he wanted to play guitar with Mumford after they finished their set but was too drunk to hammer out anything recognizable. And a political reporter was caught by the bouncers trying to take home two super-sized magnums of Champagne (they were fake and for display purposes).
I logged on, booted up Slack to catch up, and there it was, a new channel for editorial managers…#tiger.
Photo: Welcome to the Jungle aaa
Follow Welcome to the Jungle on Facebook, LinkedIn, and Instagram, and subscribe to our newsletter to get our latest articles every day!
Las temáticas de este artículo