Volta Medical
Artificial Intelligence / Machine Learning, Health, Specialised Engineering
Marseille, Munich, Providence

Volta is an international team with employees based in France, the US and Germany.
The global head count is expected to reach nearly 100 team members by the end of 2023.
At Volta Medical, we are lucky to have a wide variety of teams. Our Tech, Product, Data, Clinical and Regulatory Affairs, and Quality teams work hard to support our Business teams (Field & Clinical Development, Marketing and Operations) and are backed up by the HR, Finance, Legal and IT teams.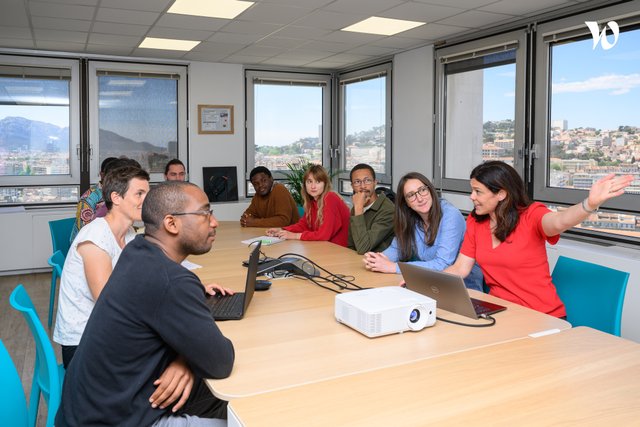 Clinical, Quality and Regulatory Affairs

14%

Corporate (HR, Finance, Legal, IT)

13%
With a Master of Science in biomedical engineering and initial experience in cardiology, Célia joined Volta Medical in 2021 as a Field Technical Engineer. Passionate about this field, she utilizes the knowledge she gains from her field work supporting procedures in Europe to participate in product development, working cross-functionally with other teams. Her next challenge: act as a link between the Europe/US teams to help launch Volta's newest product.
Clinical, Quality and Regulatory Affairs
Having graduated with a Master's degree in Health Engineering specialized in medical devices in Montpellier, Yoann joined Volta Medical in 2018 as a Quality and Regulatory Affairs Engineer to implement the Quality Management System and help the company obtain its first CE mark. Today, in his role as Quality Assurance and Purchasing Manager, he oversees all purchasing activities, manages all observed non-conformities, and contributes to keeping the quality system up to date, taking into account regulatory changes.

Guillaume joined Volta as a machine learning engineer to work on AI-guided medical devices. He is part of a multidisciplinary team of data scientists, software engineers, and physicians working to create diagnostic tools for cardiac surgeries. His primary responsibility is to automate the development of algorithms and facilitate their integration into the final product to improve patient care.

Anne-Sophie is Medical Data Collection Manager who has been with Volta since early 2022. She earned engineering degrees in both France and Germany. For the first 10 years of her career, Anne-Sophie designed nuclear power plant control rooms. She then worked as a medical device engineer for 3 years, managing various projects and multidisciplinary teams. At Volta her mission is to ensure that the data required for AI algorithm development is collected from hospitals and transferred to Volta in a legal, efficient, secure and compliant manner.

Theophile grew up in Germany and Austria and attended the Ecole Polytechnique to obtain a master's degree in data science. After graduating, he met three cardiologists which led to very fruitful exchanges about interventional medicine and data science. These exchanges allowed him to develop the first functional prototype of AI technology for cardiology to be used in the operating room. This prototype marked the beginning of the Volta Medical adventure. As a CEO passionate about science, he continues to put product quality and interactions with cardiologists at the heart of the company.