Imagination Machine
Environment / Sustainable Development, IT / Digital, SocialTech / GreenTech
Nantes, Annecy, Carquefou, Marseille, Paris, Rome, Toulouse, Utrecht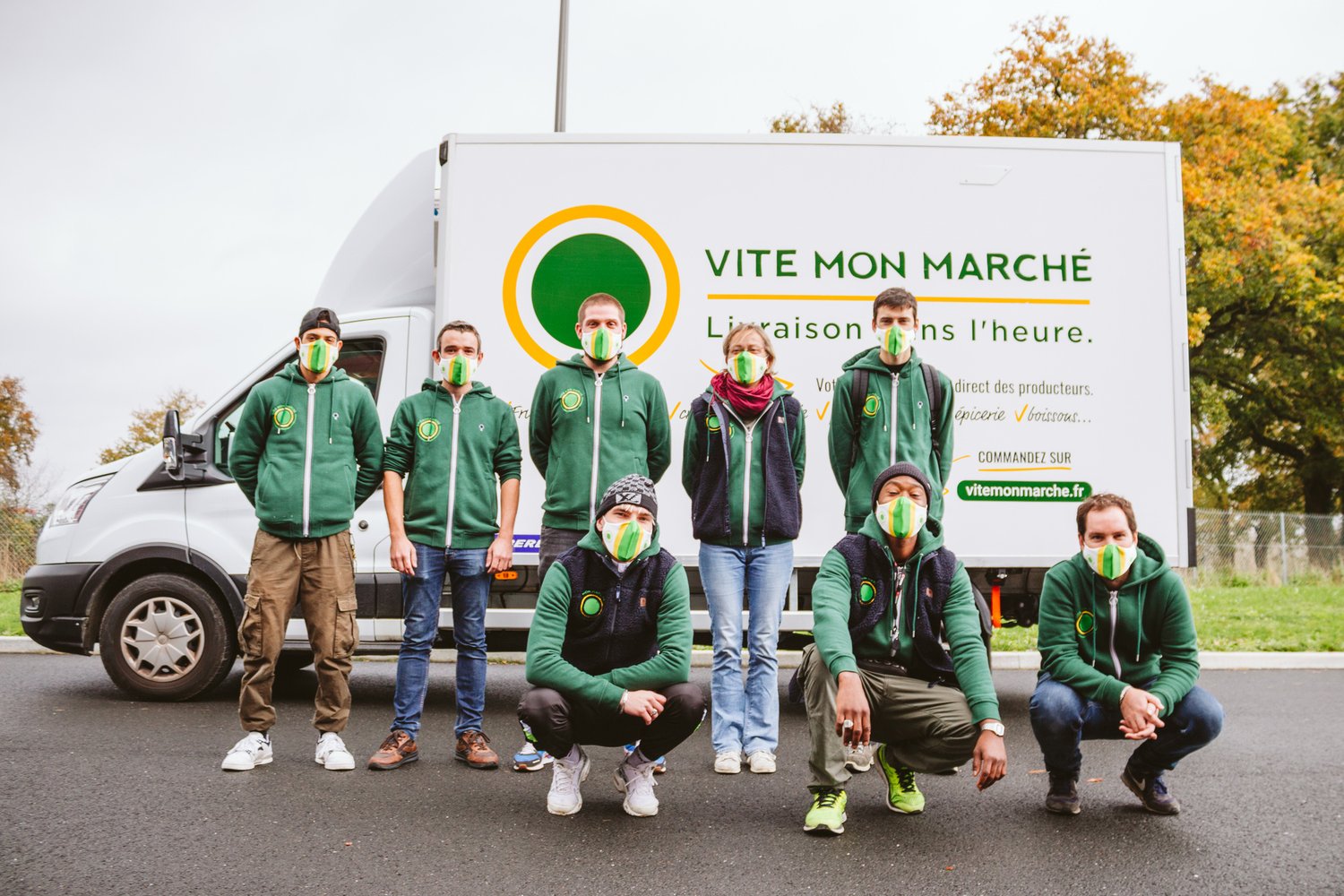 Vite Mon Marché, your local market, delivered to your door! Every day, the best products are selected from a network of producers and artisans with one clear goal: to help you buy produce in a smarter way while rediscovering the pleasure of taste (and service!) and being proud of your daily impact.
"

Vite Mon Marché is a team committed to better consumption: our vocation is to help our customers rediscover the pleasure of taste, to highlight the rural values behind each product, and to make our customers proud of their daily impact.

"

Reynald Naulleau, fondateur de Vite Mon Marché
Nantes-based, Vite Mon Marché lives up to its name, having quickly established itself in the region with now more than 10,000 customers, continued strong growth but also great media coverage. A partner of FC Nantes' women league and Faguo, Vite Mon Marché forges links with various major local players who share core values. We want to introduce our concept with passion, but also to educate and promote better consumption. To do so, we work hand in hand with our producers and assure total transparency to our customers. The story of our producers is also our story and it is the story we want to tell on a daily basis!
Launched in Nantes, Vite Mon Marché has since established itself in all the cities of the Nantes metropolis but also Rennes, La-Roche-sur-Yon and a good part of Vendée, but also Saint-Nazaire and the Côte Amour, as well as Cholet more recently. With a 300% growth in 2020, Vite Mon Marché is now aiming higher: Bordeaux, Toulouse, Lyon, Lille, then Spain and Italy.
Discover more informations !
Imagination Machine is a startup studio: they come up with big ideas, recruit talented entrepreneurs to work on them with them, and act as a cofounder for the long-term. They provide initial financing, a powerful network of partners in France and Silicon Valley, and intense hands-on help.
Imagination Machine is specifically focused on big ideas that improve our societies and planet. They see massive opportunities to innovate in enabling healthy daily life with good food, clean products, and healthy habits; in bringing people together to spend more time with friends, family and community; in doing more with less, by reusing goods in the circular economy or optimizing their use of existing infrastructure; in applying renewable energy technologies to new sectors and consumer populations; in bringing great lifelong education and smart media to a mass audience; and many more domains where their values align with big economic opportunities. Imagination Machine is run by Rob Spiro, an entrepreneur from Silicon Valley who made his way to France, and his team.
What they are looking for
Imagination Machine is looking for talented entrepreneurs to partner with them on their next ideas or join the teams that are growing rapidly. Entrepreneurs can be engineers, designers, business generalists, or anything else... as long as they have an entrepreneurial spirit (ready to take risks and/or with prior experience of entrepreneurship) and a strong ambition to improve the world. Entrepreneurs need to have at least 5 to 7 years of experience in their field, as their work cycles are very short and they need to rely on their expertise to go fast and be agile.
They are remote first! Which means you can join them and work from wherever you want (or need) to be.
The Imagination Machine community is wide and strong: changing the world and building your own startup will not be a lonely process, for sure!