The remote policy at Hublo is flexible: during their first 6 months with the company, employees benefit from 5 days of remote work per month (one day per week), in order to be able to develop their skills, be comfortable with their missions and get situated into their team. They can then take 10 days per month, at their convenience (no fixed day).
Some specific positions give the right to full remote work, do not hesitate to ask for details during the HR interview!
Testimony
"The telecommuting policy seems fair and flexible to me. The fact that we only have 5 days per month for the first 6 months allows a strong integration within our team. Afterwards, this period is extended to 10 days and this seems to me to be more than enough to have a balance in one's work. We can also take them from one day to another, which is very pleasant."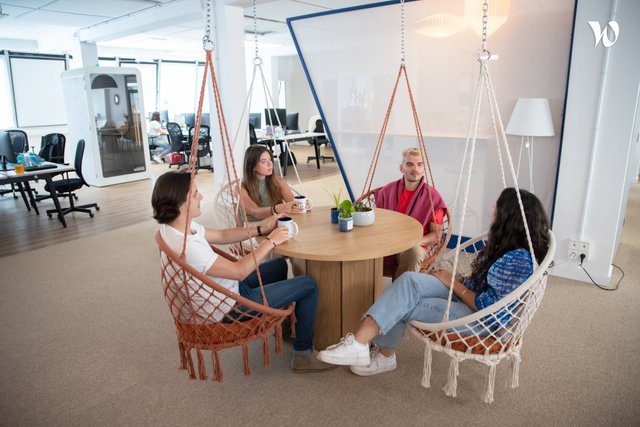 We have just recently moved into our new premises! Composed of a single floor where each team has its own dedicated space but where exchanges are facilitated by the absence of rough partitions, these new premises allow our Hublees to easily communicate with each other and to share moments of conviviality.
Open and bright, they contain classic open-plan workspaces, meeting rooms and phone boxes, but also common workspaces along the central aisle, with sofas and ceiling chairs, ideal for an informal meeting over coffee.
In a recruitment process with us or thinking of joining us? Don't hesitate any longer, our premises are waiting for you!
10+
different nationalities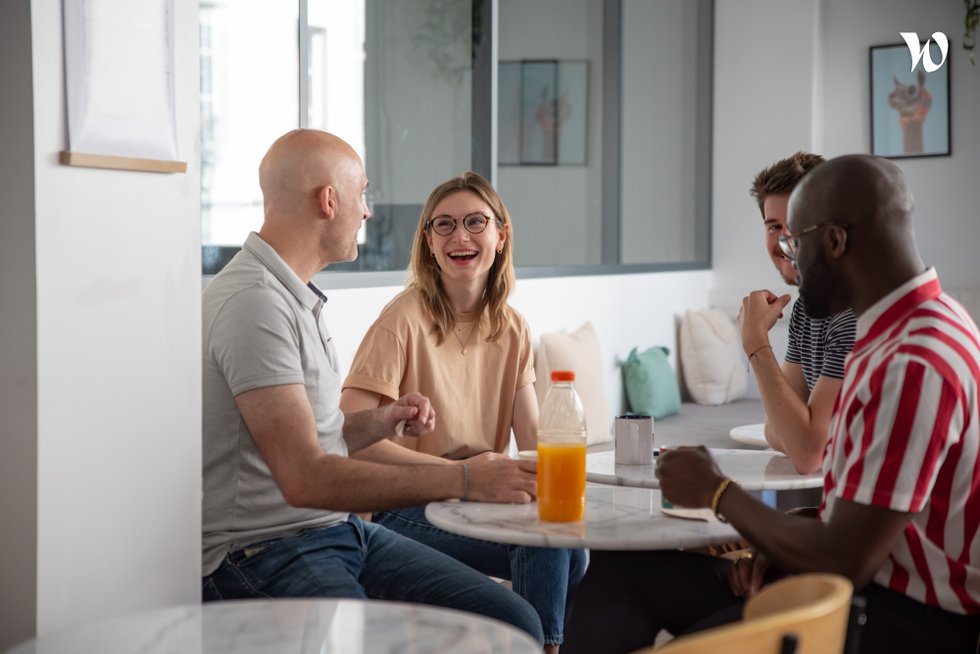 At Hublo, we believe in the power of technology to transform the healthcare sector. We envision a world where healthcare facilities are not just buildings, but thriving environments that inspire and support our healthcare professionals. To achieve this vision, we must first address the pressing need for healthcare facilities to recruit and maintain adequate staffing levels.
This is why Hublo developed a digital platform dedicated to them, now deployed in 3,200+ healthcare facilities and used by 700,000+ healthcare professionals. At the end of 2021, Hublo raised 22M€ to become the leading HR SaaS solution for healthcare in Europe.
From +170 team members today in Paris and Cologne, the Hublo team keeps on growing. Want to help us improving the healthcare system? Apply today!
What they are looking for
Hublo is looking for people who want to give meaning to their job, while transforming the healthcare system, thanks to new digital technologies, and much more.
Hublo is looking for bold teammates, ready to take early on responsibilities, while remaining humble, curious and eager to learn every day.
A multicultural team who likes to get together over a drink, a good lunch, sports challenges and quizzes.
A yearly team off-site is organized to bring the whole team together (French countryside, ski resort in the Alps, south of France seaside, Portugal, ...) in an informal setting, to share and strengthen relationships.