EcoMundo
Design & Engineering Office, IT / Digital, Supply Chain
Issy-Les-Moulineaux, Barcelona, Londres, Montréal, Seoul
😷 Santé
La mutuelle, avec Alan, est prise 100% en charge pour les EcoMundiens et leurs enfants !
Evénements 🥂
Chez EcoMundo, on travaille, mais on aime aussi se retrouver ensemble lors d'événements internes (Noël, Halloween, la Galettes des Rois, Flower Power, Summer Party, Séminaire...) mais aussi organiser des "pots/apéros pour rien" ou "C'est VINdredi !"
Terrasse 🌟
L'endroit préféré des EcoMundiens, les locaux disposent d'une terrasse de plus de 100m2, aménagée, permettant de profiter du soleil au beaux jours (et de faire la fête !)
Télétravail et horaires flexibles ⌚ 💻
Tous les EcoMundiens bénéficient de jours de télétravail et d'horaires flexibles afin de pouvoir conjuguer vie pro et vie perso.
Parcours d'intégration 📈
Chaque nouvel EcoMundien bénéficie dès son premier jour au sein des équipes d'un parcours de formation lui permettant de s'intégrer rapidement et prendre en main ses projets.
Cafés et thés 🍵☕
Ils coulent dans les veines des EcoMundiens !

Chez EcoMundo, chacun a la possibilité d'évoluer vers de nouveaux challenges dès lors qu'il en exprime l'envie. 
Envie de partir au Canada pour apporter son expertise réglementaire ? La filiale vous attend ! 
Envie de se lancer dans le management en encadrant un jeune talent ? On vous accompagne sur le développement de cette nouvelle compétence !
Envie de devenir commercial.e alors que vous êtes chargé.e d'affaires réglementaires de base ? On vous donne tous les outils pour réussir votre reconversion !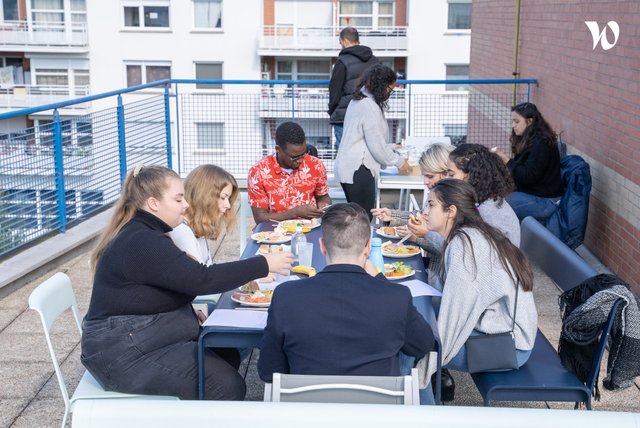 En chiffres
2011

Les équipes d'EcoMundo passent de 2 à 27 salariés.

Chez EcoMundo, on aime se retrouver ensemble et s'amuser. C'est pourquoi nous organisons beaucoup de choses comme des soirées thématiques (Flower Power, Halloween, Noël...) et que nous prenons soin de trouver les meilleures idées de team building lors de notre séminaire annuel ! 
A côté de ça, beaucoup d'EcoMundiens aiment le sport, et n'hésitent donc pas à partager des moments ensemble au gymnase près des locaux (bonne nouvelle, nous disposons d'une douche dans les locaux si besoin !)
EcoMundo is an innovative company with strong global growth, involved in the protection of human health and the environment. Thanks to its scientific expertise in chemical substances, it assists companies in the safe marketing of their products in more than 40 countries.
EcoMundo's values are :
A fierce desire for excellence. We want to offer the best for our customers. This is why some of the biggest manufacturers trust us.
The spirit of initiative is our credo. People are our driving force. As soon as he arrives, an "Ecomundian" is driven to innovate and to take charge of his projects. We work in collaboration and team spirit, with the will to succeed and to always go further. The pleasure of evolving together is at the heart of our commitment.
EcoMundo is a signatory of the #StopE Charter, against ordinary sexism in the workplace, and of the Diversity Charter, which promotes diversity and thus goes beyond the legal framework of the fight against discrimination.
The originality of EcoMundo's value proposition lies in the combination of several complementary areas of expertise:
Chemistry and Toxicology
International regulations
Development of cloud software solutions
EcoMundo operates from France but we also have subsidiaries in Canada (Montreal), South Korea (Seoul), Spain (Barcelona) and the United Kingdom (London).
What they are looking for
You would like to :
To invest in a company on a human scale involved in the protection of human health and the environment, where Research, Innovation and team spirit are key values?
Contribute to your own efforts to transform in a sustainable way the way industrialists bring safer products to the market?
Take up a variety of professional challenges in an expert and friendly environment, where everyone has the opportunity to express themselves, bring new ideas and implement them with the enthusiasm of the teams?
Integrate a dynamic and talented team with strong international roots?
Then don't wait any longer and join us!
A dynamic and caring working atmosphere,
The possibility to propose, invent, blossom and challenge oneself every day,
An integration course to start your EcoMundian experience without stress,
Flexible working hours / Occasional teleworking,
Open space offices,
All-you-can-eat coffees and teas,
Terrace fitted out and accessible to all,
Swile card for your lunches,
Access to our 2.0 Frichti canteen,
Health protection with our partner Alan,
Internal events by and for the teams (when the containment will be lifted!).