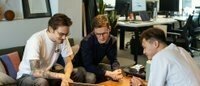 EasyMovie by Cenareo
Media, SaaS / Cloud Services, Television & Film Production
EasyMovie's ambition is to democratize the use of video in companies, in the same way that Power Point has democratized the use of presentations 🎥. ​​
EasyMovie is a SaaS platform created from a simple vision: video will become the main means of corporate communication by 2030.
It seemed very ambitious in 2013 when we launched and, if there is still a lot of work to achieve this vision, no one today disputes the growing importance of video.
Because beyond the medium, which remains a means, the major challenge is that of the "future of communication".
Our mission is therefore to offer our users a complete, intuitive and simple solution allowing any employee to make videos with high added value, following narrative and graphic structures defined by the company.
In 10 years (🎉), EasyMovie has developed a portfolio of more than 350 major groups, including PwC, Airbus, Salesforce and L'Oréal.
Our 70 employees spread between Paris, New York and Tunis work together to offer our customers a video creation tool that is anchored in the daily life of organizations.
Communication departments have found with EasyMovie a way to communicate faster and more impactfully. But beyond communicators, EasyMovie is aimed at all company employees:
❌ No more job offers where you don't learn anything!
❌ No more long messages drowning in the email inbox of our colleagues or prospects!
❌ No more presentations that no one understands!
🎬✅ Welcome to video communication!
What they are looking for
Our team is looking for people who are passionate about video and who enjoy sharing their knowledge with others. Our team is a group of enthusiastic problem-solvers who thrive working in a growing and fast paced company.
🌟 Also, at EasyMovie we define our journey by taking into account our 13 principles which have been chosen by our colleagues.
🏡 An ultra-flexible remote work policy (yes, you choose when you come to the office based in Batignolles 75017 or when you stay in pajama bottoms 😉)
A video creation training to be as autonomous as our customers 🎥
Swile meal vouchers (9 €/ day)
Health insurance (Alan) 💚
Questions and answers on EasyMovie by Cenareo