Diversity
Multicultural team of consultants and trainers, with a dozen different nationalities
Work environment
Ideal working environment in new and modern offices in the pink city. Accessible by public transport.
Onboarding
Employees who join the team receive a "welcome pack" and are invited to follow an integration course in order to discover the functioning of the company, to meet the various key functions of the firm, to feel at ease and to quickly integrate the adventure.
Team life
Organization of numerous formal events (quarterly team meeting, monthly feedback, annual team building, etc.) and informal events (breakfast, barbecue, restaurant, etc.) to meet and exchange in a good mood
Training
Internal or external training is offered to all employees in order to improve their skills throughout their professional career
Home office
Policy established allowing up to 6 days per month on a voluntary basis
Concerned with the development of its employees, the firm provides training and regular evaluations of its consultants, allowing them to validate the evolution of their skills and their field of intervention. In this sense, consultants can advance their career by moving from junior to senior consultant, but also by increasing their skills in project management, team management and by participating in business development. The diversity of the missions and the possibility of working on various problems for various customers from the industry, allow the employees to gain autonomy and to rise quickly in competences while diversifying the modes of intervention (as Consultant, Trainer or Auditor). Finally, remuneration packages including fixed and variable salaries and social benefits are offered, and are regularly updated to rewa
Testimonial from Xingyu SIMA, Team Leader
In 2016, after graduating as a mechanical engineer, I joined the Axsens bte team as a junior consultant for the QPR (Quality Procurement Requirement) mission of Airbus commercial. Today I am still on the same mission but I have evolved to a new role of team leader. What I appreciated when I arrived at Axsens bte was the fact that there were already two senior team members on the mission. So I was quickly able to be operational thanks to their support. I also appreciate the fact that each year we have to define, with our manager, objectives that will allow us to improve our skills. This is why, in parallel with my main mission, I was trained to become a trainer on subjects such as APQP and supplier development. Finally, you should know that there is a Research and Methods BU at Axsens bte which works in partnership with the National Engineering School of Tarbes, so I seized the opportunity to do a thesis on knowledge management. Because of its human size, Axsens bte allows its employees to develop outside their main mission, either through training or internal projects.
Because of its human size, Axsens bte allows its employees to grow outside of their main mission, whether through training or internal projects.
Training
Growing, evolving, challenging ourselves, are essential words in the daily life of Axsens bte! Training is therefore a key element of the company's growth, and everyone has the opportunity to participate in internal or external training. In 2021, 35% of the employees have followed a training course. The various missions carried out allow employees to acquire experience and develop their ability to adapt. Training will help to support this professional development and increase the attractiveness of the profiles throughout their career in the company thanks to ● Its training plan ● Its collective actions of their branch ● Internal training courses from which employees can benefit according to availability As far as internal training is concerned, the objective is that each newcomer should be able to follow at least one training cycle leading to a qualification offered by the firm within the first three years. A "monthly rex" is also organized once a month between the employees and the partners of the firm, with the aim of exchanging and sharing knowledge and best practices on both knowhow and interpersonal skills and thus capitalizing on the information for future missions.

In numbers
500

chocolatines per year eaten by employees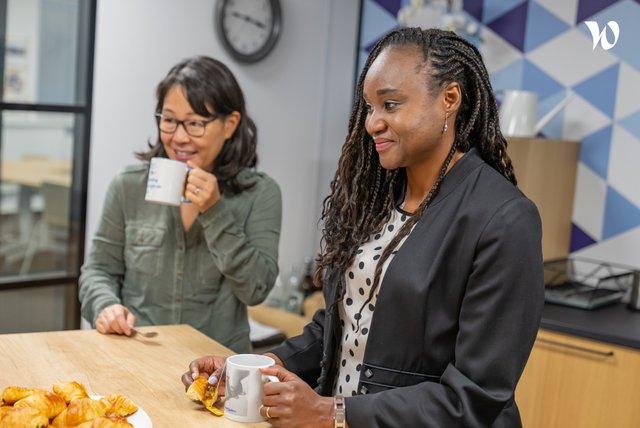 Team rituals and events
The Axsens bte spirit is also a lot of formal and informal meetings throughout the year: ● A day of team building ● Themed breakfast mixing prospects, customers and employees ● A quarterly team gatherings to share company figures, individual missions and upcoming events ● Monthly experience sharing (REx) ● Christmas meal, barbecue, etc.